iPhone 5 is NOT coming with Lightning to 30-pin adapter
iPhone 5 will not be coming with a Lightning to 30-pin adapter, must pay $29 separately.
Published
|
Updated Tue, Nov 3 2020 12:27 PM CST
0 minutes & 53 seconds read time
Let's set the record straight as there are many sites reporting that the new iPhone 5 comes with an adapter so that legacy accessories can be used. This rumor has been spurred on by Apple inadvertently saying their would be during the checkout process on their site. You can see the error in the picture below.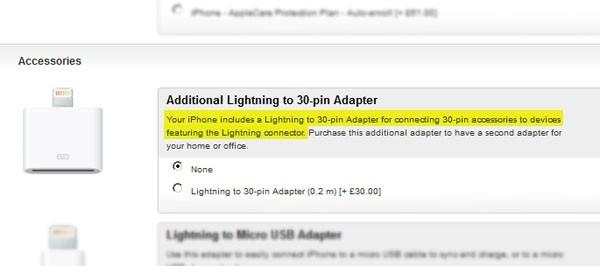 Apple has updated their site to correct the mistake, though we want to make sure our readers who purchased the iPhone 5 before the change realize that they, in fact, will not be receiving an adapter. The adapter will set customers back $29, or $39 if they want it with a cable. The adapter is due out in October.
Apple has released a statement to this effect:
The Lightning to 30-pin adapter does not come in the box with iPhone 5. It is sold separately. However, the Lightning to USB cable does come with iPhone 5 for connection to AC chargers and other devices... The Lightning to 30 Pin adapter supports analog audio output, USB audio, as well as syncing and charging. Lightning to VGA and Lightning to HDMI cables will be available in the coming months.
It's not clear if Apple will give out free Lightning adapters to those who purchased their iPhone before the site was changed. I'm leaning towards no, but I have been surprised by Apple before.
Related Tags