Creative have just taken the veil off of their latest creation, the Sound BlasterAxx range of products. Creative dub this "a whole new generation of Sound Blaster" which is set to "dazzle the new mobile networked generation". In reality, just a handful of cool, new Sound Blaster-based products.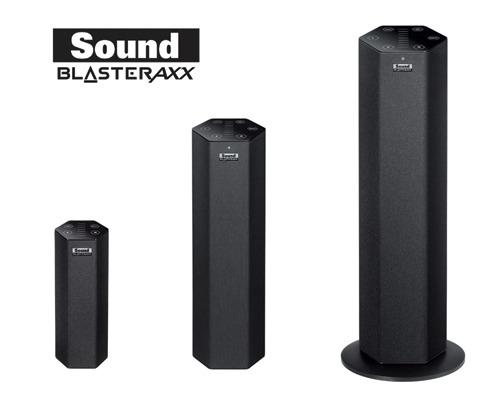 First up we have the Sound BlasterAxx SBX 20, which supports both PC and Mac, as well as iOS- and Android-based devices. SBX 20 sports Bluetooth connectivity, making it that much easier to hook these devices together and get your audio goodness on. Because we live in a world of network-connected devices, Creative Chairman and CEO, also the creator of the Sound Blaster, Sim Wong Hoo, had to really go back to the drawing board when envisioning the new Sound BlasterAxx range of products.
Creative's Sound BlasterAxx SBX 20 is Bluetooth-enabled, features a unique patent-pending "stacked stereo" speaker design that can fill a room with sound, a high-quality, dual-microphone for great voice chat and conversation, hardware-accelerated SBX Pro Studio and CrystalVoice technologies, as well as featuring aux-in for wired connection from other audio-connected devices. The package arrives in a 410x91mm form factor.
Creative's Sound BlasterAxx SBX 10 sports the same features as its bigger brother, but in a smaller footprint. Finally, the SBX 8 is smaller again, and is powered by USB. The Sound BlasterAxx range of products will be made available later this month, with the SBX 20 available early-October.