Israeli park makes donkeys into Wi-Fi hotspots
An Israeli park that transports users back to the Old Testament times has outfitted donkeys with WiF.
Published Sun, Aug 26 2012 4:14 PM CDT
|
Updated Tue, Nov 3 2020 12:27 PM CST
Here's a bit of a weird one, and a sign of the changing times. A park in Israel is designed to teleport visitors back to ancient biblical times so that they can see how people of the Old Testament lived. Now, the donkeys that are used for transportation have been outfitted with Wi-Fi hotspots, something I'm pretty confident they didn't have back then.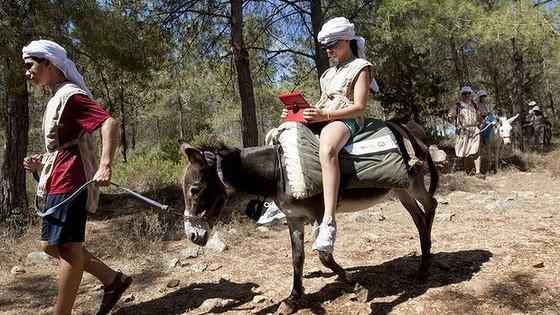 The device is hung from the donkey's neck like a feedbag and provides wireless Internet access so users can surf the web, update Facebook and Twitter, or send e-mails to family and friends. "You take some pictures, you want to change your picture on Facebook - you can do it," Goldberg, the park manager, said.
Peter Scherr, a visitor from New York: "It has been used as a working animal for 5000 years," he learned, reading from a Wikipedia page on his iPad. "There are more than 40 million donkeys in the world. That's a lot of donkeys!"
"I don't miss any news," Scherr said. "I send pictures back to my family while I'm having fun on the donkeys."
It seems like an interesting choice for a park that is supposed to take visitors back to times before electricity. That said, the trial has been running for around a week and has been a smashing success.
Related Tags