FMS 2012: Marvell Unveils New DragonFly NVRAM Solution
FMS 2012 - Marvell shows off their DragonFly NVRAM-based solution for servers.
Published Fri, Aug 24 2012 1:45 AM CDT
|
Updated Tue, Nov 3 2020 12:27 PM CST
FMS 2012 - Marvell has revealed their new DragonFly NVRAM solution for servers at the Flash Memory Summit.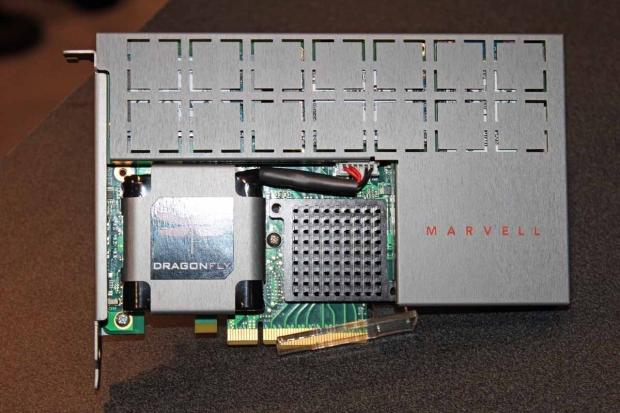 As we can see this card comes in a small package and sports a PCIe Gen2x8 connection to the host.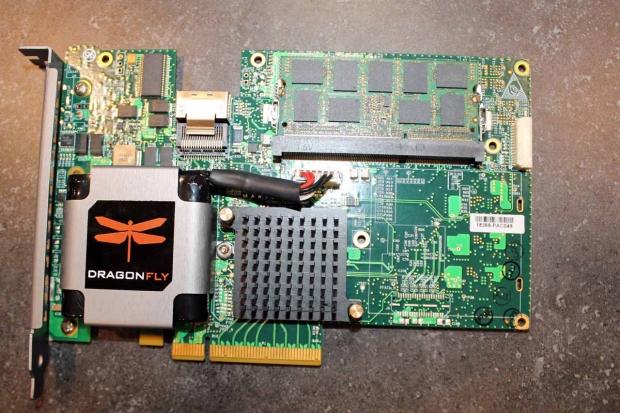 Getting down under the cover we can see some of the components that allow the DragonFly to reach its impressive specifications of 200K+ IOPS, 3.2GBps and .22us latency. The DragonFly connects to SSDs via a typical SFF connector, and acts as a front end for the attached storage. The data is cached to the DRAM chip that is located towards the top right of the card. The battery near the bottom is used to write the data cached into ram to the NAND, on the rear of the card, in the event of power failure.
The DRAM chips and the Marvell that controls them are located to the upper left of the card. This is where the data is flushed to in the event of power loss. The device caches both read and write data, and utilizes de-duplication and write coalescence to mitigate performance degradation and endurance of the underlying array that will be connected.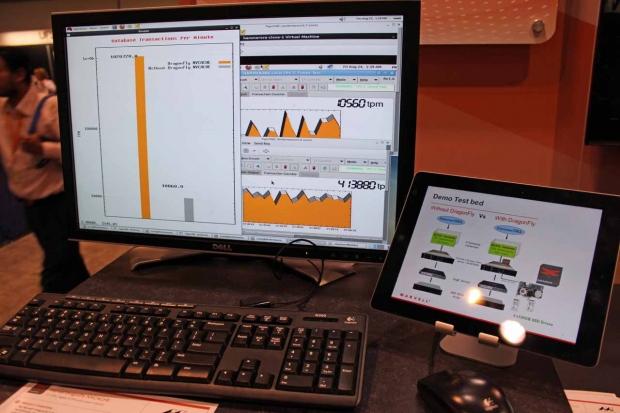 Here we can see the result of the acceleration. The window on the right of the right hand screen shows the performance before and after the DragonFly solution is implemented. The orange line indicates the performance gains over the grey line, which is before the solution is enabled. The right hand results illustrate the TPM (Transactions Per Minute) being accelerated from 10,560 up to
an amazing 41,4880 with the solution enabled.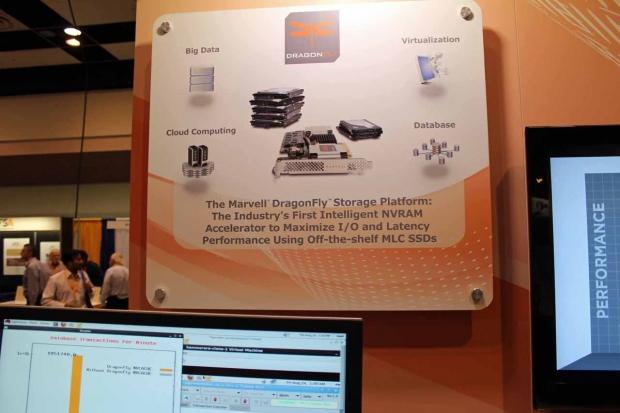 This type of acceleration solution is aimed at Database, Virtualization, Big Data, and Cloud Computing environments. Several industry players need to take notice of this solution, as it is going to provide some direct competition to a few players in the market, such as Fusion-IO. With this particular solutions off-loaded architecture there are considerable advantages to other solutions. With other enterprise features such as Active-Active High Availability and write coalescence to preserve the underlying endurance of the attached storage, this device is sure to make serious waves in this segment. We can't wait to get working silicon in our hands and run it through our enterprise test bench, so stay tuned for a much more intensive deep dive into this exciting new technology!
Related Tags