SMART Storage Systems releases Optimus Ultra+ SSD
Provides SLC-like endurance with standard MLC.
Published Tue, Jun 26 2012 9:55 AM CDT
|
Updated Tue, Nov 3 2020 12:28 PM CST
SMART Storage Systems has announced their newest entry into their Enterprise SSD family, the Optimus Ultra+. The 'Ultra' part of the name comes from two central facets of performance, speed and endurance. This SAS 6/Gb/s SSD sports some impressive numbers, with 100,000 random read IOPS and 60,000 random write IOPS. The SSD also supports dual-port SAS, which allows the throughput to climb to an unheard of 1GB/s.
The real story here is the endurance however. The Optimus Ultra+ is rated for 50 Drive Writes Per Day (DWPD) for five years. This means that the capacity of the drive can be written and deleted 50 times every day for five years.
[img]2[/img]
The Optimus family of SSDs all centers around one philosophy; providing SLC-like endurance with MLC pricing. The attraction of MLC over SLC is simple; SLC commands ridiculously high prices while MLC is becoming garden-variety. Even in the consumer market we are now seeing MLC drop below the dollar per GB threshold. This low price level will always be welcome in any market, but creating Enterprise-class MLC is not an easy task.
[img]3[/img]
As NAND geometries shrink the endurance of the NAND itself also shrinks. This creates major difficulties that have hampered the introduction of the lower endurance MLC NAND into the datacenter. As the NAND shrinks the errors in the data begin to multiply. This is normally combated by higher levels of ECC (Error Correction Code) which cleans up the data and protects it. There is a diminishing point of returns with this approach, and the best overall approach is to increase the endurance of the NAND itself. By increasing the endurance of the drive itself the errors will be reduced.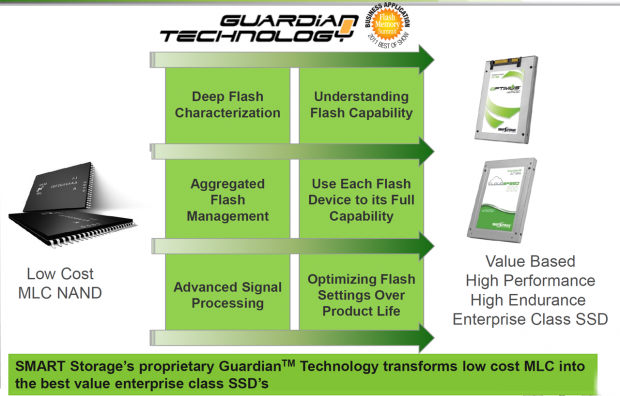 SMART Storage Systems accomplishes this feat through a suite of techniques that are collectively referred to as 'Guardian Technology'. NAND characterization, which reassigns NAND to more accurate P/E ratios, is a very important step of the process. Aggregated flash management ensures that there is an even distribution of different classes of NAND present on each SSD, which benefits the whole. Advanced Digital Signal Processing (DSP) is also one of many different approaches that are taken to increase the endurance of the MLC.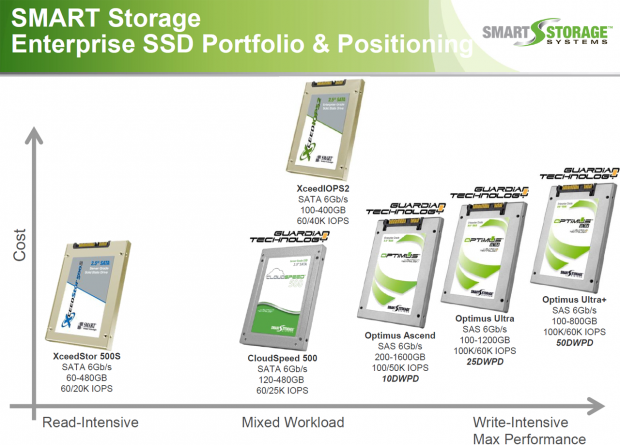 This new SSD fills a need for the very high write environments that typically would be the home of SLC products. This graphic illustrates the SSD portfolio of SMART Storage Systems. The family of SSD extends from the more value-oriented XceedStor 500S, which is for read-intensive environments, and scales up to the faster and more durable Optimus series of SSDs.
The Optimus Ultra+ offers up some incredible endurance and speed, but sometimes performance with SSDs can deteriorate with time. SMART has combated this with very high requirements for predictability and low levels of variability in performance. SMART designs their SSDs to operate within 1% of performance variability over the lifetime of the SSD. This is an amazing commitment to sustainable performance, and one that few can match.
We will be testing this SSD just as soon as one becomes available, so keep your eyes open for our forthcoming review!
Related Tags