SMART Storage Systems Achieves SLC-Like Endurance with Commercial MLC Flash in New Optimus Ultra+ Enterprise SSD
Jun 26, 2012 9:54 AM CDT
New Enterprise-Class SSD Leverages the Guardian Technology Platform to Increase Endurance of Commercial MLC Flash to 50 Drive Writes per Day, Replacing SLC in Storage Applications
NEWARK, Calif., June 26, 2012 - SMART Storage Systems, an innovative and rapidly emerging enterprise SSD technology provider, today announced that it has enabled the use of multi-level cell (MLC) Flash throughout the enterprise environment with the addition of the new Optimus Ultra+ solid-state drive (SSD) to its current line-up of industry-leading enterprise SSDs. With the release of Optimus Ultra+, SMART Storage Systems' lineup of MLC-based SSDs satisfy every critical enterprise storage endurance point within the data center. Optimus Ultra+ leverages the Guardian Technology Platform to achieve 50 drive writes per day with cost effective consumer-grade MLC Flash, effectively eliminating the need for single-level cell (SLC) Flash in write-intensive storage applications.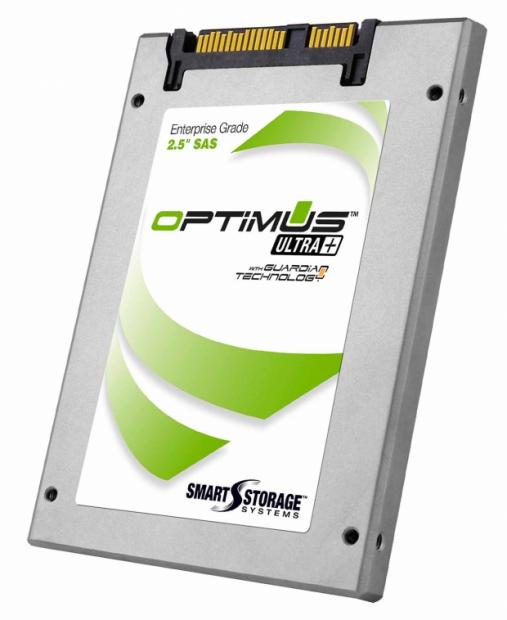 Analyst firm IDC predicts that the volume of digital content will grow to approximately 2.7 Zettabytes in 2012, up nearly 48 percent from 2011. As enterprise organizations deal with this tremendous growth of information and the need for access to data in near real-time, SSDs must be deployed in all tiers of the data center to provide the necessary throughput. Before SMART Storage Systems' announcement today, enterprise organizations were forced to deploy SLC Flash-based SSDs for many storage applications because MLC Flash lacked the required endurance. Due to SLC Flash's high cost, enterprise organizations often settled for lower-performing hard disk drives (HDDs) creating bottlenecks in the data center, or continually swapped out MLC-based SSDs.
SMART Storage Systems' Guardian Technology Platform is a proprietary suite of enterprise features and endurance enhancement technologies that enable more cost effective MLC Flash to be maximized for mixed-workload and write-intensive applications. The Optimus Ultra+ joins the Optimus (10 drive writes), and Optimus Ultra (25 drive writes), to meet the Flash endurance requirements of every tier of storage with MLC Flash, significantly lowering the cost of SSD deployment throughout the storage infrastructure.
"Since our inception we have been focused on revolutionizing the way enterprise storage is approached," said John Scaramuzzo, president at SMART Storage Systems. "By optimizing Flash endurance at the SSD system level with our Guardian Technology Platform, the Optimus Ultra+ delivers the endurance and performance required for the most write-intensive storage applications at a far lower price point than its SLC counterparts. Enterprise organizations and OEMs can now extend MLC Flash to every storage tier, improving storage and application performance without blowing the budget."
Available in capacities from 200 - 800GB, the new Optimus Ultra+ is a Serial Attached SCSI (SAS) SSD that delivers a sustained transfer rate of 500 MB/s in dual port and 1GB/s in wide port operation, and random read/write performance of 100K/60K IOPS. Equipped with SMART Storage Systems' Guardian Technology Platform's FlashGuardTM, EverGuard and DataGuard technologies, the Optimus Ultra+ also comes with a complete enterprise feature set, ensuring data integrity and drive reliability are never compromised within the five year warranty period.
The Optimus Ultra+ is now sampling with select customers. For more information on the Optimus Ultra+ or SMART Storage Systems, please visit the company's website at http://www.smartstoragesys.com, the company's blog at http://www.smartstorageblog.com, or find us on Twitter under the handle @SMARTSSD.
About SMART Storage Systems
SMART Storage Systems is a technology leader in the design, development and deployment of current and next-generation enterprise solid-state storage products. Combining leading-edge, enterprise-class design and proven world-class support, SMART Storage Systems leverages its deep expertise in Flash and enterprise storage technology. SMART Storage Systems delivers high-quality, high-reliability solutions to a broad customer base including tier one storage and server OEMs. In support of these designs, SMART Storage Systems provides award-winning innovations in solid-state storage technology, such as NAND high-endurance Guardian technology, to a variety of customers in the enterprise storage, enterprise server, data center, defense and industrial markets. SMART Storage Systems is part of the SMART family of global companies. See www.smartstoragesys.com for more information.
About SMART Worldwide Holdings
The SMART family of companies are leading designers, manufacturers and suppliers of electronic subsystems for the most demanding OEMs around the world. The SMART companies have led the way over the past 23 years providing standard and custom products to today's leading global OEMs crossing all major electronic industries. These industries include PC, enterprise and industrial servers, networking, telecom, defense, aerospace, gaming and embedded application markets. Taking innovations from the design stage through manufacturing and delivery, SMART Modular Technologies has developed a comprehensive memory product line that includes DRAM, SRAM and Flash memory in various form factors. SMART Storage Systems offers high-performance, high-capacity SSDs for enterprise, defense, aerospace, industrial automation, medical and transportation markets. SMART's presence in the U.S., Europe, Asia and Latin America enables it to provide its customers with proven expertise in international logistics, asset management and supply-chain management worldwide. See www.smartm.com for more information.
# # #
Last updated: Apr 7, 2020 at 12:06 pm CDT
PRICING: You can find products similar to this one for sale below.

United States: Find other tech and computer products like this over at Amazon.com

United Kingdom: Find other tech and computer products like this over at Amazon.co.uk

Australia: Find other tech and computer products like this over at Amazon.com.au

Canada: Find other tech and computer products like this over at Amazon.ca

Deutschland: Finde andere Technik- und Computerprodukte wie dieses auf Amazon.de
Related Tags