K|ngp|n achieves 1442MHz with EVGA GTX 680 on air
K|ngp|n manages 1442MHz on a GTX 680 using only air cooling.
Published Thu, May 3 2012 5:04 PM CDT
|
Updated Tue, Nov 3 2020 12:28 PM CST
Overclocking guru K|ngp|n has managed another incredible feat. It wasn't too long ago that he managed to take an NVIDIA GTX 680 up to 1957MHz with the help of some extreme cooling. This time he has managed to push an EVGA GTX 680 up to 1442MHz on basic air cooling alone. That is quite the feat and proves just how great the Kepler architecture is.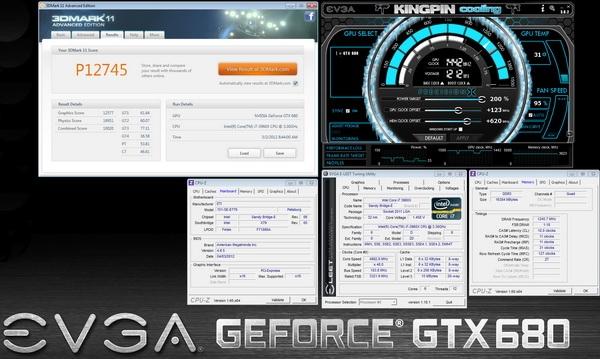 K|ngp|n used an EVGA GTX 680 SC, which features a default frequency of 1058MHz (1124MHz at Boost). He pushed 1.212V through the core of the GPU to achieve this feat. That voltage is at the very top of the voltage limit set by NVIDIA. The memory was also overclocked to 1812MHz which is also a big improvement.
Of course when you are running a card like that, especially at those clocks, you need a strong system to run with it so that it doesn't bottleneck. In this case, K|ngp|n used i7-3960X CPU (overclocked to 4.98GHz)and memory clocked at 1245.7MHz (2490MHz effective). This achieved a 3DMark 11 scoring of P12745.
Related Tags