Western Digital releases new VelociRaptor hard drive, a 1TB, 10,000RPM monster
Western Digital releases new VelociRaptor HDDs which are available today.
Published
1 minute & 22 seconds read time
Today is a good day for storage geeks. Intel released their new 330 series solid state drives and Western Digital has released this monster of a drive. This new addition to the VelociRaptor line of hard drives brings a 1TB drive into the 10,000 RPM range. This is the single largest drive that operates at 10,000 RPM.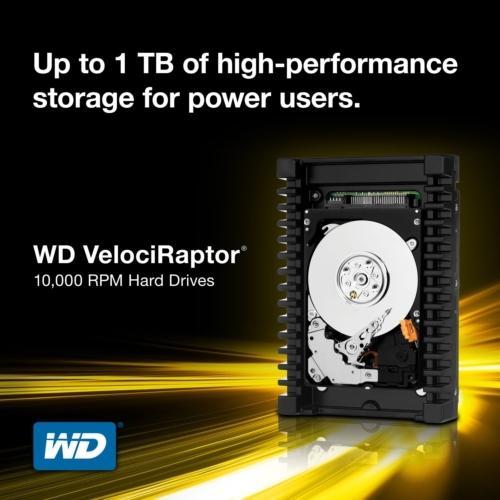 "WD is committed to providing customers with the best performing and most reliable SATA hard drives and our WD VelociRaptor family of drives underscores that promise," said Darwin Kauffman, vice president and general manager of WD's enterprise storage. "With ever-increasing demand for greater capacity, the new 1 TB WD VelociRaptor drive delivers the ultimate combination of speed and storage for the power user."
Features of the new drive include:
Super speed - SATA 6 Gb/s interface and 64 MB cache optimize the 10,000 RPM WD VelociRaptor.

Higher capacity - WD VelociRaptor SATA hard drives employ Advanced Format Technology to achieve capacities up to 1 TB.

Rock-solid reliability - Designed and manufactured to workstation standards to deliver stellar reliability in high workload environments.

Ultra-cool operation - Consumes less idle power and uses similar active power as the previous generation WD VelociRaptor while offering greater capacity and performance.

Rotary Acceleration Feed Forward (RAFF(TM)) - Optimizes operation and performance when the drives are used in vibration-prone, multi-drive chassis.

NoTouch(TM) ramp load technology - The recording head never touches the disk media ensuring significantly less wear to the recording head and media as well as better drive protection when in transit.

Environmentally conscious - In addition to being RoHS-compliant, this generation of WD VelociRaptor is also a halogen-free design.
All of the new drives are available at select retailers now. The drives come with a five-year limited warranty and according to the release, the "Manufacturer's Suggested Retail Price (MSRP) for the WD VelociRaptor 1 TB (model #: WD1000DHTZ) is $319.99 USD, the 500 GB version (model #: WD5000HHTZ) is $209.99 USD and the 250 GB version (model #: WD2500HHTZ) is $159.99 USD."
Related Tags