Samsung dubs their flexible AMOLED display 'YOUM'
Future Samsung devices could sport flexible AMOLED display 'YOUM'

Published Tue, Apr 10 2012 2:29 AM CDT
|
Updated Tue, Nov 3 2020 12:29 PM CST
'YOUM'. This is the name of Samsung's flexible AMOLED technology, in which both the name and logo have been sent for trademark registration in the United States. This means that YOUM-sporting devices could soon be seen in the wild, and flexed, in the wild.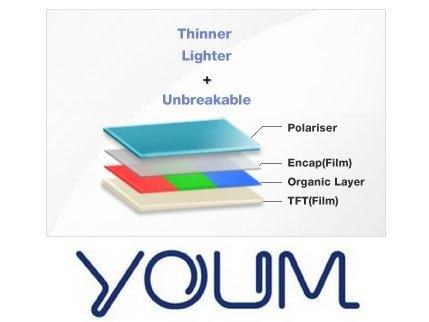 YOUM is Samsung's next-generation ultra-thin screen technology, with the unique characteristic of being able to be bent, Samsung says its even unbreakable. YOUM was showcased before it had a name at CES last year, where they were teasing a 4.5-inch screen with a thickness of 0.3mm and a resolution of 800x480 (WVGA). Samsung have demonstrated the concept of using it for an e-book reader, camera, video chat and even augmented reality and 3D visuals on tablet PCs.
We should see things like watches, smartphones and tablets built from this technology. A flexible watch connected to the Internet, Facebook, e-mail, etc would be quite cool and would definitely sell to the hipsters, and technology fans alike.
Related Tags