VR-Zone have an interesting piece on the power circuitry within NVIDIA's upcoming Kepler GPU, and it reveals some juicy info. First up, NVIDIA is tapping the supply chain maker Foxconn to manufacture the high-end Kepler-based GPUs, and according to sources, NVIDIA has used the strategy of switching between Flextronics and Foxconn in the past, but are now happy with Foxconn.
The board talked about was manufactured in Q3 of last year, which would lead us to believe that NVIDIA have had Kepler GPUs for a while now. Kepler was meant to see the light of day in 2011, with Maxwell hitting in 2013, but that won't be happening now. It's obvious that yields were low once again for NVIDIA, which is why they would've stopped from pushing Kepler cards into production. In NVIDIA's recent financial analyst call, the can-of-whoop-ass himself Jen-Hsun stated that the 28nm supply will be "constrained through the year (2012)".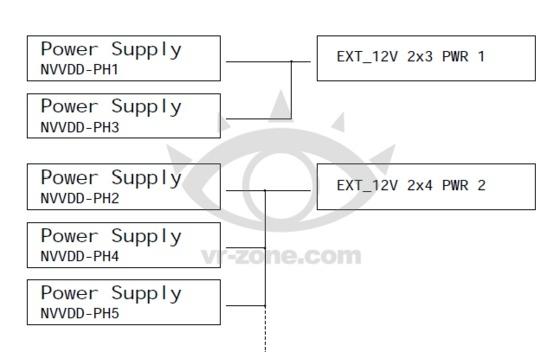 The diagram above shows that the board in question (GeForce GTX 670 Ti) requires a single six-pin and eight-pin power cables, which gives us 75W + 150W + 75W = 300W total, even though it should still work with just two six-pin rails. Three phases are dedicated to feed the GPU, and dual phase is for the rest of the board. VR-Zone say they'll continue to post articles covering this in the future, while I wait with anticipation.