Epic's Tim Sweeney says there's "too many platforms"
Tim Sweeney, Epic CEO, says there are "too many platforms"

Published Sun, Feb 12 2012 11:23 PM CST
|
Updated Tue, Nov 3 2020 12:29 PM CST
Tim Sweeney, Epic CEO and Technical Director spoke at the 2012 D.I.C.E. Summit, where he predicted that the number of platforms for games will shrink to three or four over time. He also added that consumer have many choices when it comes to gaming platforms with tablets, PCs, smartphones, Macs, consoles and new handhelds. He adds: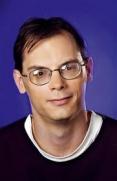 This is too many platforms. We're seeing now iPad sales have surpassed the sales of PCs. This is a real revelation, this is a product that wasn't invented until a few years ago and its basically supplanting personal computers. Over time these platforms will be whittled down to a competing set of platforms to maybe three winners worldwide across everything - computers, game platforms, smartphones...We should expect a lot of consolidation here and winners and losers according to who picks the right directions and executes successfully.
Sweeney also predicted that there would be new devices on the market, as well as new technologies for developers to tap into:
I see a bright future for technology and its implications on games. The ability of game developers to exploit another thousand-fold increase in computing power on future generations of platforms. Some of it will be consoles, some of it PC and some of it tablets. The form factor we can't predict, but the opportunity is there. Our industry's brightest days are yet to come.
I tend to agree, I've covered this subject quite extensively in my editorials. I really think the next-gen consoles will either be the last, or we'll see them replaced quite quickly with something new (upgradeable consoles?) or streaming services. Let's face it - the age of consoles is far too old. The technology inside of them is only capable of so much, and with tablets and smartphones already hitting quad-core, where will they be in 2, 3, or 5 years from now?
Related Tags