AMD have updated their A-Series of APUs
AMD update their A-Series APUs, Merry Christmas Red Team.

Published Wed, Dec 21 2011 3:26 AM CST
|
Updated Tue, Nov 3 2020 12:30 PM CST
AMD have today updated their A-Series line-up of desktop and notebook APUs (Accelerated Processing Units), which include not only speed and performance improvements, but AMD Steady Video update makes this unique feature more compelling than ever. AMD have also included the ability to overclock the APU, so for the first time users can now tune both x86 and graphics settings within the single processor for boosted performance.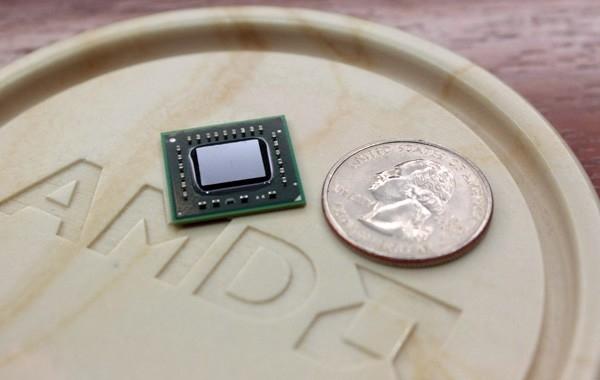 The new updated AMD A-Series APUs combine up to four x86 CPU cores with up to 400 Radeon cores, where it delivers DirectX 11-capable, discrete-level graphics and dedicated HD video processing, all on a single chip. The new A-Series APUs deliver a bigger performance punch when compared to the existing A-Series APUs.
AMD Steady Video, now featured in the AMD A-Series APU family, is designed to stabilize videos during playback. Any videos you have that are unsteady, or jumpy, look steady and smooth as you watch it.
The following list below, is the new AMD A-Series desktop and notebook APUs:
AMD A-Series Desktop APUs
A8-3870K: Four CPU cores, 3.0 GHz CPU base (unlocked), 100W TDP, 400 Radeon cores, 600 MHz GPU base (unlocked), 4 MB L2 cache
A8-3820: Four CPU cores, 2.5 GHz CPU base (2.8 GHz Turbo Core), 65W TDP, 400 Radeon cores, 4 MB L2 cache
A6-3670K: Four CPU cores, 2.7 GHz CPU base (unlocked), 100W TDP, 320 Radeon cores, 600 MHz GPU base (unlocked), 4 MB L2 cache
A6-3620: Four CPU cores, 2.2 GHz CPU base (2.5 GHz Turbo Core), 65W TDP, 320 Radeon cores, 4 MB L2 cache
A4-3420: Two CPU cores, 2.8 GHz CPU base, 65W TDP, 160 Radeon cores, 1 MB L2 cache
AMD A-Series Notebook APUs
A8-3550MX: Four CPU cores, 2.0 GHz CPU base (2.7 GHz Turbo Core), 45W TDP, 400 Radeon Cores, 4 MB L2 cache
A8-3520M: Four CPU cores, 1.6 GHz CPU base (2.5 GHz Turbo Core), 35W TDP, 400 Radeon Cores, 4 MB L2 cache
A6-3430MX: Four CPU cores, 1.7 GHz CPU base (2.4 GHz Turbo Core), 45W TDP, 320 Radeon Cores, 4 MB L2 cache
A6-3420M: Four CPU cores, 1.5 GHz CPU base (2.4 GHz Turbo Core), 35W TDP, 320 Radeon Cores, 4 MB L2 cache
A4-3330MX: Two CPU cores, 2.2 GHz CPU base (2.6 GHz Turbo Core), 45W TDP, 240 Radeon Cores, 2 MB L2 cache
A4-3320M: Two CPU cores, 2.0 GHz CPU base (2.6 GHz Turbo Core), 35W TDP, 240 Radeon Cores, 2 MB L2 cache
A4-3305M: Two CPU cores, 1.9 GHz CPU base (2.5 GHz Turbo Core), 35W TDP, 160 Radeon Cores, 1 MB L2 cache
E2-3000M: Two CPU cores, 1.8 GHz CPU base (2.4 GHz Turbo Core), 35W TDP, 160 Radeon Cores, 1 MB L2 Cache
Related Tags