OCZ releases new Petrol SSDs, includes high-octane performance
OCZ rev up and release Petrol SSDs.

Published Thu, Dec 15 2011 2:29 AM CST
|
Updated Tue, Nov 3 2020 12:30 PM CST
Why didn't OCZ use the line high-octane in this new SSD... feel free to use that line, OCZ. OCZ have released yet another SSD onto the market, a new range line called "Petrol." Petrol is based on a 6Gbps SATA interface and comes in the usual 2.5-inch form factor. Ryan Peterson, CEO of OCZ Technology says: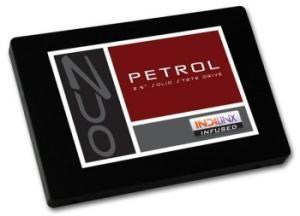 Until today, SSD adoption has been limited to high performance applications due to the high cost of SSDs in relation to slower rotating discs, and we are proud to once again close the gap in pricing without sacrificing durability. The new Petrol Series showcases the flexibility of the Indilinx Everest platform and NDurance Technology, allowing OCZ to deliver the benefits of SSDs to a wide new set of applications while retaining the superior real world performance and reduced latency that separate Everest-based SSDs from our competitors.
The Petrol SSD is based on the Indilinx Everest SSD processor, which is capable of 400MB/sec bandwidth and 35,000 IOPS. The chip also features advanced features for longevity like proprietary page mapping algorithms. Those allow for more stable mixed-workload environment. Latency in the SSD is reduced to as low as 0.6ms.
The OCZ Petrol SSD comes in sizes from 64GB to 512GB. No details on pricing or availability are known at this time.
Related Tags