Android Market sees 500k success submissions
Android Market sees 500k successful submissions, but has removed 37% of published apps.

Published Sat, Oct 22 2011 10:48 AM CDT
|
Updated Tue, Nov 3 2020 12:30 PM CST
The Android Market has been maintaining exponential growth lately, but still lags behind Apple's App Store. In Q3, 2011 the number of active mobile applications in the Android Market was 319,161. Not bad, but considering Apple have 459,589 in the App Store, that's quite the stab in the chest.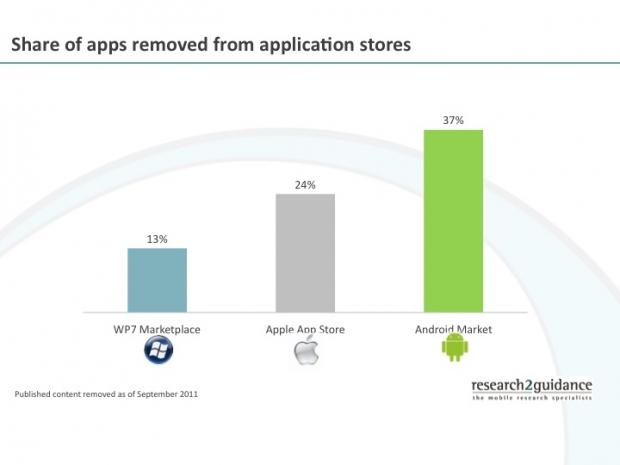 But, looking deeper, research2guidance have said that Android developers are much more productive when compared to Apple's. They noticed that the averageAndroid-based publisher has placed more than 6 applications in the Market since launch, compared to just 4 apps on average for the iOS-based developers.
The actual total number of applications published on the Android Market was over 500,000 in September 2011. Where as Apple saw just over 600,000 successful submissions to their App Store: just 20-percent more. The problem here is that 37-percent of the applications published were later removed from the Android Market for various reasons; where Apple's App Store removed only 24-percent of published apps.
Apple is known to regularly clean up its App Store from inappropriate or outdated content, but even then, their active application share still dominates Android. The reason for this is most likely the submission requirements prevent developers from publishing multiple trial or low quality applications where Android Market developers place more market testing, trials, demo and malware content.
Over 78-percent of the Apps removed from the Android Market were free, which could mean that publishers put more effort and time into the applications they place with the pay-per-download business model, ensuring that it is kept longer in store.
How is Windows Phone 7's Marketplace faring? Well, it sits at just 13-percent. But the Marketplace is the young pup in this group. I'm sure it'll continue to grow.
Related Tags