A fresh roadmap looking deep into 2012 reveals that Intel is planning to hit the SSD market harder than ever with new series' on the horizon that will cover pretty much all major market segments.
We've already seen some refreshments in their SSD product range recently, and more to follow before the year is out. These include the SSD 520 "Cherryville", SSD 710 "Lyndonville", SSD 720 "Ramsdale", and "Hawley Creek" mSATA SSDs. These will maintain the lead into the first quarter of 2012, and as the second quarter comes around Intel will introduce its "Ramsdale MLC" and "King Crest" families to market.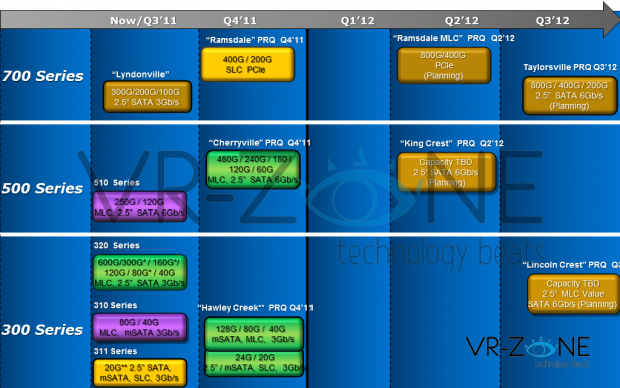 But the biggest changes are to be seen into the third quarter of 2012 when "Taylorsville" hits the scene. This is said to be a successor to SSD 710 "Lyndonville" and will bring significant capacity increases going as large as 800GB.
In the second quarter of 2012, Intel will launch "Ramsdale MLC". Simply put, this is a variant of "Ramsdale" Intel SSD 720 series PCI Express SSDs, which uses 25 nm MLC-HET NAND flash memory instead of SLC NAND flash found on the standard "Ramsdale". MLC-HET allows Intel to double capacities, while offering comparable endurance to SLC, and much higher price per gigabyte. It does, however, come at the cost of slightly lower throughput. Hence, Ramsdale MLC isn't really a replacement, but more of an expansion of the 700 Series PCI Express family.

Around the same time, Intel will launch "King Crest", a successor of SSD 520 "Cherryville" family. This is most definitely a successor, since it uses 25 nm MLC-HET NAND flash instead of regular 25 nm NAND flash found on SSD 520. We don't expect any leaps in terms of capacities, but endurance, sequential data-rates, and throughput can be expected to go up. Like the SSD 520, "King Crest" comes in the 2.5-inch form-factor with SATA 6 Gbps interface.