SATA-IO announce SATA Express, capable of 16Gb/sec
SATA Express will be capable of 16Gb/sec.

Published Wed, Aug 10 2011 8:34 PM CDT
|
Updated Tue, Nov 3 2020 12:31 PM CST
With SATA 6Gbps not fast enough to keep up with todays SSDs, the Serial ATA International Organization had to come up with something, and quick. SATA-IO have just announced the development of a new standard that combines SATA software infrastructure with the PCI Express interface. The new standard will be called "SATA Express," and will allow manufacturers to create devices that can access the bandwidth of the PCIe slots whilst remaining compatible with existing SATA applications.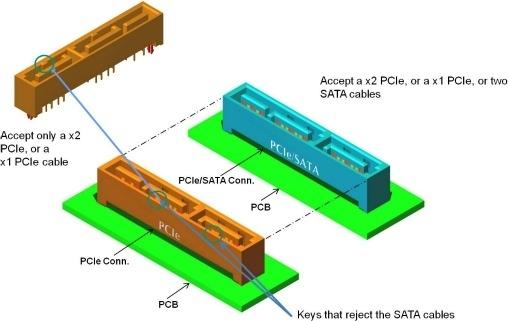 The combination of the technologies will provide 8Gb/s and 16Gb/s (one lane via PCIe 2.0 or two via PCIe 3.0) - which is a decent increase over SATA 3.0's single-channel throughput of 6Gb/s. SATA-IO is still concerned certain high-end consumer and enterprise configurations could saturate the existing 6Gb/s interface.
SATA-IO president, Mladen Luksix says:
We had two choices. Either increase the SATA speed or find another solution that can be available today and be cost and technology compatible with legacy SATA environments.
SATA Express-based devices will still be recognised by older SATA hardware and because virtually all modern desktops support both PCIe and SATA, users won't need to upgrade to take advantage of SATA Express. Luksic goes on to say "The SATA Express specification provides SSD and hybrid drive manufacturers the advantages of performance and scalability enabled by PCIe 3.0 -- which is available now -- and the ubiquity of SATA"
SATA-IO also announced "SATA SSD," a single-chip solution for ultra-thin form factors (i.e. tablets). SATA Express will be finalized by the end of 2011, but there's no such date for SATA SSD.
Related Tags