G.Skill up the ante with 2300MHz DDR RipJaws-X
G.Skill break sound barrier with new P67 kit rated at speed of 2300MHz DDR.
Published Wed, Apr 20 2011 2:55 AM CDT
|
Updated Tue, Nov 3 2020 12:31 PM CST
G.Skill has today announced that we'll be seeing a PC3-18400 RipJaws-X kit that carries a whopping default clock speed of 2300MHz DDR. This is achieved with a 9-11-9-28-2T @ 1.65v setup. Below, though, we can see in the screen shot G.Skill have actually managed to achieve 2303MHz DDR at 9-11-9-28-1T using the same voltage.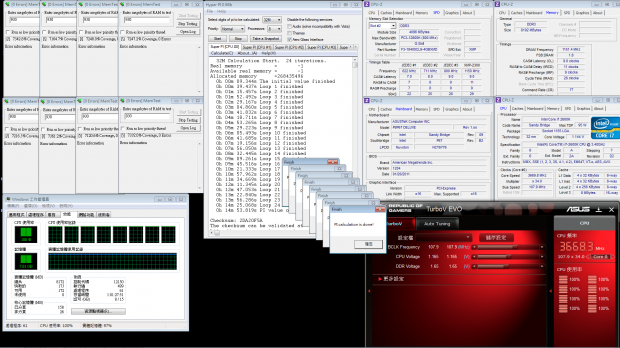 What makes the kit really stand out is the fact that it's an 8GB one versus 4GB, which is what we tend to see from these really high-end kits. Coming as no surprise the kit will be a limited edition and that's no doubt due to the fact it's such a high speed. Unlike the 2133MHz DDR kit, overclocking will be slightly more involved due to 2300MHz DDR not being a natively supported speed on the Intel P67 platform.
To achieve the default clock G.Skill tell us you'll need an ASUS Maximum IV Extreme or P8P67 Deluxe along with a CPU that's capable of achieving a 107.9 BCLK. While the first requirement won't be an issue for high-end users, a high BCLK achieving CPU comes down to luck of the draw.
Currently there's no pricing slated for the kit and the current ETA is "Coming Soon" but we should see the RipJaws-X PC3-18400 kit in the coming weeks with the G.Skill Turbulence II that you can see above.
In the meantime if this is a little too hardcore for you, check out the 2133MHz kit we previously looked at
here.
Otherwise keep an eye out for a review of this new kit when samples become available.
Related Tags