Swann Security unveils new SportsCam waterproof camcorder
CES 2011, Small camera is perfect for sports fans.
Published Mon, Jan 3 2011 1:00 PM CST
|
Updated Tue, Nov 3 2020 12:32 PM CST
CES 2011, Las Vegas -
Anyone that is into sports and has tried to film themselves performing their favorite extreme sport knows that taking a normal camcorder on a skiing trip or to a skate park with you is asking for the death of a normal gadget. If you are a swimmer or diver, a normal camera isn't an option at all. Swann Security has all sorts of cameras in its line up and most of them are aimed at home and office security.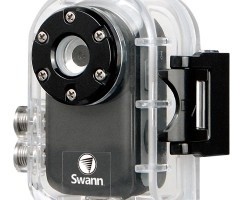 The company has announced that it will be showing off a new consumer camera at CES 2011 that is called the SportsCam Waterproof Mini Video Camera. The camera records in relatively low 640 x 480 resolution and comes in a watertight housing. That housing will keep water out down to 65-feet deep and it is also shock proof to prevent the camera for breaking if you drop it or crash. The camera can be mounted to just about anything with several included mounting options.
Those mount options include several Velcro straps, a double clipper, pouch, and several different clips for various mounts. The camera stores video to microSD cards and a single 16GB microSD card is good for five hours of video and the internal rechargeable battery is good for 2.5 hours of recording. The camera will ship in February for $99.
Related Tags