Barnes & Noble says Nook line are its best selling items ever
Nook sells big time.
Published Fri, Dec 31 2010 1:04 PM CST
|
Updated Tue, Nov 3 2020 12:32 PM CST
eReaders have been around for a long time now, but they really only caught the attention of a lot of people after the Amazon Kindle debuted a few years ago. The Kindle went on to great success and is the best selling item ever for Amazon, which is saying a lot. Barnes & Noble was one of the booksellers that decided to follow Amazon into the eReader market with its line of Nook readers.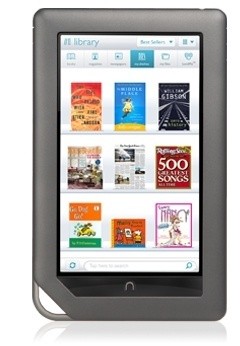 Barnes & Nobel has now announced that the Nook line of eReaders are the best selling items it has ever had in its store or online. That best selling title spans the entire 40-year history of the company. Barnes & Noble offers up no specifics on just how many Nooks have sold overall. However, it did note that on Christmas Day alone almost a million NookBooks sold.
"NOOKcolor became the gift of choice over the holidays for people who love to read everything - books, magazines, newspapers, children's books and more - in rich, beautiful color," said William Lynch, CEO of Barnes & Noble. "The success of NOOKcolor, along with our unique ability to market NOOK devices to readers in our stores and through our strong channel partnerships with Best Buy, Walmart and Books-a-Million, resulted in the continued explosive growth of our Digital Content business and our NOOK line, our most successful products ever. We have a large online book business at BN.com, that's been recently growing. And the fact that eBook unit sales now exceed physical book sales through BN.com, illustrates how quickly we've grown this exciting new business at Barnes & Noble."
Related Tags