Digital Storm launches Sub-Zero Liquid chilled gaming rig
New OEM gaming rig uses peltier cooling.
Published Tue, Nov 23 2010 10:08 AM CST
|
Updated Tue, Nov 3 2020 12:33 PM CST
The geeks around these parts slant to the more hardcore than geeks that might normally be looking at gaming PCs from Digital Storm. Most of us probably roll our own rigs, but there are times when machines offered out of a box ready to go have their appeal. This is one of those times. Digital Storm has unveiled a new gaming rig called the Sub-Zero Liquid Chilled system. The machine uses liquid cooling on the CPU and some of the other hardware inside.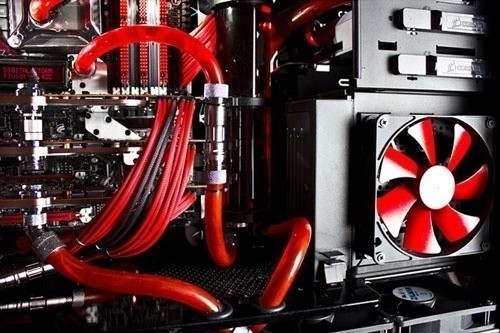 The liquid cooling system isn't just a radiator and a couple water blocks crammed inside one of the gaming rigs the company already offered either. The machine uses a liquid cooling system that has liquid that is chilled to under 0C using peltier tech. Around these parts peltier tech is something many will be familiar with, but the general PC gaming geek might not be.
The system uses a cooling plate that is able to chill the liquid circulating in the closed liquid system. Digital Storm claims that the liquid can deliver CPU temps at 0C or under when the processor is at idle. That processor is an Intel Core i7-980X and runs at 4.6GHz. The base price for the rig is $3,899 and options will run that cost up greatly.
"The R&D conducted on this liquid chilled system has been the most labor intensive, but rewarding initiatives ever attempted by our engineers," commented Rajeev Kuruppu, Digital Storm's Director of Product Development. "With constant innovation happening in the hardware space, the demands on our engineers to design systems that optimize these components are unyielding. The Hailstorm gaming computer with the new Sub-Zero Liquid Chilled System fully maximizes the potential for each component like no other system we've ever built."
Related Tags