Patriot launches Torqx TRB line of SSDs
Patriot outs new SSDs.
Published Mon, Oct 25 2010 2:04 PM CDT
|
Updated Tue, Nov 3 2020 12:33 PM CST
Patriot has been peddling RAM to gamers and Enthusiasts for a long time and like many other memory companies, Patriot has expanded into SSDs as well. Patriot has unveiled a new line of SSDs today called the Torqx TRB line that offer nice features and performance. The new 64GB SSD uses the latest controller from JMicron called the JMF616.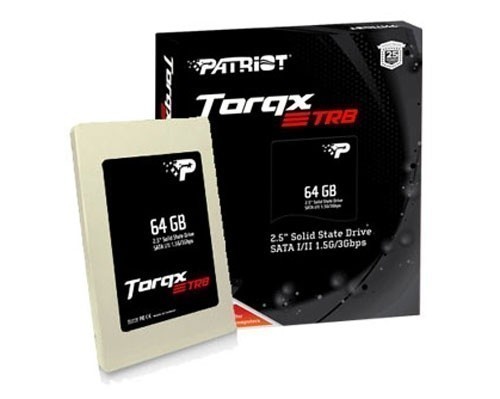 The controller allows the SSD to operate at up to 260MB/s read speed and 115MB/s write speed for the 64GB version. A 32GB SSD is also offered using the JMicron JM612 controller allowing the SSD to operate at up to 245MB/s read speed and up to 60MB/s write. Both of the SSDs have a 3-year warranty and are designed to support TRIM in Windows 7.
The SSDs consume 0.5W in standby and 5.3W when operating. Both also have a 64MB cache. Patriot is mum on pricing and availability at his time. "As solid-state drive technology advances, we are able to develop SSD solutions that provide the performance users want while reaching the affordable price points they demand. Patriot's objective is to offer the latest technology while providing the best performance and price options", states Les Henry, Vice President of Engineering at Patriot. "Our Torqx TRB family of SSDs meet these goals. Users upgrading with a Torqx TRB SSD will benefit from improved transfer rates, quicker boot times and the reliability of solid-state storage in their boot drive option. Including a Torqx SSD in your desktop or notebook upgrade plans provides one of the best bang-for-the buck improvements you can make to your system."
Related Tags