Angelbird SSD storage device can be expanded for more speed as needed
Expandable SSD gets faster with more space.
Published Fri, Oct 22 2010 2:08 PM CDT
|
Updated Tue, Nov 3 2020 12:33 PM CST
The pros and cons of an SSD versus a HDD are well documented. No one will argue that the SSD offers more speed than your average HDD, but most will agree that the amount you pay for an SSD versus the storage space leaves a lot to be desired. However, users that want outright speed in their computers know that the SSD is the way to go.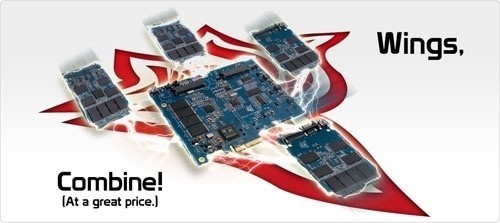 SSDs that connect directly to the SATA port have bottlenecks inherent in the SATA design and to avoid those bottlenecks there are a few SSDs on the market today that plug into the PCI Express slot. A new SSD storage device has surfaced from a company called Angelbird that is a combination of a traditional SSD and one of the PCI Express SSDs.
The Angelbird device has no storage integrated into the PCI E card itself, but it is purchased with a wired SSD in 16GB or 32GB that is used for booting the computer. With a single SSD hooked to the PCI E card the device is capable of up to 285MB/s performance. The real coolness comes when you add more of the expansion modules the company offers. You can go up to four of those expansion modules and with a quartet of 120GB modules the device is capable of up to 1081MB/s data speeds. The system starts at $239.
Related Tags