Mushkin Radioactive Series RAM blows up
Muskin RAM is radioactive.
Published Wed, Oct 20 2010 2:00 PM CDT
|
Updated Tue, Nov 3 2020 12:33 PM CST
When it comes to buying a new video card we are all used to getting the cards bundled with coupons for game downloads or with full versions of a video game inside the package ready to play when you are. We don't see many games bundled with other gear like peripherals and computer memory. Mushkin has announced a cool new RAM series called the Radioactive Series that is bundled with a game that fits right in with the radioactive theme.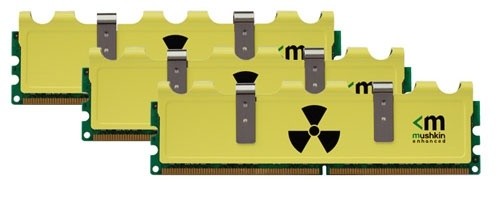 The RAM kits will be bundled with a full version of the game Fallout: New Vegas when purchased at Newegg.com. That will probably be one of the coolest video games available this year so if you need new RAM, this kit is looking very good. The Radioactive RAM kits have a cool heatshield that has the radiation symbol on it and a sickly green color that fits the theme well.
The kits are offered in DDR3-1600 for LGA 1366 and LGA 1156 platforms and there is a 2000MHz kit available as well. Mushkin will add more kits and with different specs to the family. The current kits include a 6GB PC3-16000 1.65V offering with timings of 8-10-8-27 using three 2GB modules. A 6GB kit at PC3-12800 1.65V with 6-8-6-24 timings using three 2GB modules is also available. The smallest capacity kit is the 4GB dual 2GB module PC3-12800 kit at 6-8-6-24 using 1.65V.
Related Tags