CoolIT Systems supports AMD Phenom II X6 1090T and Radeon HD 5970 GPU
CoolIT supports high-end AMD hardware.
Published Wed, Oct 20 2010 10:08 AM CDT
|
Updated Tue, Nov 3 2020 12:33 PM CST
When it comes to overclocking one of the most basic things that an enthusiast does is move from air-cooling their hardware with fans to liquid cooling for better performance. Some enthusiasts have room for giant radiator setups and other don't. For the enthusiast that want liquid cooling with a system that can fit completely inside the case, CoolIT Systems has become one of the best brands to shop.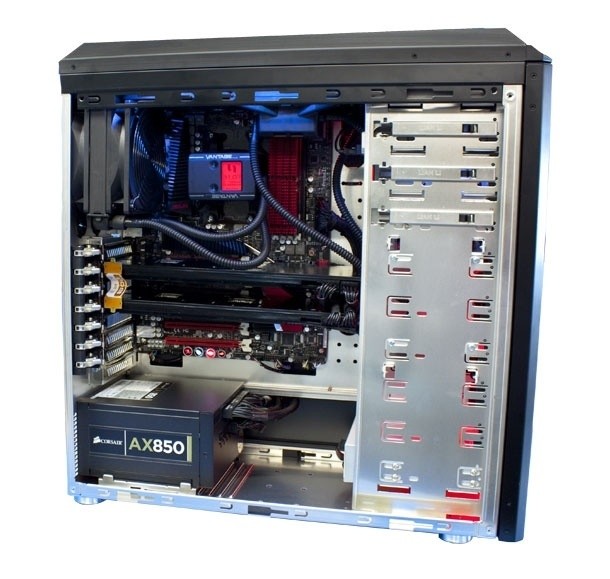 CoolIT and AMD have announced that CoolIT's line of cooling solutions are now available for computers that run the AMD Phenom II X6 1090T processor. The cooling solutions now also support the AMD Radeon HD 5970 GPU allowing for more overclocking potential of the GPU on the video card as well as the CPU. CoolIT and AMD are displaying thin and lower cost solutions at Technical Exhibition in Taiwan.
"I am excited to be speaking at the AMD Exhibition." remarked Geoff Lyon, CEO of CoolIT Systems. "AMD has raised the bar for affordable performance in the new AMD Phenom II X6 processor with advanced capabilities like its Turbo Core Technology, and the ATI Radeon HD 5970 continues its position as the fastest single video card in the world. When you combine these computing technologies with CoolIT Systems' high-performance Advanced Liquid Cooling line, the user experiences significant gains in both performance and acoustics."
A demo PC at the show running CoolIT solutions and AMD hardware has been overclocked to 4GHz on the X6 processor and all four GPUs are clocked to 1GHz providing
Related Tags