EVGA shows us their Dual Socket 1366 Board
With room for four dual hieght Graphics Cards!
Published Sat, Jan 9 2010 12:38 PM CST
|
Updated Tue, Nov 3 2020 12:35 PM CST
CES 2010 - So when we stopped by the EVGA suite we got the chance to have some hands on time with their new dual socket 1366 board. This workstation class board seems to be perfectly setup for NVIDIA's Fermi cards. But the question we have is where in the market does this board fit?
If the information we were given from EVGA is right this new board covers both the extreme high-end gaming enthusiast as well as the emerging professional market that utilizes the power of the GPGPU. After all with seven PCI-e x16 slots (through the use of NF200 bridges) that is enough for four NVIDIA or AMD GPUs. If you are a CUDA fan you can get some amazing CUDA performance from this type of setup. Especially give the move of Adobe products to using CUDA GPGPU technology.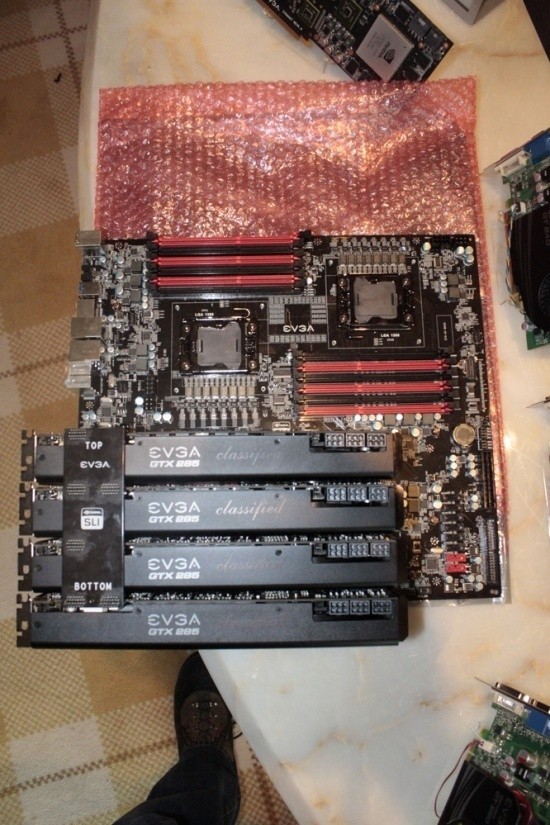 The board will be centered on an Tylersburg 5520 chipset but will feature the same highly overclockable components found on EVGA's Classified boards. The board will also support EVGA's EV bot for monitoring and overcloking.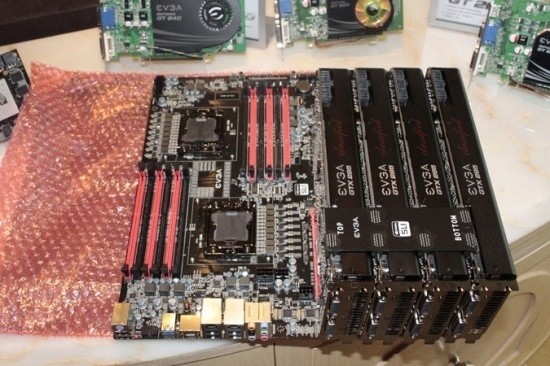 One item that stood out for us the placement of the "Northbridge and NF200 chips; if you load this board up with four GPUs they you cover all of that area and trap heat. We asked EVGA about this and were told that the board we saw did not have the final cooling solution. In fact they are considering putting in passive heatsinks in the board to help remove some of the heat that will be generated here.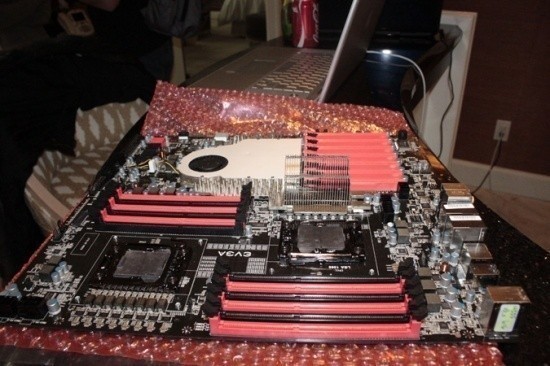 After looking at the new Dual CPU board with four classified GTX 28s stacked up; our thought was (besides when can we get one) what power supply would be able to keep this monster happy? There is the usual 24-pin ATX power socket as well as three six-pin and two four-pin aux power sockets. Now those are bad enough but four GTX 285 Classified cards add an extra eight three-pin and four four-pin PCIe power connectors. I have to tell you, if there ever was a system that fit the needs of a dual PSU it is this one. We do hope to get one of these for some real testing and will let you know when (and if) we have it in the lab and just how many PSUs we have to string together to keep it happily running.
Related Tags