Gulftown Overclocked to 6.386GHz
LN and 2.02 Volts makes it so.
Published Tue, Sep 22 2009 8:15 AM CDT
|
Updated Tue, Nov 3 2020 12:36 PM CST
Yesterday we told you about AMD announcing their new hexa-core Thuban CPU on the day before IDF. Well, that news has been eclipsed with a single act. Overclocking master Shamino took an early engineering sample of Intel's six-core 32nm Gulftown and pushed it to an impressive 6.386GHz.
To reach this speed he needed some LN and 2.02 volts. The 6.386GHz OC is very nice but was not bench stable. To run 3DMark Vantage for a CPU score he had to drop back to 5.9GHz (still a nice overclock).
At this speed the new Gulftown was still able to completely smash the existing world record for CPU score with a staggering 51,177 not using any GPU based Physics. Now when you consider that the current record is only 32,328 you can see just how impressive this feat truly is.
AMD has a ton of work in front of them If this score and overclock are in any way representative of what we will see from Gulftown once the new 32nm CPU hit the stores in 2010.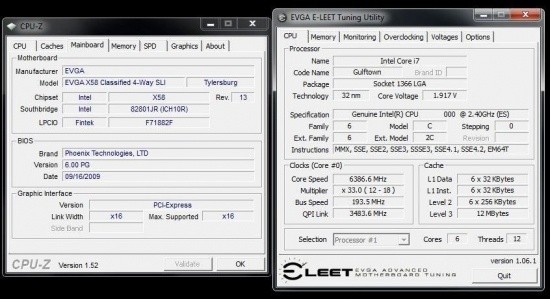 Related Tags