SilverStone launches Raven RV02 PC Enclosure
Real innovation in PC Case Design.
Published Wed, Aug 19 2009 10:39 AM CDT
|
Updated Tue, Nov 3 2020 12:36 PM CST
It is not often that you see true innovation in case designs. Far too often PC enclosures are simply a revamp of the same old tired design. Even the enclosures that flip the mainboard upside down or move the PSU from the top to the bottom are not all that exciting.
However today I got a chance to see something truly different. This new design represents a new direction and a new way of looking at the PC and how it works.
SilverStone has launched their new Raven RV02 case. This new case rotates the mainboard 90 degrees. This means that your I/O ports are no longer facing the back of the PC, now they are easily accessible right on the top of the case. The next added benefit is that heat from components is not stacking up or stagnating in the middle. instead the heat from these is able to rise naturally without heating the next component above it.
This new design make multiple GPU setups even more efficient. But SilverStone did not stop there, Instead they put three 180mm fans that can run at up to 10,000 RPMs in the bottom to help push this air upward. There is also an additional 120mm fan on the top of the RV02 to help vent out additional air. This combination of fans creates a positive pressure in the case to enhance cooling.
Other features of the RV02 include rubber bumpers for HDD mounts with support for 2.5-inch SSDs, an optional CMOS reset button, removal of all sharp edges, and a large cut out in the mainboard tray to allow for easy mounting of water blocks and large HSFs.
The RV02 should hit the stores at the end of august and will run about $160 USD when available.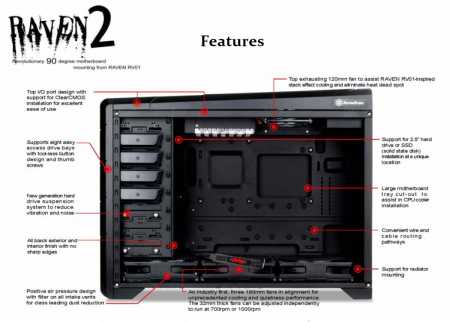 Related Tags