Moore's law not dead yet says Intel
Alive and Kicking.
Published Tue, Jun 16 2009 5:28 PM CDT
|
Updated Tue, Nov 3 2020 12:36 PM CST
Market research outfit, iSuppli, reckons Moore's law is dying and has until 2014 before it fizzles out altogether, crippled by the high cost of churning out chips and the increasingly miniscule sizes it would entail.
Moore's law - which is actually not a law at all, just a prediction made by Intel co-founder Gordon Moore back in the day - states that the number of transistors which can possibly be placed on an integrated circuit doubles roughly every two years. Up until now, the "law" has yet to be broken.
But feeling the urge to churn out a headline grabbing press release, Isuppli has now stirred the chip fat, declaring "The usable limit for semiconductor process technology will be reached when chip process geometries shrink to be smaller than 20 nanometers (nm), to 18nm nodes". This, says Isuppli, is as much down to the expensive equipment required as the difficulty of getting nanoer and nanoer.
Chipping in with his two cents on the matter, Isuppli's director and chief analyst, Len Jelinek, noted, "at those nodes, the industry will start getting to the point where semiconductor manufacturing tools are too expensive to depreciate with volume production, i.e., their costs will be so high, that the value of their lifetime productivity can never justify it."
It is true that chip makers are not exactly in chip shape at the moment, with the likes of Chartered and other Asian fab firms floundering and AMD having had to spin off its fabs to form separate entity, GlobalFoundries, funded partially through Abu Dhabi dollar.
But it's also the case that Intel is pressing forward with its move to a 32nm manufacturing process for its CPUs, whilst Taiwanese giant TSMC has moved to 40-nanometer for GPU production. Even AMD spinoff, GloFo is diving straight in with 32nm and 28nm process tech, so Isuppli seem to be jumping the gun just a little.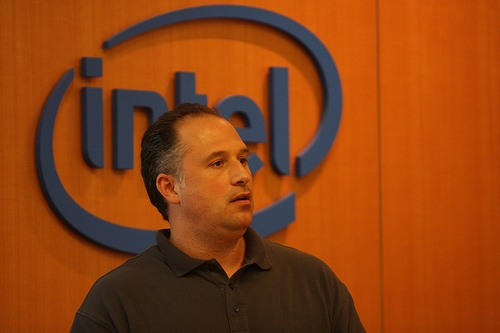 When we asked Intel for an opinion on Isuppli's analysis, director of Intel PR, Bill Kircos said "We respectfully disagree." Kircos added "the death of Moore's Law has been greatly exaggerated, in some cases by Intel competitors since the 1980s."
Kircos reminded us Intel had recently "announced a $7 billion investment in new factories and investments to continue passionately chasing Moore's Law and its tangible size, performance and power benefits."
Oh, and Intel has "absolutely no plans to go fabless, obviously."
Related Tags