iPhone 3G S announced at WWDC
New iPhone out in a week and a half.
Published Mon, Jun 8 2009 2:06 PM CDT
|
Updated Tue, Nov 3 2020 12:36 PM CST
Of course the big news that everyone has been waiting for is the new iPhone. But is not being called the iPhone 3.0 but the iPhone 3G S (maybe the S is for Speed).
They have taken the base iPhone and thrown something new under the hood. Almost everything is faster, roughly twice as fast. Of course not all applications will enjoy this. Maybe there is some truth to the rumors that Apple is using OpenCL and a more powerful GPU to accelerate the iPhone.
Apple has dropped in a new camera 3MP to be exact with auto focus and tap to focus as well as macro. 7.2Mbps HSDPA, video recording (complete with built in editing), voice control (not only for dialing but for iTunes control, a compass application (should be great for hikers),hardware encryption and of course all of the new features of the iPhone OS 3.0.
Apple has worked on the batter quite a bit too; they have improved the 3G Talk time to 5 hours and the WiFi Internet time to 9 hours.
Granted most of this should have been on the 3G, but hey it is finally here. If you are just getting an iPhone (or are eligible for an upgrade) you can pick up the 3GS for $199 for the 16GB model and $299 for the 32GB. If you are like me and are outside this you are looking at about $500 for the 16GB and 600-700 for the 32GB.
Availability should be in a little over a week and a half from today in the USA. And after that even more countries, over 80 countries will have it by August.
Get ready it is going to be a busy summer. Read more
here
.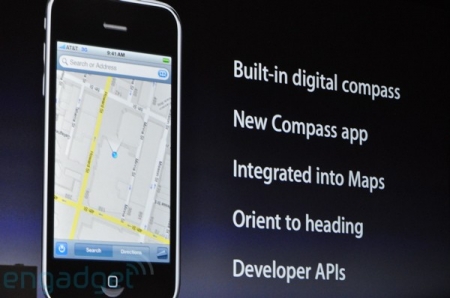 12:03PM "So today, we've shown you a whole new line of MacBook Pros, Snow Leopard, really our first public demo, Scott showed you iPhone OS 3.0, and I've shown you the iPhone 3GS."

12:02PM New ad! Ha -- more of the spy theme. A lens looking at the 3GS "I think it's the same."

12:02PM "After that even more countries, over 80 countries will have it by August."

12:01PM "So when does the iPhone 3GS become available? Just a week and a half."

12:01PM "And that starts today..."

12:00PM "But we want to reach even more customers. So we're going to keep the iPhone 3G on the market... at $99."

12:00PM Black and white... no colors.

11:59AM 16GB of storage, and $299 for a 32GB version.

11:59AM "The iPhone 3GS... just $199."

11:59AM Okay... now let's get this price.

11:58AM "The 3GS -- the most powerful iPhone yet."

11:58AM Also a greener device. 23% smaller packaging.

11:58AM Up to 5 hours 3G talk time, 9 hours of WiFI internet.

11:57AM "All this... and yet we've improved battery life as well."

11:57AM "And something businesses have asked for... hardware encryption. All new iPhone 3GSs will have it."
Related Tags