nVidia's Tegra is in the news this morning as Fudzilla is reporting some power usage specs.
According to Fudo and his sources the tiny SoC Tegra can decode a video stream using only 150MilliWatts of power. That is an impressive number for the amount of work going on. The specs do not stop there though; it only takes 20mW for audio decode and Tegra sips a mere 50mW at idle including display refresh and memory usage.
Pretty impressive if you ask me, although I really do not see Tegra (or any ARM CPU for that matter) working well in a netbook as nVidia and ARM seem to be pushing for.
Read more
here
.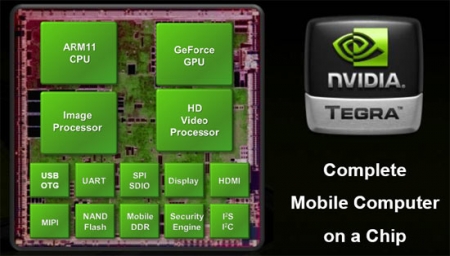 Tegra can also play audio at only 20mW (milliWatt) and the idle power including the display refresh is at 50 mW and this number also includes the memory power.

This definitely shows that Tegra might be a very power efficient chip and that it might get very interesting but don't forget that it has to fight Intel's Silverthorn and many other chips from mobile manufacturers including ARM and alike.

Nvidia claims that there are about 20 Tegra based projects in the works today and at Computex it showcased, Compal Communications, Inc. CN88 (netbook), ICD Ultra (tablet), Inventec Applications Corp. Rainbow (netbook), Mobinnova Mabo (tablet), Mobinnova ViewBook N910 (netbook), Pegatron Vivid (netbook) and Wistron M5 (netbook).