First Android Netbook to cost $250
Low End Hardware in small package.
Published Mon, Apr 27 2009 10:59 AM CDT
|
Updated Tue, Nov 3 2020 12:37 PM CST
With everyone fighting for a piece of the netbook market it is not surprising to see ARM and Android finally enter the fray.
The Alpha 680, as it will be called is going to have some minimal specs including an ARM11 CPU running at 533MHz this is the same CPU that is used in the iPhone and many other smart phones. The display will be 7-inches and have a resolution of 800x480. RAM ahd HDD space will be in short supply with a maximum of 256MB of DDR2 and only a 1GB SSD for storage.
The Alpha 680 should retail at around $250 and is expected to hit the channel in roughly three months.
Computerworld seems to think this setup has a change to wrest the netbook market away from Intel's Atom but with its extremely low processor power and limited RAM/Storage I personally have my doubts.
Read more
here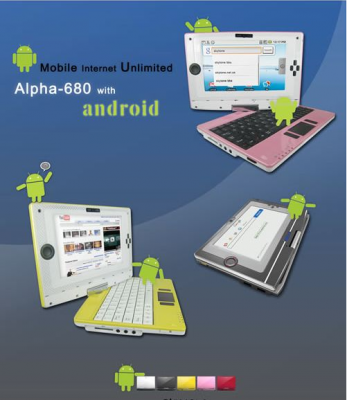 The Alpha 680, designed by Guangzhou Skytone Transmission Technologies Co., is going through final testing now, Nixon Wu, Skytone's co-founder, told Computerworld exclusively.

The 50-employee company, located in Guangzhou, a city in southern China, is aiming to have final prototypes ready by June, with manufacturers likely to introduce models to the market one to two months after that, Wu said.

The Alpha 680 caused a flurry of excitement after it was spotted online earlier this week by Computerworld blogger Seth Weintraub.
Related Tags