Novell launches SUSE Linux Enterprise 11
Runtime for .net included.
Published Tue, Mar 24 2009 10:59 AM CDT
|
Updated Tue, Nov 3 2020 12:37 PM CST
Novell has released SUSE Version Linux Enterprise 11; this new edition to the open source community includes a runtime environment for Microsoft's .net environment.
Other improvements to the new OS are in the areas of interoperability, mission-critical computing and virtualization. With one of the biggest being the release of Mono. Mono is a set of programming tools for Microsoft's .net extensions.
Other features in the new OS are designed to lure customers away from UNIX with a high-performance, feature-rich high-availability offering.
Read more
here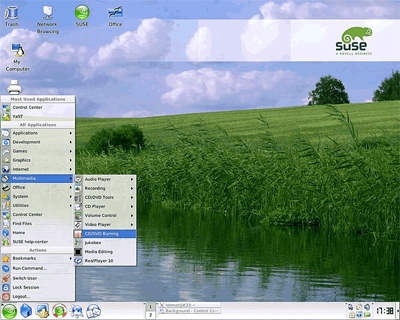 One of the key enhancements in Suse Linux Enterprise 11 is its Mono Extension. Mono is an open-source project that aims to create a .Net-compatible set of programming tools, including elements such as a C# compiler. According to Novell's product director for the EMEA region, Holger Dyroff, the addition of commercial support for Mono means Suse Linux Enterprise 11 users can migrate their existing .Net applications across to the Linux platform.

"We have an online tool for customers to test their .Net applications and see if they run on Mono," Dyroff told ZDNet UK on Tuesday. Microsoft's rich Web media technology, Silverlight, is now also supported with the inclusion of Moonlight, the Mono project's open-source alternative to Silverlight.

Novell has overseen Mono since it bought the developer Ximian in 2003. Asked why it took so long for Novell to provide commercial support for the project, Dyroff said it had in fact provided commercial support to some customers for a while, as part of Novell's consulting work.
Related Tags