FireFox has more bugs than all other browsers
Is much faster at fixing them though.
Published Mar 6, 2009 9:28 AM CST
|
Updated Wed, Jul 27 2022 3:40 AM CDT
1 minute & 3 seconds read time
According to a study that has been released FireFox has more bugs and security issues that Internet Explorer, Safari, and Opera...combined.
The study goes on to say that while the leading third party browser might have more problems the team behind the browser was much better at addressing them.
The Study by vulnerability-testing company Secunia, reports that FireFox had 115 reported flaws in 2008, this contrasted with 31 for IE, 32 for Safari and 30 for Opera.
By contrast Mozilla was faster out of the gate with fixes and often did not require notification for a patch to be in the works. Microsoft took 110 days to fix a couple of publicly released vulnerabilities labeled as "high to moderate" Mozilla took only 43 days on three publicly released vulnerabilities which were labeled as "less critical" or "not critical"
Read more
here
.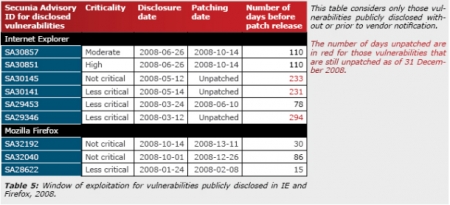 Secunia reported six incidences in which Microsoft was publicly notified of browser vulnerabilities, two of which the security company labeled as "high" or "moderate" in severity. Meanwhile, Mozilla experienced three such occurrences, all of which Secunia labeled as "less critical" or "not critical."

Microsoft took 110 days to issue patches for the two most serious flaws, while it took Mozilla an average of 43 days to address its three flaws, Secunia reported. One of the IE vulnerabilities remained open for 294 days in 2008, according to the report.

The revelation comes as Mozilla released an update Wednesday to Firefox, its second in about a month. Mozilla developers said the update fixes six critical vulnerabilities found in Firefox 3.0.6, the most serious of which could allow attackers to run arbitrary code on a victim's computer.
Related Tags