Turn your Phenom II x3 into an X4
an extra core could be a BIOS change away.
Published Mon, Feb 23 2009 10:51 AM CST
|
Updated Tue, Nov 3 2020 12:37 PM CST
Something very very interesting for Phenom II X3 and X2 owners; if the site Playwares.com is to be believe there might be a way to turn your Phenom II X3 or X2 into an X4.
According to screen shots it looks like all you need to do is set the Advanced Clock Calibration feature (if it is present in your BOIS) to Auto on any SB700/750 equipped mainboard and magically you have an X4.
We will try to confirm this but let's hope that this is true and X3 owners might have gotten a really great deal.
Read more
here
at Theo Valich's blog.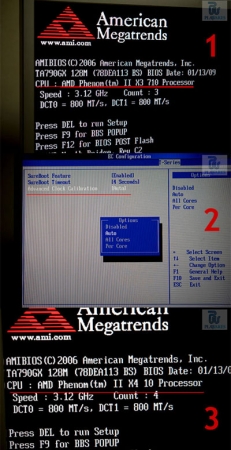 As you can see in picture above, really interesting thing happened. One press on Page Down key in BIOS turned X3 into an X4, and by the stroke of luck, this X3 didn't had a broken down core, but was one of those CPUs that was "cored-down". Sadly, I don't have Athlon X2 or Phenom X3 CPU here (have ASUS and GigaByte 790GX+SB750 motherboards) to test myself, but those motherboards have the same BIOS feature as tested Biostar one.

Unless this story is a hoax, all we can say is - it looks like AMD is not certain how many heads its Dragon platfrom has. It morphs.
Related Tags