Seagates 1.5TB monster HDD reviewed
Given stiff competition against Velociraptor.
Published
1 minute & 11 seconds read time
I'm sure some of you can relate when I say that the more storage you invest in for your server/main PC, the faster you tend to fill it. With that said, I bet many of you were drooling when Seagate announced they were working on a whopping 1.5TB desktop drive as a new member to their Barracuda 7200.11 lineup. Some of us can never have "enough" space, so bring on the big drives!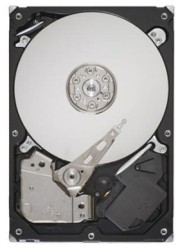 The new 1.5TB monster is set to hit retail channels over the course of the next few weeks, with Newegg reportedly advertising it with stock in hand at a highly attractive price point of
just $190.00 USD
.
The
first known review
of the drive and its performance characteristics has gone live over at XTREME CPU where he pits the drive up against a Samsung Spinpoint F1 1TB drive and also WDs Velociraptor 150. Naturally its access times can't touch the 10,000RPM Raptor, but the dense platters allow it to dish out some pretty nice transfer rates.
As soon as I saw the announcements on Seagate's 1.5TB drive I was intrigued. When I saw the price on Newegg (a mere $189.99) I assumed that this drive would be slow. I'm not even sure why... I guess it just seemed like a brand new 1.5TB drive for a reasonable price would have to have some sort of catch.

So, I decided that XCPUs.com should do a review. But, doing a review on a single hard drive would be pointless, so I had to get some contenders. I had a limited budget, so I had to pick my hard drives carefully. I decided on a Velociraptor 150 (since they an undeniably fast drive) and a Samsung Spinpoint F1 1TB drive (since it's an industry standard 1TB drive).
Related Tags