Supermicro Z390 9th Gen OC Guide
Steve has an overclocking guide for the Z390 chipset, check it out!
Published Jan 25, 2019 10:00 AM CST
|
Updated Tue, Nov 3 2020 6:57 PM CST
9 minute read time
Introduction to Overclocking, and The Flow Chart, and Video
Overclocking Supermicro Z390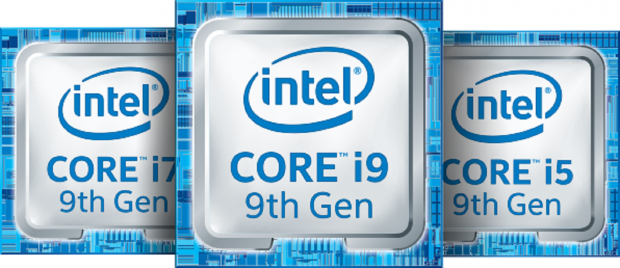 Today we will be describing in detail how to easily overclock the new 9th generation hexa and octa-core Intel CPUs on Supermicro Z390 motherboards. We will work specifically with Supermicro's C9Z390-PGW, which is their top of the line motherboard. Don't be fooled by its six-phase VRM, it currently holds the top LN2 Intel® 9th Gen Core™ i9-9900K OC record at 7.115GHz, and it uses top of the line server grade components you won't typically find on other motherboards. While many of you might not be familiar with Supermicro's UEFI, we are, so we are going to walk you through overclocking on this motherboard.
The Flow Chart
Overclocking is simple; you set a multiplier and a voltage, then you run a test, if that test fails you either add more voltage, reduce frequency, or increase cooling. There are some other tricks this round, such as adjusting up Tjmax (Intel added this for Z390 specifically to increase thermal throttle point), setting an AVX offset, and increasing power limits. The hardest part of overclocking for most people might just be finding a good starting point.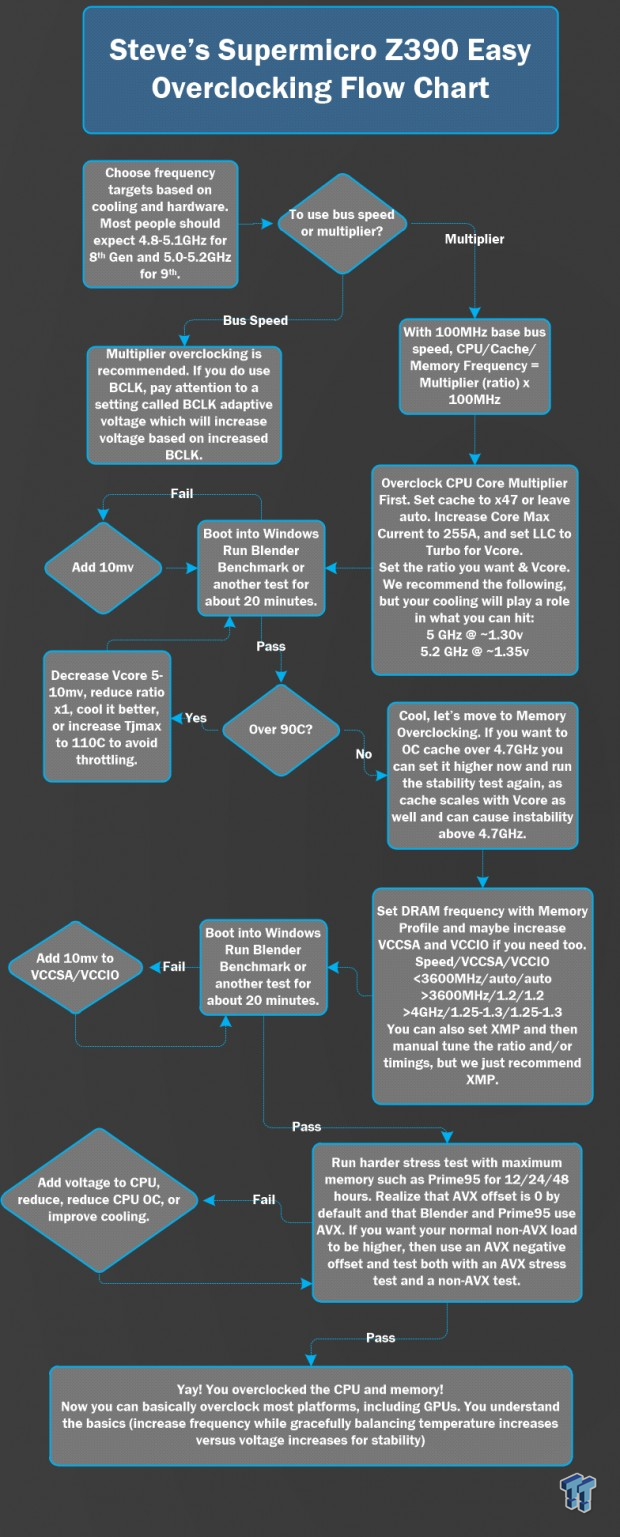 Our CPU is capable of 5GHz AVX and 5.2GHz non-AVX (can call it SSE) under very stressful conditions, and our CPU can even run benchmarks such as the Blender Benchmark and programs like Handbrake, both of which use AVX, at 5.2GHz, but Prime95 with AVX is hard to run at 5.2GHz. You might want to use that as some sort of guide point for what you might expect. Now, we will use the Intel® 9th Gen Core™ i9-9900K as our example in this guide, and by default all core Turbo of the Intel® 9th Gen Core™ i9-9900K is 4.7GHz, meaning all cores can operate at 4.7GHz all the time.
Supermicro's C9Z390-PGW motherboard fully supports this, and so you should aim for 5GHz stable if you have watercooling. You can start VCore at 1.25v at 5GHz, but you will probably find you need bumps towards 1.3v to run Prime95 with AVX. We don't really recommend taking VCCSA or VCCIO over 1.3v, we like 1.25v each as maximum. Supermicro's auto rules will set these higher, so you will need to alter those values down. We also found that VCore over 1.3v was a bit tough to cool with watercooling, so you might want to look towards deliding or lapping if you want to push more voltage.
The Video
Many users prefer videos, so we made a video for those people describing how to overclock with this motherboard.
Disclaimer and Before You Begin Overclocking
Disclaimer Overclocking your CPU technically voids your warranty. However, if you want to overclock and still be covered, Intel does provide an aftermarket overclocking warranty for about $50 located here: (PTPP). However, as of now, we don't see any 9000 series CPUs listed, we have contacted Intel for comment. Overclocking can also damage your CPU, especially if done incorrectly. This guide is about how to overclock, but neither TweakTown Pty. Ltd. nor Super Micro Computer, Inc. take responsibility for damages that could occur; you bare sole responsibility for any damages that may arise.
Have you Overclocked Before?
If you have overclocked before and understand hardware selection and the basics of overclocking, you should skip to the next page, but we will warn you the Intel® 9th Gen Core™ i9-9900K is a special beast. The first part of this guide is for those who want to know what to do before overclocking.
Where do I start?
Supermicro Z390 Overclocking Guide Systems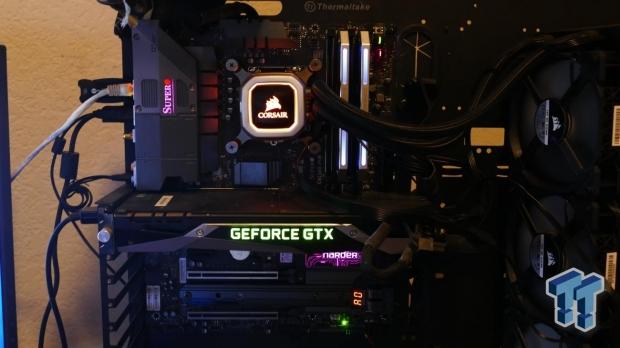 CPU: You will need a "K-SKU" CPU such as the Intel® 8th Gen Core™ i7-8086K or Intel® 9th Gen Core™ i9-9900K.
Motherboard: While you can buy a Supermicro Z370 motherboard, we highly suggest you buy a Z390 motherboard for 9th generation CPUs. While you are probably here because you bought a Supermicro Z390 motherboard, if you have a Z370 Supermicro motherboard the settings will be similar but slightly different because of the overhaul to parts of the UEFI.
DRAM: If you go to Supermicro's website you will find a tab under "Tested Memory List". We recommend a 3200MHz dual channel kit.
Cooler: We strongly recommend the best watercooling you can buy if you are going to overclock Intel's new octa-core Intel® 9th Gen Core™ i9. We used a Corsair H150i Pro, but we felt it was at its limits at 5GHz with 1.275v. Custom water-cooling should do better, even the kits where you put the cooler together should be slightly better, but they will be much more expensive.
PSU: Intel has changed their power supply design guide as recently as June 2018. When buying a PSU look for PSUs that offer at least 29A on the 12v rail for the CPU, which is about 350W. That is the maximum peak power draw at stock for the Intel® 9th Gen Core™ i9, so take into account overclocking and the amount of power things like your GPU will use.
Using Supermicro's UEFI and Configuring Your CPU
Navigating Supermicro's Z390 UEFI
You enter the BIOS/UEFI by hitting the "delete" button when you see the postcode "b2"(or "62"), or when your keyboard's "number lock" light turns on. Once in the BIOS, hit "F7" to switch to Advanced Mode. Once in the advanced mode, go to Advanced Settings and change your default boot page to "Advanced Mode," it's a setting at the top of the page above the submenus. If you need to revert to Optimized Defaults, you can press F5, and F10 can be used to save and exit. With this version of the UEFI, you can navigate with only a keyboard, which we find easier.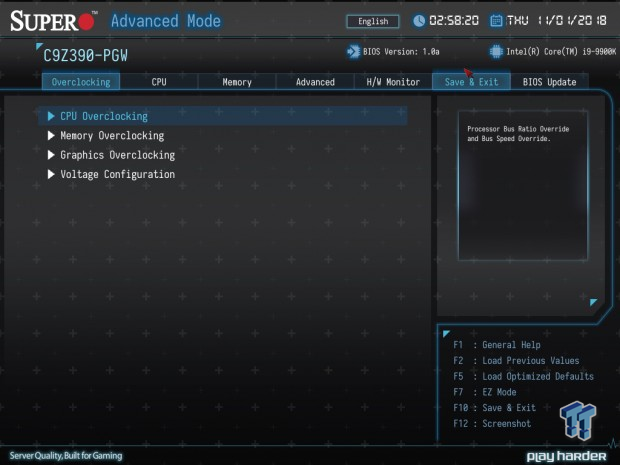 There are four sub-menus under the Overclocking tab. The CPU Overclocking menu has multiple sub-menus, but you don't need to enter more than three of them. The Memory Overclocking sub-menu is one page and is very easy to understand. The Graphics Overclocking menu is for iGPU overclocking, not discrete GPU overclocking, so we don't cover it here. The Voltage Configuration menu is where you handle all voltage stuff.
CPU Multipliers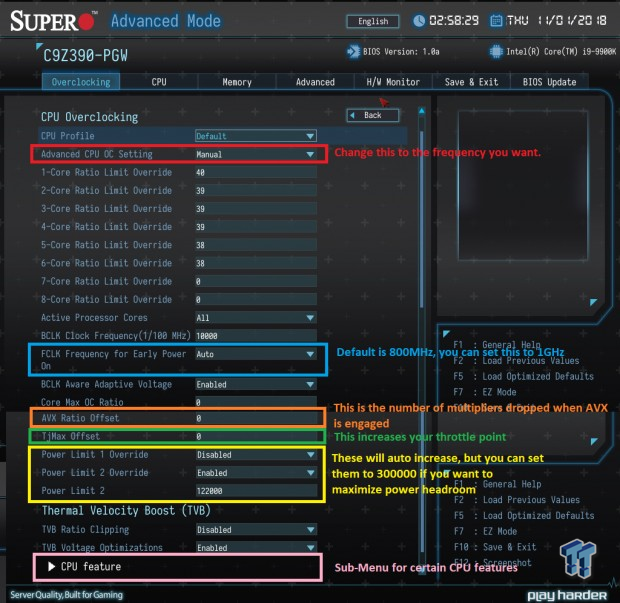 With Supermicro motherboards we highly recommend users load Supermicro's pre-programmed frequency levels, they go up to 5.5GHz. However, we HIGHLY recommend you do not just save and exit, you will need to lower the auto-rule (automatic changes to make all CPUs capable of the OC setting) voltages the profile sets. The main reason we recommend setting the setting boxed in red to 5.0GHz for 5GHz or 5.2GHz for 5.2GHz is because it configures the backend correctly. We recommend you set FCLK to 1GHz, it is boxed in blue. Boxed in orange is our AVX offset, which is the number of multipliers that are lowered for CPU frequency when AVX units are engaged.
Programs like HandBrake use AVX units, which require more voltage and power to remain stable, especially when compared to games that don't use AVX. If your games are stable at 5.2GHz and your HandBrake is stable at 5.0GHz, you can set a "2" offset, so the CPU will run 5.2GHz with games and 5.0GHz with HandBrake. We prefer not using this, but if you do, you need to stress the CPU with both AVX and older non-AVX Prime95 versions for total stability. The Tjmax offset was added for the Intel® 9th Gen Core™ i9, and it allows you to increase the throttle point from something like 100C to 115C. It can be dangerous, but Intel added it in, so we feel it might have some value.
We wouldn't recommend increasing it over 110C. The power limits boxed in yellow will increase automatically when you set Advanced CPU OC Settings to the frequency you want, but you can manually increase these up (we didn't find it changes anything major to do so). The sub-menu boxed in pink is discussed below.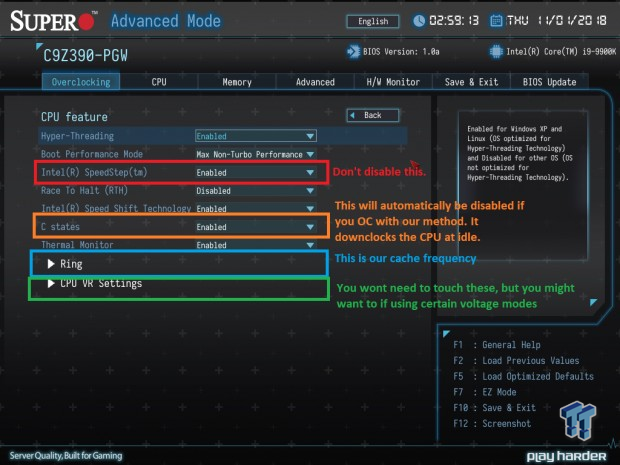 In the CPU Feature menu, we find Intel SpeedStep (known as EIST), don't disable this. The C states will automatically be disabled if you set Advanced CPU OC Setting to your desired frequency (see the trend?). You don't need to tinker in the menu boxed in green, but the one boxed in blue is where you can increase the frequency of the cache/ring bus up from the 4.3Ghz default.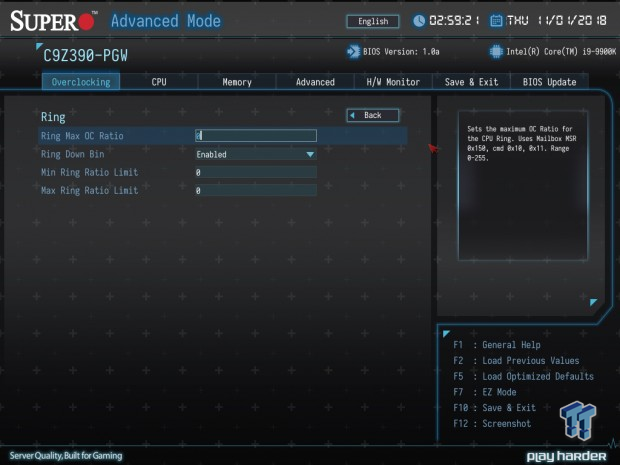 The Ring menu is pretty straight forward; we find that just setting 4.7GHz (by setting 47x) is pretty straightforward and doesn't impede stability. We recommend not messing with Ring Down Bin.
Voltage Settings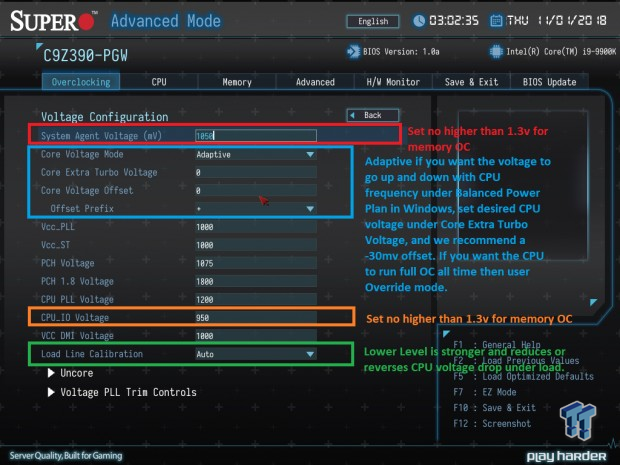 Once you set the CPU multipliers, then you set the voltages. If you set Advanced CPU OC Setting to your desired frequency, the voltages boxed above will be increased. At 5.0GHz the System Agent is increased to 1.400V, the Core Voltage Mode is set to Override, the Core Voltage is set to 1.45V, and the CPU_IO Voltage is set to 1.25v.
These are all TOO high and will need to be lowered. System Agent is 1.050v at default, we recommend not going above 1.3v, and recommend 1.25v as 24/7 maximum. Core Voltage in Override mode is good for finding stability; you would only set Adaptive if you want the CPU voltage to drop with frequency (if you allow it to drop depending on Windows Power Plan, Balanced = drop, High Performance = Max frequency all the time). Core Extra Turbo Voltage is not "extra" voltage; it is your desired voltage.
We found that when using adaptive mode, we needed to set a slight negative offset around -30mv to gain the same level of voltage as if we used to override. If you want 1.275v, which we found was pretty much our ceiling for cooling, set 1275 (1.275v) under override mode, and 1275 with a -30mv offset for the adaptive mode. CPU_IO voltage can be set at around 1150 (1.15v) to achieve decent results without adding too much heat. Load Line Calibration reduces voltage drop due to increased load; level 1 is the most aggressive at reversing the drop, we recommend level 2 even though auto rules take it to level 4 when overclocking.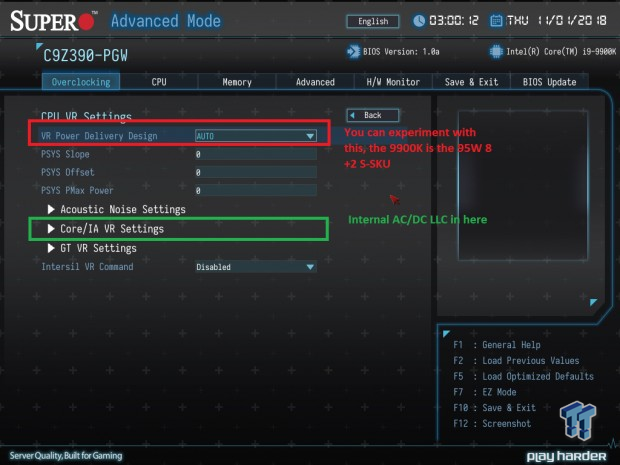 We found a very interesting setting in the CPU VR Settings Menu under the CPU features menu under the CPU Overclocking menu. It allows you to choose the CPU type you use, so the VRM configures itself for optimal levels. We didn't mess with it, but the Intel® 9th Gen Core™ i9 would be the S series 95W 8+2 CPU.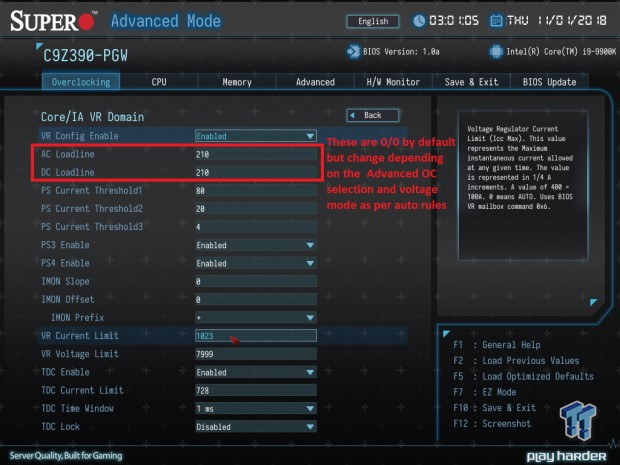 You can find AC/DC loadline for the Core, and these do affect LLC. The Advanced CPU Overclocking Setting option, when set, will change these values according to how the BIOS engineer saw fit. Default is 0 on both so that you can tinker, but be very careful.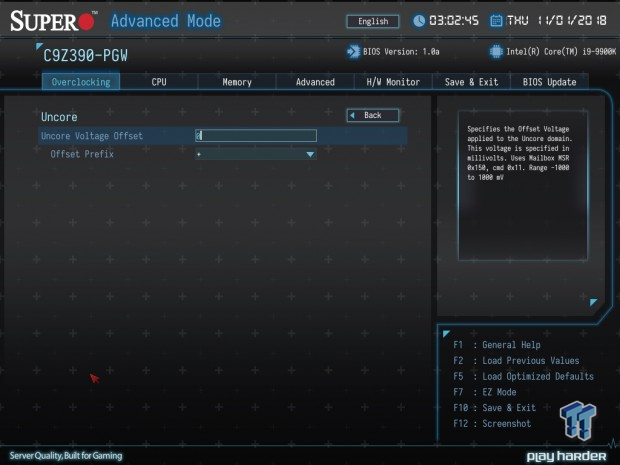 You also have the ability to change an Uncore Voltage Offset, but since the Ring and CPU get the same voltage we don't really mess with this. We just wanted to show that it was an included setting.
Memory and Stability Testing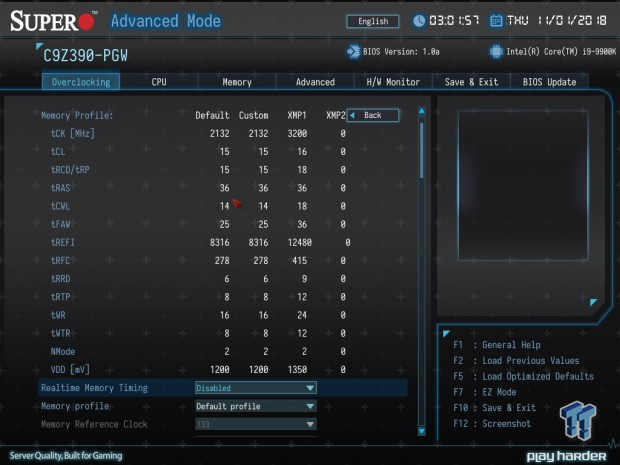 Memory overclocking is pretty straightforward; we just set Memory Profile to "XMP1", which sets our voltage, frequency, and timings for the DRAM. If you change it from XMP to "Custom," the XMP timings will still stay, allowing you to fine-tune the manufacturer recommended timings. It is a convenient feature. Memory voltage can also be found on the memory page.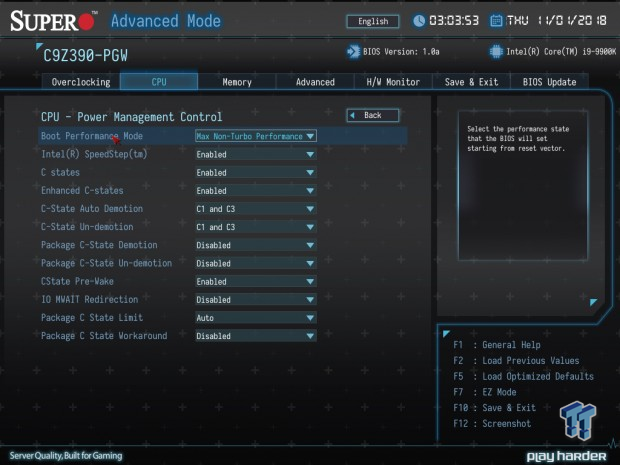 We also want to mention CPU Power Management Control is under the CPU menu and not the Overclocking menu. You can find individual C-states here, but whether the C-states are disabled or enabled doesn't matter too much due to the power of the Windows Power Plan. In Windows, you can set your power plan to High-Performance if you want the CPU to stay at maximum overclocked frequency all the time (use Override voltage). In Windows, you can also set the power plan to "Balanced" if you want the CPU frequency to go up between your maximum OC and base frequency depending on load (use Adaptive voltage mode).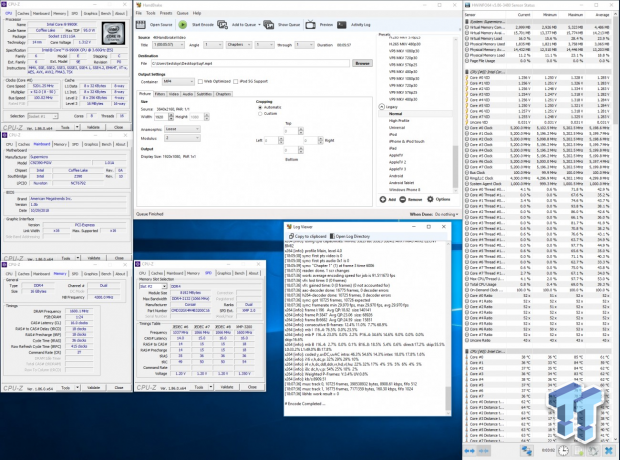 While our CPU will pass Blender and Handbrake AVX benchmarks at 5.2GHz, they will not pass Prime95 with AVX, so we settled on an all-around 5GHz overclock, which not only lowered our thermals but also is easier on the CPU. We recommend using HandBrake or Blender for a quick OC test, but to leave a bit of thermal headroom since you will probably have to increase voltage a bit down the road when testing with Prime95.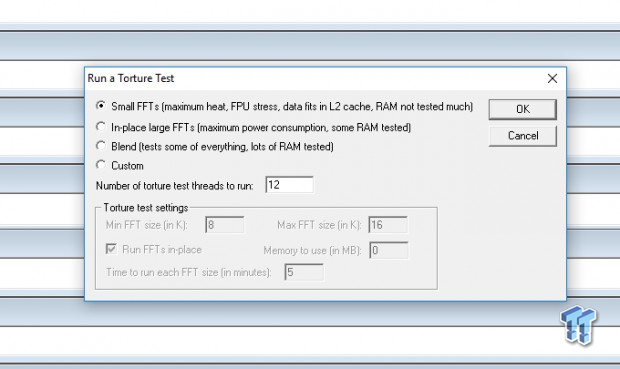 Prime95 should be used for 24/7 stability testing, but it's pretty brutal on your CPU. SmallFFTs will stress the CPU the most, but Blend tests will test a bit of everything (core, uncore, memory, etc.). If you are using an AVX offset then we recommend you use both the older non-AVX Prime95 program and the new one with AVX, since your CPU will run at different frequencies depending on whether or not AVX is engaged. If you are using no offset, then just run the new one. Try an hour first, and then go for 24 hours or so. If you have any questions or comments, please leave them below.
Intel, the Intel Logo, Intel Inside, Intel Core, and Core Inside are trademarks of Intel Corporation or its subsidiaries in the U.S. and/or other countries.
PRICING: You can find products similar to this one for sale below.

United States: Find other tech and computer products like this over at Amazon.com

United Kingdom: Find other tech and computer products like this over at Amazon.co.uk

Australia: Find other tech and computer products like this over at Amazon.com.au

Canada: Find other tech and computer products like this over at Amazon.ca

Deutschland: Finde andere Technik- und Computerprodukte wie dieses auf Amazon.de