Introduction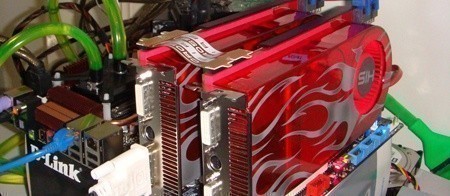 Who doesn't love a highly overclockable CPU? There isn't many of us! Every once in a while we'll hear of a golden CPU from someone, this has been going on since the good ole' Celeron 300A days when 450MHz was a walk in the park. As time has gone on there's been golden Athlons and Intel processors.
The latest processor to join the ranks of this highly competitive field is the Q6600 in the G0 form. With a lower stock voltage compared to the B3 stepping, along with a huge test field it seems clear that the G0 is a real winner.
In Australia you can pick up a G0 for the same price as a B3, though some companies are choosing to whack on a little premium which seems to vary from $30 - $50. While it's pretty much considered price gouging we understand that the companies do have to get rid of their B3 stock at the same time, and not everyone is an overclocker.
We all know that overclocking gives you a speed increase, but by how much? Is it worth chucking more voltage through your processor for an extra few FPS? We're going to have a look at the G0 Q6600 today in a few forms, starting at 2.4GHz and going to ?.
Why the ? - Well, at the time of writing this intro I'm still heading north on the CPU overclock, so you're just going to have to read on to find out what we get to.
What parts do we need?
So you want to get a G0 revision Q6600 but you're not 100% on what to look out for. It's a relatively easy task, on each Intel processor box we have a large sticker that sits on the side and gives us a whole lot of information.
First you want to make sure the actual processor is the Core 2 Quad Q6600 which is stated across the top, and from there we want to move down to roughly the the half way mark.
The particular section we're looking for is the PROD CODE, and what we're actually looking for in this is the last five letters. In this case we have
SLACR
at the end of our product code. Bingo! This is exactly what we want. If you have some crazy sales person telling you that a
SL9UM
is the same thing, raise your hand, give them a bitchslap and walk off!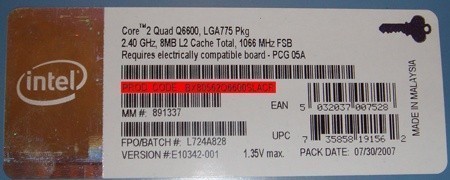 Do a Google search for Q6600 SLACR and you will see that you've hit the CPU lottery jackpot. Now you've got the CPU it's time to do a bit of board shopping.
There are a large number of boards that will handle your G0 overclocking with no real dramas, but we want to look at the cream of the crop.
Depending on your budget, the cream of the crop comes in the form of the ASUS Blitz series and the DFI P35-T2R. These are two boards that have gathered some very quick momentum in the overclocking community.
Too expensive? Start looking at the ASUS P5K-E or P5K Deluxe, or if you're a Gigabyte fan the P35-DQ6 is a great option too.
If you've got more dollars than sense you can go down the DDR3 route and pick yourself up an ASUS Blitz Extreme motherboards, this is also what we'll be using today.
If we recommend the DFI P35-T2R so highly why aren't we using that? Personally I'm completely DDR3 happy, but more credit goes to the Crosslinx technology offered on the Blitz series of boards. We get two 8x lanes instead of a 16x and 4x setup offered by all other P35 boards. The reason we want two 8x lanes is because we want to use 2x HIS 1GB HD2900XT cards in Crossfire, and we thought we should do it right!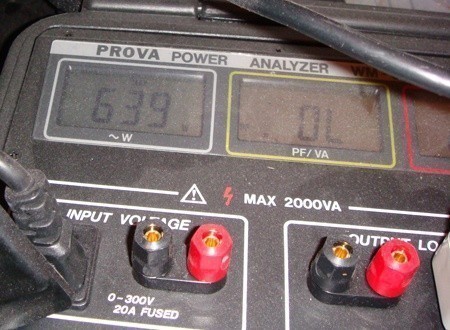 I had already finished this particular page before I started testing, but when we fired up the "power thingy" it was clear that we had better mention how important it is to have a decent power supply. We managed to break the 600Watt barrier, and by a far bit at that. It's clear if you're overclocking and want to get into some performance computing, a decent quality power supply is needed. You have to also take into account that our test system here is running the bare minimum.
Benchmarks - Test System Setup and 3DMark05
Test System SetupProcessor(s):
Intel Core 2 Duo E6600 @ Various
Cooling:
Corsair Nautilus500 (Supplied by
Corsair
) with Arctic Cooling MX-2 Thermal Compound (Supplied by
Arctic Cooling
)
Motherboard(s):
ASUS Blitz Extreme (Supplied by
ASUS
)
Memory:
2 X 1GB Corsair XMS3 DDR-3 1066MHz 7-7-7-21 (Supplied by
Corsair
)
Hard Disk(s):
Hitachi 80GB 7200RPM SATA-2
Graphics Card(s):
2x HIS HD 2900 XT 1GB in Crossfire (Supplied by
HIS Digital
)
Operating System:
Windows XP Professional SP2
Drivers:
ATI Catalyst 7.8 and DX9c
In an ideal world, we would like to use a set memory speed for each OC but in this case each FSB OC was running a different RAM speed. So, at 266MHz FSB we were running at 1066MHz DDR, at 333MHz FSB at 1067MHz DDR, 367MHz FSB at 1101MHz DDR, 400MHz FSB at 1000MHz DDR and finally at 422MHz FSB we were at 1055MHz DDR.
As you can see, there isn't a whole lot of different in memory speeds but it's worth noting.
We're not going to go too crazy with the benchmarks. What we will do is look at 3DMark05 and 3DMark06 simply because it wouldn't be right not to. It's the synthetic benchmark that you can't live with or without.
G0ing a bit real now. We'll look at a few games like Company of Heroes and Prey, but before we wrap it all up we had better grab some power readings from the system to see just how much we're harming the environment. The chances are you probably haven't gotten this far and you're already looking at the benchmark results so I'll wrap this up and move forward!
3DMark05Version and / or Patch Used:
Build 130
Developer Homepage:
http://www.futuremark.com
Product Homepage:
http://www.futuremark.com/products/3dmark05/
Buy It Here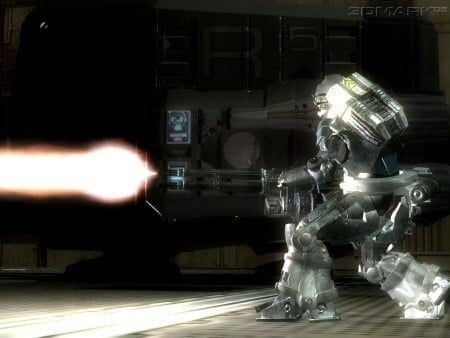 3DMark05 is now the second latest version in the popular 3DMark "Gamers Benchmark" series. It includes a complete set of DX9 benchmarks which tests Shader Model 2.0 and above.
For more information on the 3DMark05 benchmark, we recommend you read our preview
here
.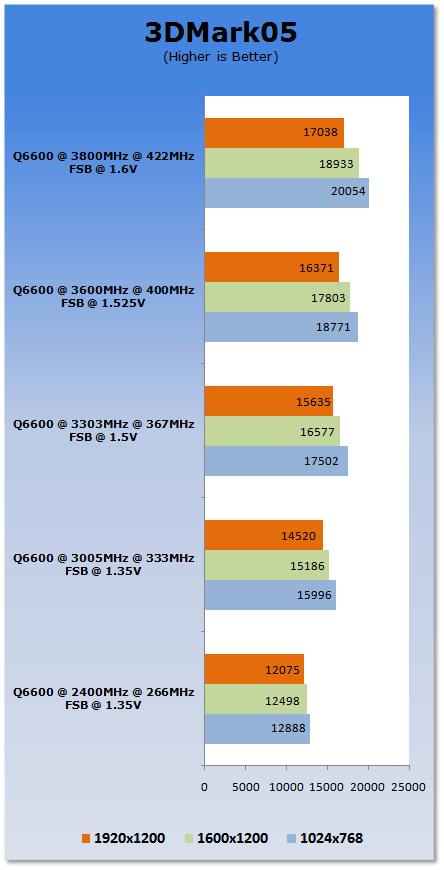 2.4GHz to 3GHz gives us some nice gains, but you can see @ 3.3GHz it's getting pretty serious. Move up again to 3.6GHz and it's getting a bit intense, and finally go to 3.8GHz and you're blowing our mind! A lovely 20k default run in 3DMark05, 7000 marks up from the original clock.
Benchmarks - 3DMark06
3DMark06Version and / or Patch Used:
Build 110
Developer Homepage:
http://www.futuremark.com
Product Homepage:
http://www.futuremark.com/products/3dmark06/
Buy It Here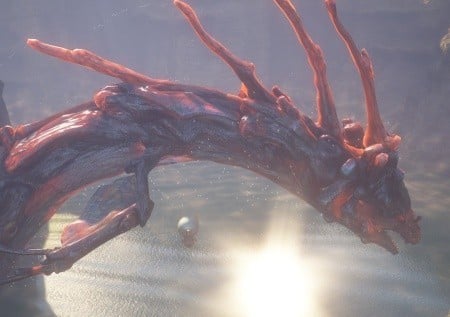 3DMark06 is the very latest version of the "Gamers Benchmark" from FutureMark. The newest version of 3DMark expands on the tests in 3DMark05 by adding graphical effects using Shader Model 3.0 and HDR (High Dynamic Range lighting) which will push even the best DX9 graphics cards to the extremes.
3DMark06 also focuses on not just the GPU but the CPU using the AGEIA PhysX software physics library to effectively test single and Dual Core processors.
Moving to 3DMark06 we again see some nice gains from the stock 2.4GHz to 3GHz. At 3.6GHz we're breaking 15k, and ramping it all the way up to 3.8GHz? Hello 16k!
Benchmarks - Prey
PreyVersion and / or Patch Used:
Unpatched
Timedemo or Level Used:
HardwareOC Custom Benchmark
Developer Homepage:
http://www.humanhead.com
Product Homepage:
http://www.prey.com
Buy It Here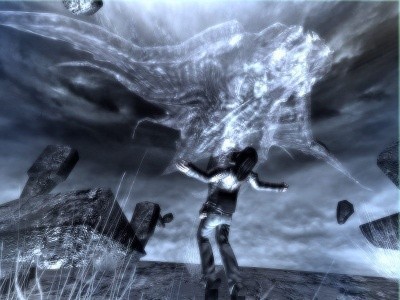 Prey is one of the newest games to be added to our benchmark line-up. It is based off the Doom 3 engine and offers stunning graphics passing what we've seen in Quake 4 and does put quite a lot of strain on our test systems.
Moving to some real world gaming we can see that the jump from 2.4GHz to 3GHz again gives us a huge gain. As we move up we do see increases, though probably not enough to warrant the increased voltage on the CPU.
Benchmarks - Company of Heroes
Company of HeroesVersion and / or Patch Used:
1.5
Timedemo or Level Used:
Built-in Test
Developer Homepage:
http://www.relic.com
Product Homepage:
http://www.companyofheroesgame.com
Buy It Here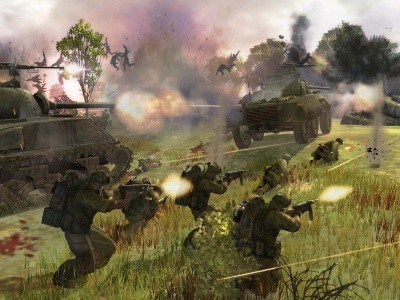 Company of Heroes, or COH as we're calling it, is one of the latest World War II games to be released and also one of the newest in our lineup of benchmarks. It is a super realistic real-time strategy (RTS) with plenty of cinematic detail and great effects. Because of its detail, it will help stress out even the most impressive computer systems with the best graphics cards - especially when you turn up all the detail. We use the built-in test to measure the frame rates.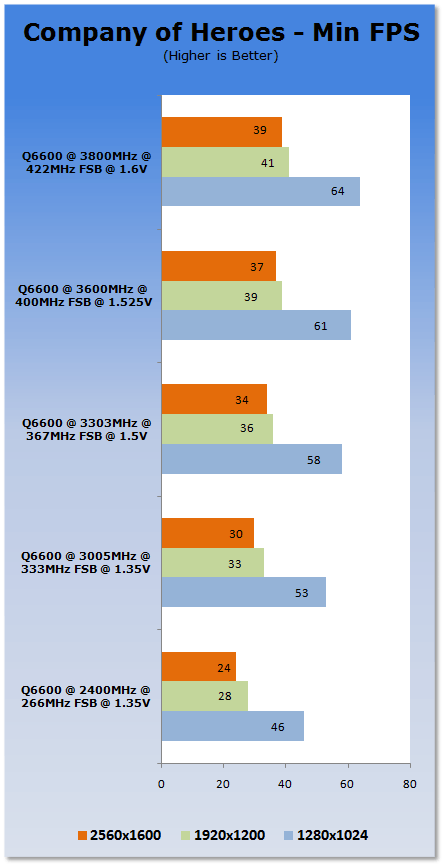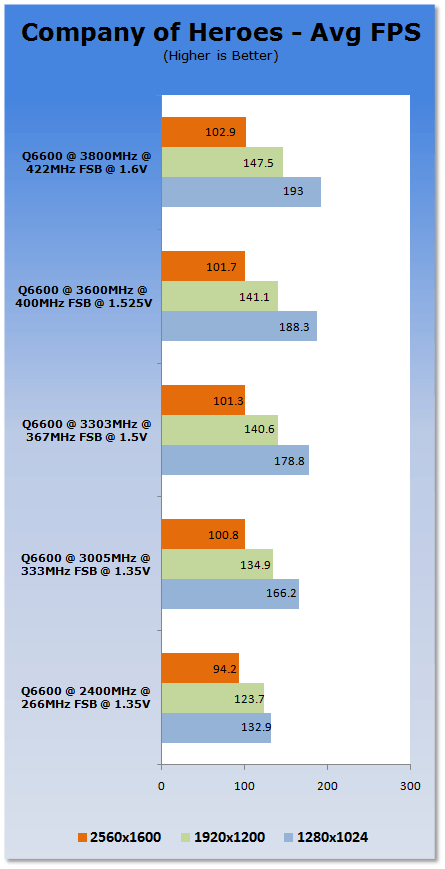 Overclocking here is really the difference between a playable and non-playable COH. 2560 x 1600 shows us under 30FPS at the stock 2.4GHz, move it to 3GHz and we break that magic 30FPS mark. Why stop there though? As we move up in speed we get a better minimum across the board, with 3.8GHz giving us a minimum of 39FPS at 2560 x 1600.
Power Consumption Tests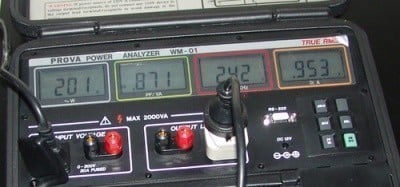 Using our new PROVA Power Analyzer WM-01 or "
Power Thingy
" as it has become quickly known as to our readers, we are now able to find out what kind of power is being used by our test system and the associated graphics cards installed. Keep in mind; it tests the complete system (minus LCD monitor, which is plugged directly into AC wall socket).
There are a few important notes to remember though; while our maximum power is taken in 3DMark06 at the same exact point, we have seen in particular tests the power being drawn as much as 10% more. We test at the exact same stage every time; therefore tests should be very consistent and accurate.
The other thing to remember is that our test system is bare minimum - only a 7,200RPM SATA-II single hard drive is used without CD ROM or many cooling fans.
So while the system might draw 400 watts in our test system, placing it into your own PC with a number of other items, the draw is going to be higher.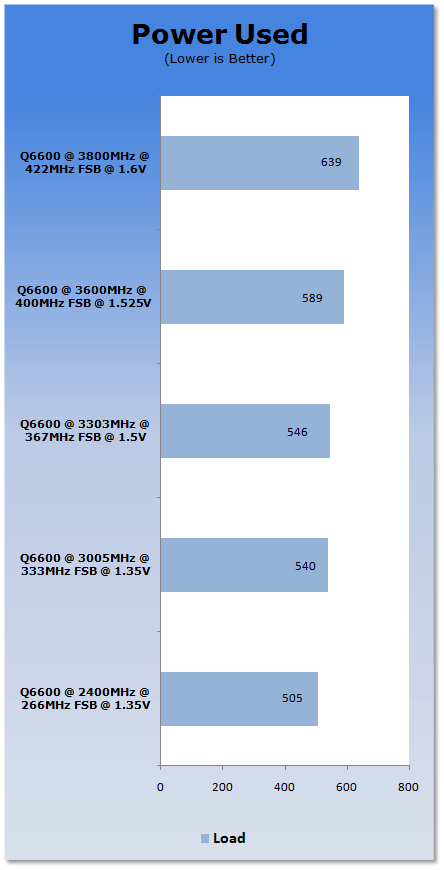 Mr Gore isn't going to be too pleased with us. We thought when we drew over 500 watts from our original Crossfire test bed that it was extremely power hungry, but getting over 600 watts didn't take much effort at all.
G0ing for G0ld!
3.8GHz was stable, though at 1.6 volts on the CPU we wouldn't want to be running it every day. Further tweaking may find you achieving this at closer to 1.5 volts. We're also not on the best cooling solution around; while we're a lot better than an air cooler, the Corsair Nautilus500 while being a very capable cooling solution doesn't have anything on serious setups with 3x 120MM radiators which give you the ability to run higher voltage settings over a longer period of time. Unless you're in Antarctica we wouldn't recommend you venture to 1.6 volts unless your CPU has a bit of a death wish.
In the moment of high clock speeds we were feeling a little bit crazy and thought we would go for 4GHz.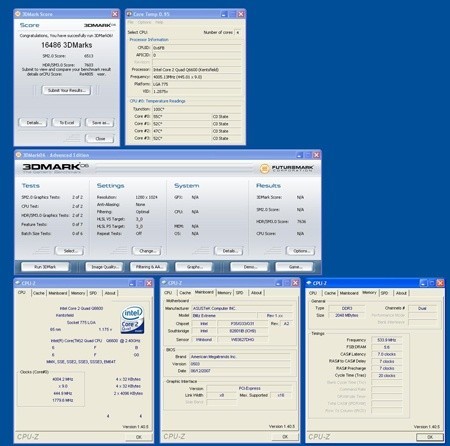 .....and we got it!
1.66 volts later and a whole lot of time we managed to break that magical 4GHz mark. I don't consider myself a hardcore overclocker but for this little achievement a pat on the back was well deserved!
We almost hit 16,500 3DMarks which is almost 500 up on the 3.8GHz run so the speed increase could continue to be seen in 3DMark06.
We ran our Crossfire cards at complete stock so no doubt we will soon be going back to 4GHz and clocking one of the cards up, since we can't do them both just yet.
Final Thoughts
There we have it, the Q6600 G0, and it clearly lives up to the hype. The Q6600 sits at about the same price as the E6850 and we have a quad-core chip at 2.4GHz or a dual-core at 3GHz. The decision on which one to buy was hard, the real problem now though is that with the release of the SLACR G0 Q6600s the decision is that much harder again.
We would probably recommend the Q6600, if you get 3.3GHz out of it it's going to kill in games, but you also have the advantage of four cores; and while a lot of games might not be using it at the moment there are a number of applications that do, so on the whole it's probably the better choice.
From personal experience I have just moved from an E6600 which ran at stock (yuck! But it's used for work) to a Q6600, again not overclocked. Slightly skeptical on the effect it was going to have on my overall computer experience (in the sense was I going to notice the difference between four cores @ 2.4GHz vs two cores @ 2.4GHz) I figured there was only one way to find out. What I have noticed is that over the past few weeks I can do little things like leave my Adobe Photoshop CS3 open for days on end, or be alt-tabbing between a game of Civilization 4 which takes me four days to complete. Saving and exiting games is so dual-core!
If you've got an E6600 and want something a bit more productive look at the Q6600. If you're looking for a new CPU and tossing up between an E6850 or Q6600, go the quad-core, at least you can also tell your friends you have a quad-core, that sounds more impressive than dual!
We love the Q6600 and so should you, no doubt it's going to keep all those enthusiasts happy until AMD release the Phenom and Intel their new Penryn.