Team AU Overclocking in Perth with Liquid Nitrogen - Deanzo's Thoughts
A group of overclockers from Australia and New Zealand got together to try and break some world records with the use of liquid nitrogen. This is Deanzo's take on what happened.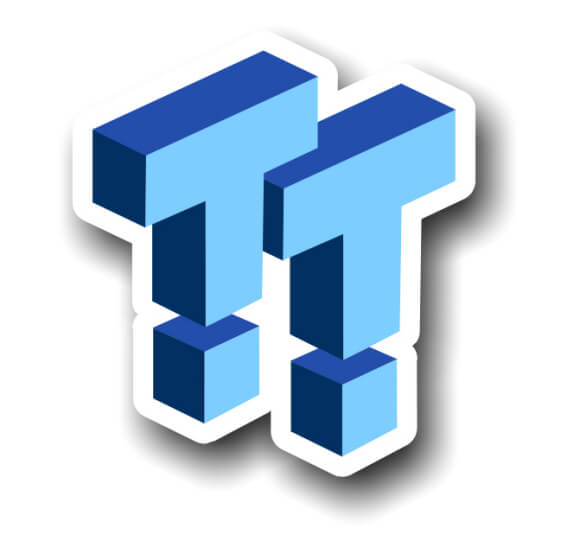 Published Thu, Mar 21 2013 10:39 AM CDT
|
Updated Tue, Nov 3 2020 7:00 PM CST
Team AU Overclocking in Perth with Liquid Nitrogen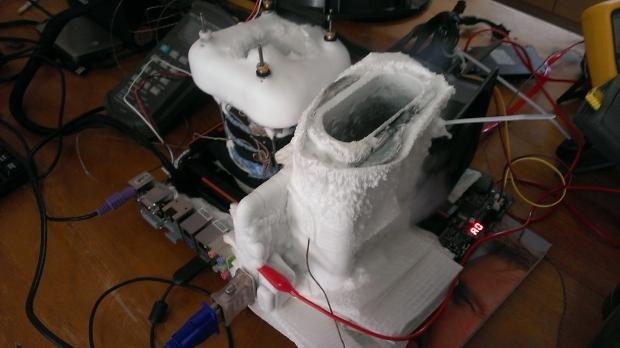 Ah, it's that time again, when my friends and I from Team AU have a wee get together to torture some unsuspecting hardware in hopes of breaking some benching records! This time Perth, Western Australia was our destination of choice.
Team AU is a group of Australian and New Zealand computer enthusiasts that have taken overclocking to a whole different level. It's where temperatures of -180 degrees Celsius, crazy voltage modifications and the need for multiple power supplies are common place.
The members in attendance were Dinos22 (Dino), Youngpro (James), SniperOz (Carl), Uncle Fester (Jono) and myself, with special guest "JJJC" from OCAU.
With pooling our resources we amassed some mouth-watering hardware with four benchmarks in mind and the firm goal of crushing them into submission. The main hardware on hand included:
- Intel 3770K able to clock into the high 6.8GHz range
- GIGABYTE Z77X UP7
- 4 X GIGABYTE 7970 on ice water
- ASUS 580 DC II that loves the cold and has a monster clocking core
- Two ATI Radeon 5970's
- KINGPIN COOLING Venom CPU Pot
- KINGPIN COOLING TEK9 GPU Pot
- Corsair AX1200 power supply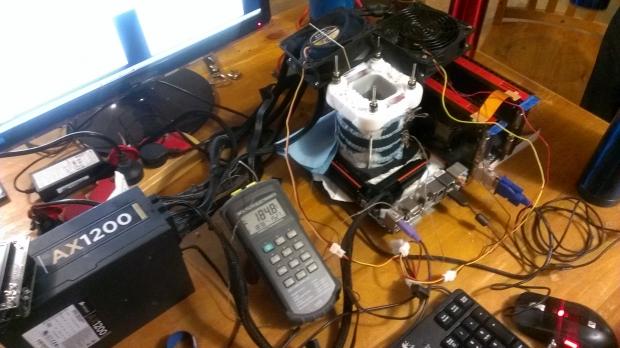 The first benchmark up was 3DMark 06 and for this benchmark we needed to beat a total score of 52960 set by the Russian team from OCLAB.
Gone are the days where you needed four of the latest and greatest video cards. It's very much CPU bound, so a high clocking Intel 3770K and two ATI 5970s were the order of the day. And as it happened JJJC had a very nice chip that would pass the CPU test at 6.6GHz and the GPU test well above 6.7GHz!
To our surprise, the first run went well and we were only slightly off the pace, then a couple of runs later, bang, we had it, which was crazy fast and somewhat unexpected.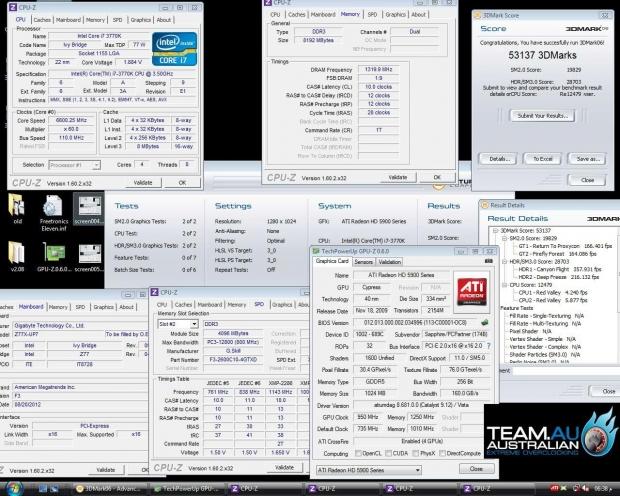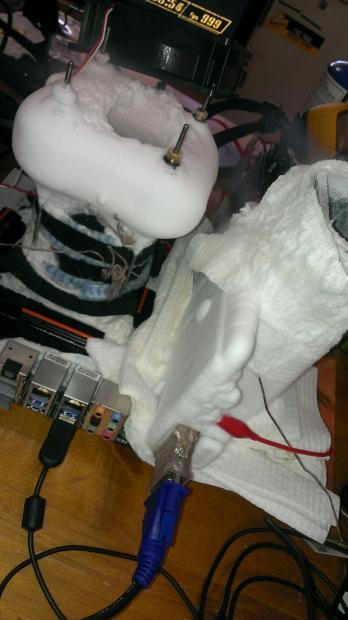 Next up was 3DMark 01. I was really looking forward to this as I have a particularly strong NVIDIA GeForce GTX 580 which is the video card of choice for this benchmark, and Dino's CPU clocks an easy 200MHz more than mine.
Just like 3DMark 06 it was pretty straight forward and within a short amount of time we had maxed out the hardware and were just tweaking for the best score. First place was beyond our CPU, we really needed another 50+ MHz. With an end score of 163641, it moved us to second place and just 948 marks short of the top spot. It's not so long ago that it was hard to break 10K, and now we are looking ahead to who will be first to crack 170K.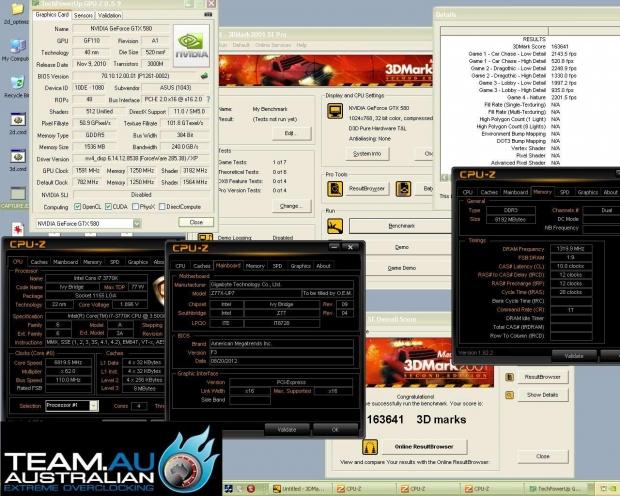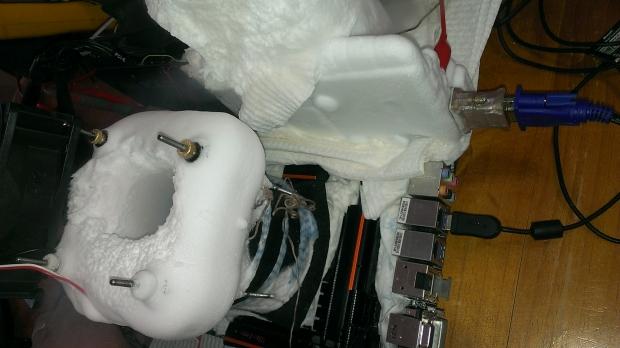 Two benchmarks down, two to go. This was always going to be a challenge, Aquamark is a very CPU dependant benchmark, and quite frankly, it was very doubtful we were going to be able to get the clocks needed to really be able to challenge for the top spot of 556303.
After quite a bit of time trying to find the right settings to maximise our score, which wasn't really the slow start we wanted after the first two benchmarks being so straight forward, but with a little help from a friend, we found what was causing the issue. From there we maxed it out and got our high score of 545407, which put us in third place globally.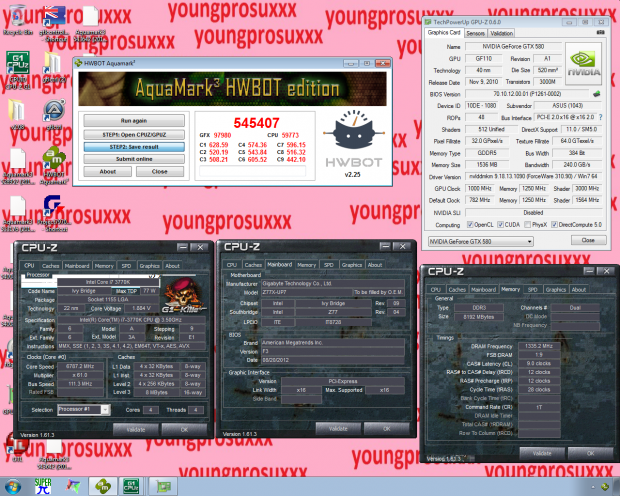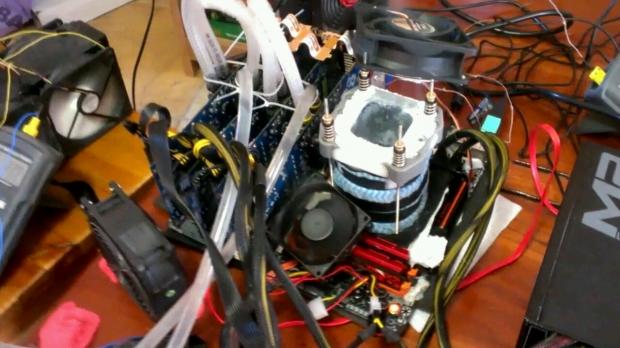 Last up, and a relatively new benchmark in comparison to the others was Heaven. Any hope this was going to be easy went out the window fast! Nothing was going right, the motherboard we were going to use developed a USB error and nothing we could do would sort it out and let us boot into a stable operating system. After moving onto the third board, which was a very stable platform we used on the others, the operating system decided to play up. And after that we had software issues, then later in the night the video cards started to become stubborn. With a severe shortage of ice for Dino's DIY water loop for the four 7970's, we decided to shut down for the night with a plan to give it one last crack in the morning before we had to pack up and head home.
This turned out to be a wise move and everything thing worked so much better with a night's sleep, and we managed to knock out a new world record of 8405.94 beating the old record by just 6.46.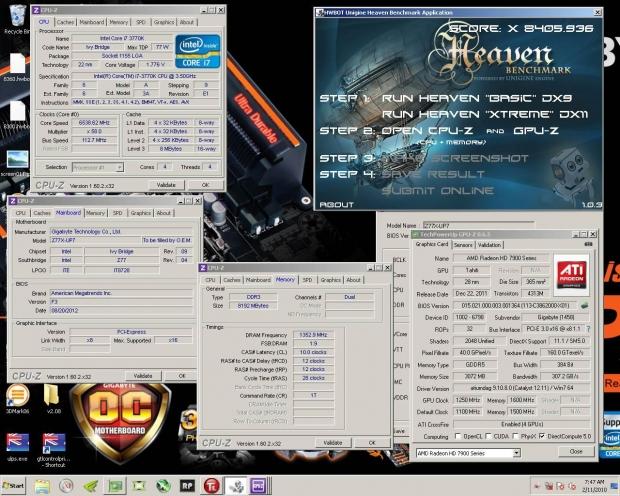 All in all one would have to say a very successful and enjoyable benching weekend with some impressive results.
An ever slightly higher clocking CPU would see us challenge for top spots in 3DMark 01 as well as Aquamark. But that's nit-picking after what was arguably our best team meet up, results wise. And for the most part, all our hardware played nice, which any extreme overclocker can tell you is not always going to be the case.
I'd like to thank my fellow Team AU members for making it a most enjoyable weekend and to GIGABYTE for their ongoing support, and I look forward to our next team benching session.
PRICING: You can find products similar to this one for sale below.

United States: Find other tech and computer products like this over at Amazon.com

United Kingdom: Find other tech and computer products like this over at Amazon.co.uk

Australia: Find other tech and computer products like this over at Amazon.com.au

Canada: Find other tech and computer products like this over at Amazon.ca

Deutschland: Finde andere Technik- und Computerprodukte wie dieses auf Amazon.de
Similar Content
We openly invite the companies who provide us with review samples / who are mentioned or discussed to express their opinion. If any company representative wishes to respond, we will publish the response here. Please contact us if you wish to respond.