AMD X399 TR4 Threadripper Motherboard Buyer's Guide
Our AMD X399 TR4 Threadripper motherboard buyer's guide will guide you through the various options to consider when picking a product.
Published Sep 19, 2017 10:55 AM CDT
|
Updated Tue, Nov 3 2020 6:58 PM CST
15 minute read time
Introduction and Basics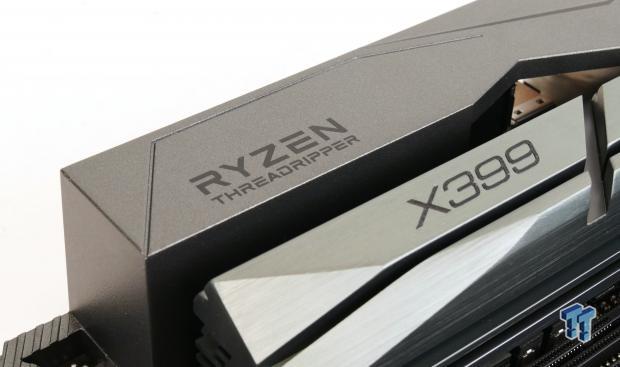 AMD's Threadripper CPUs landed a little over a month ago, and with them came X399 motherboards. The X399 chipset acts as a south bridge for the CPU and expands upon the CPU's integrated features. Most X399 motherboards, if not all of them, are extremely high-end and they are loaded with a ton of features. Quality, feature implementation, and unique features are what set apart X399 motherboards, and we will take a look at what's on the market as of today.
I wrote a guide like this for the X370 platform, and people seemed to enjoy it, so I decided to do one for the X399 platform. The guide you are about to dive into will act almost like a trail map for our motherboard reviews. While our reviews dive deep into many aspects of the motherboard, this article will help you navigate them more easily.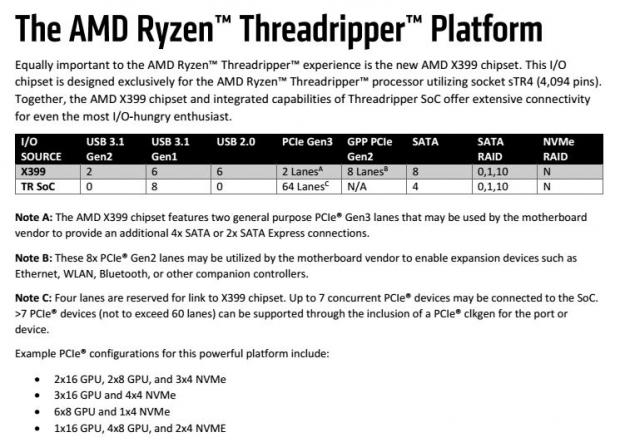 I want to start out by talking about what the platform has to offer, and we will focus first on the X399 chipset itself. The X399 chipset integrates two USB 3.1 (10Gbps/USB 3.1 gen 2) ports, six USB 3.0 (5Gbps/USB 3.1 gen 1) ports, six USB 2.0 ports, eight PCI-E 2.0 lanes, eight SATA 6Gb/s ports, and it technically also has two PCI-E 3.0 lanes. If we look at the footnote on the platform, we see that the two PCI-E 3.0 ports can be configured as four SATA6Gb/s ports (for the four extra that would make 12 AMD says the platform supports) or two SATA Express ports. However, no vendor has used them so far as to my knowledge. There does seem to be a total limit on the number of ports, and just like Intel's HSIO documentation, there is a lot of "up to" language used in the official specifications.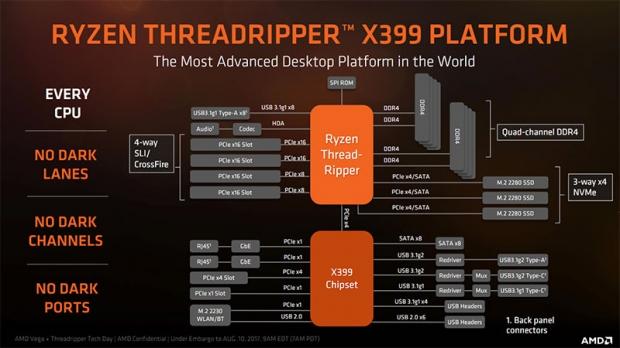 The next part of the system's IO comes from the CPU itself. Instead of M.2 coming mainly out of the chipset (like Intel does), AMD's TR4 CPUs offer 64 PCI-E lanes and those are used for M.2 and PCI-E lanes. Four of the 64 PCI-E 3.0 lanes go to the chipset, and that leaves 60 lanes for a total of up to 7 devices. The seven device limit is for CPU connected devices, and it can be overcome with a clock generator on extra devices or the port. Most motherboard vendors have chosen to implement the 60 lanes in a configuration with three x4 M.2 ports and then four PCI-E lanes that split the remaining 48 lanes as x16/x8/x16/x8. In fact, I believe every vendor has implemented the CPU's ports as such, but there are many other configurations.
The motherboard vendors could implement the lanes for six PCI-E x8 slots and one x4 M.2 slot or as four x4 M.2 slots and three PCI-E x16 slots, but so far we haven't seen that. One thing to notice here is that every Threadripper CPU offers the same lanes and features, which is awesome because then it's easier to understand what configurations are possible. The CPU also provides eight USB 3.0 ports, Azalia HD audio, and system management (such as the SPI bus for the BIOS).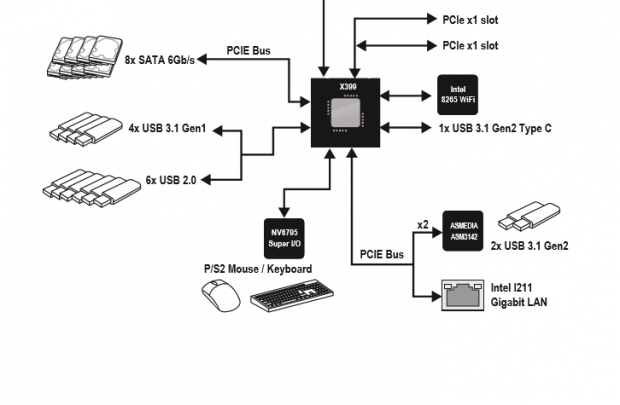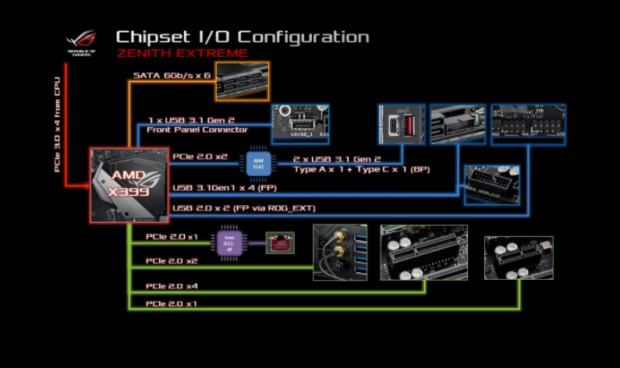 Here we see two different block diagrams of two separate X399 motherboards, and we can see how they route bandwidth from the chipset. The board on the left uses quite simple mechanics, connections are direct, and if we count lanes the board on the left uses six PCI-E 2.0 lanes to provide two PCI-E x1 slots, WIFI, wired LAN, and an extra USB 3.1 controller. Keep in mind the board on the left has eight SATA 6Gb/s ports, but the board on the right has only six.
The board on the right only has six, because if we count the lanes used, it actually uses up more than the eight PCI-E 2.0 lanes AMD has specified, and instead requires 10 PCI-E 2.0 lanes from the chipset. It does this by taking two SATA6Gb/s ports and using them as PCI-E 2.0 for an extra USB 3.1 controller. There are also boards that use up all eight of their PCI-E 2.0 lanes and offer eight SATA6Gb/s ports. Perhaps because connectivity is so busy already they don't want to intrude on signal integrity of the CPU, or to simply differentiate their product line up.
PCI-E and M.2 Considerations
PCI-E Considerations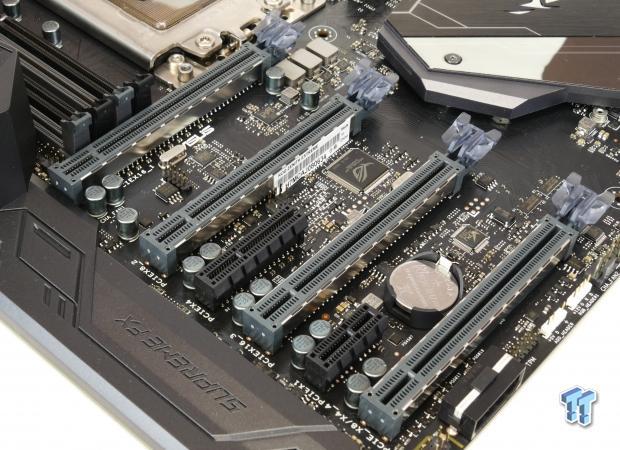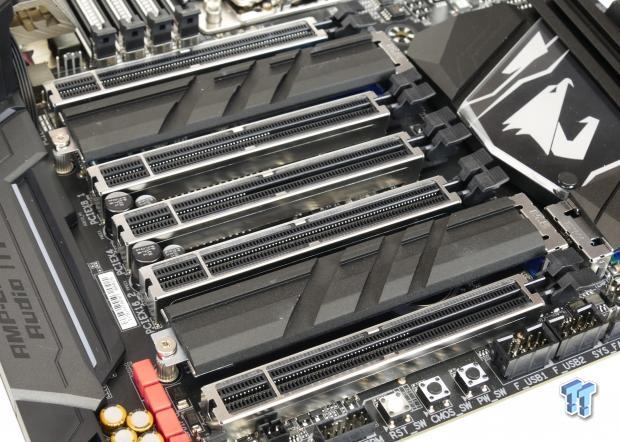 Both the motherboards pictured above use the same PCI-E configuration for lanes from the CPU. They are hard-wired x16/x8/x16/x8 PCI-E 3.0, and bandwidth from these slots isn't moved around. The upside is that performance is at its best, as switching around bandwidth using quick switches (simplest method) can have a negative impact depending on the levels of switches, so this way all slots get the best performance possible. The downside is that current motherboards that offer their x16/x8/x16/x8 (pretty much all of them) configurations don't offer the ability to run x16/x16/x16/x0.
However, the motherboard on the left actually has two quick switches that move x4 from the last x8 slot between the slot and the U.2 connector on the motherboard. In fact, the only two reasons I have seen quick switches on an X399 motherboard are for switching bandwidth to and from a U.2 port, or next to a clock generator. Both the motherboards above also have an x4 PCI-E 3.0 slot, and on the board on the left it's obvious by the size of the slot, but on the board on the right you can tell by the number of pins inside the middle x16 slot (it's electrically x4 PCI-E 2.0 from the chipset), so keep an eye out or read the specifications.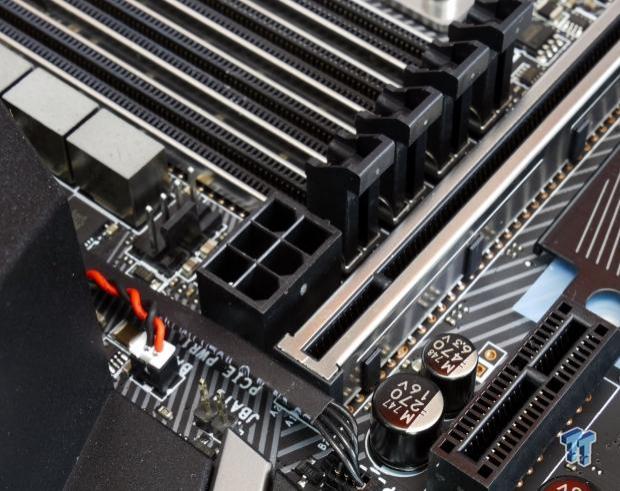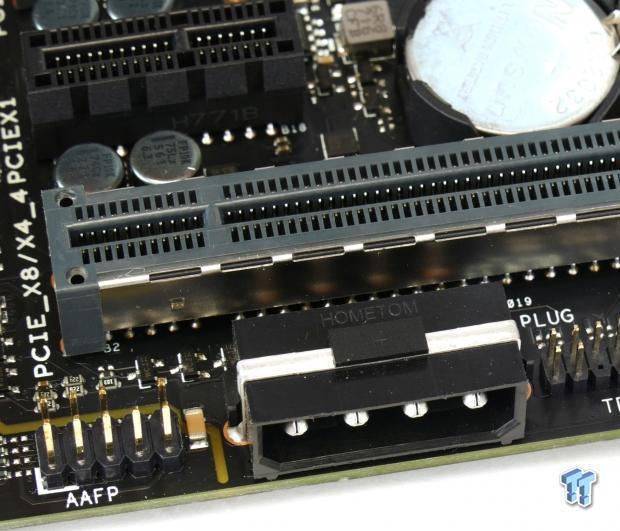 Most, but not all, X399 motherboards also have extra power connectors that supply the PCI-E lanes with extra power. The PCI-E lanes on modern motherboards get their power from the 24-pin connector, as CPU power is typically isolated for CPU-only use on most consumer motherboards. If each slot is specified to supply 75W of power, a problem is created when 3+ PCI-E x16 slots are filled up with high power PCI-E devices, such as overclocked graphics cards. If you plan on running 3 or more GPUs and especially if you are planning on overclocking all of them, you should look for these extra connectors. They come in two varieties; the 6-pin PCI-E power connector on the board on the left, and as a MOLEX connector such as on the board on the right.
M.2 Considerations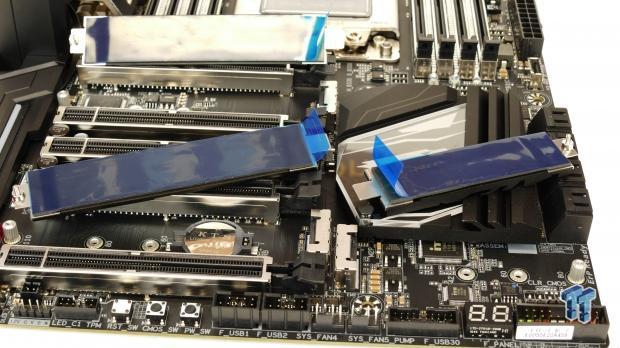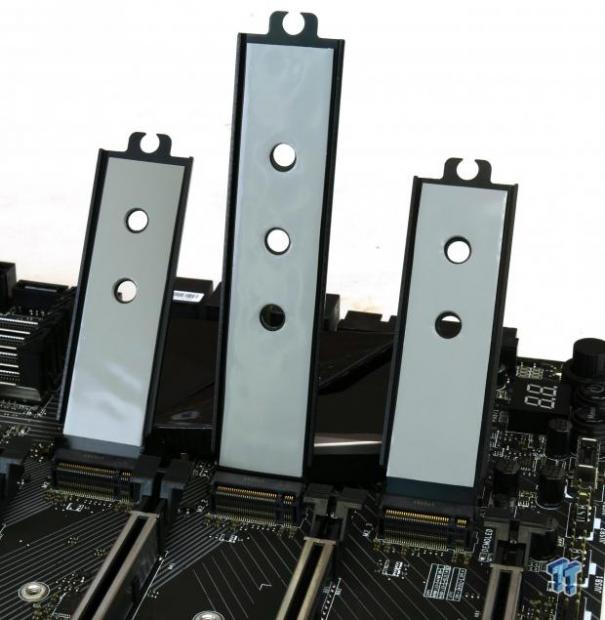 Most X399 motherboards also offer three M.2 slots, and they are typically wired to the CPU at x4 PCI-E 3.0. A few vendors have also decided to offer heat sinks that will help cool down the M.2 drives. The board on the left has one of my favorite M.2 heat sinks, as these heat sinks have a mass to them and they make installing the M.2 drive very easy. They not only guide themselves into the connector, but they also hold and guide the screw into the standoff. You should install M.2 drives when the motherboard is on its back, and before you install it into a vertical position in a case.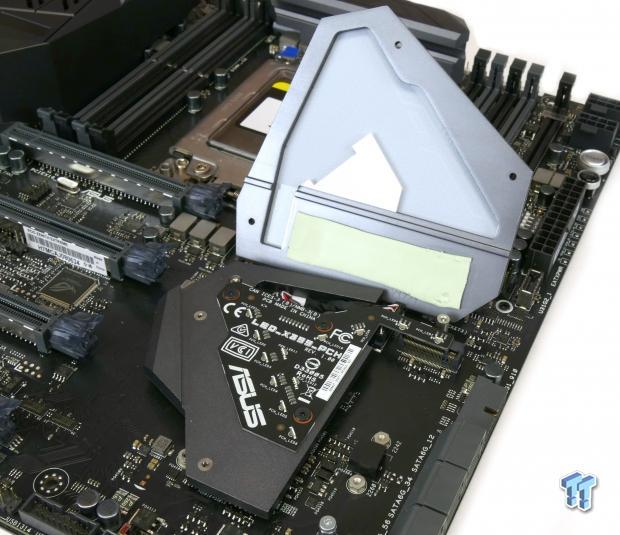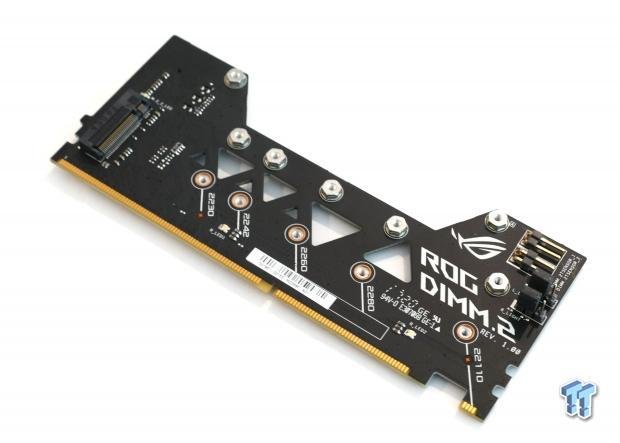 There are also vendors that cool M.2 drives with stealth heat sinks that look like chipset heat sinks, such as on the board on the left. There is also another novel method by using a specially designed unique riser card, which allows you to mount M.2 drives to either side vertically. The vendor that does this also puts the slot for the riser near the memory DIMMs, so you can use the same fans that cool down memory modules to cool down M.2 drives, or if you don't have one, the vendor also includes a fan mounting bracket for their riser.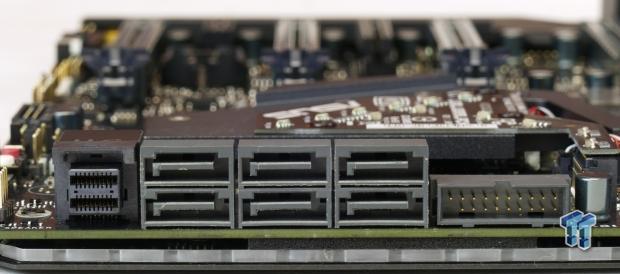 You will also find U.2 ports on a few X399 motherboards, and they are all connected to CPU bandwidth (U.2 requires x4 PCI-E 3.0). However, there are two methods as to where this bandwidth comes from. On the motherboard on the left, the U.2 port shares x4 PCI-E 3.0 with the bottom-most x8 PCI-E 3.0 slot, while the board on the right, the U.2 port shares x4 PCI-E 3.0 with one of the M.2 slots. You should consult the manual if you are planning on using the U.2 port and other connectors, as there is no simple way of telling where the U.2 connector gets its bandwidth.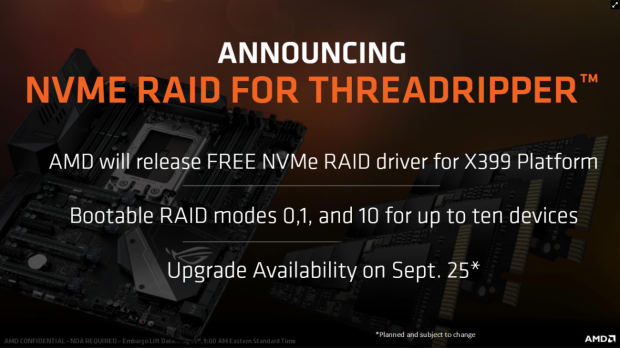 NVMe RAID is one of those things that Threadripper would thrive with, and while at launch it wasn't present, AMD has announced that they are planning to bring NVMe RAID support on September 25th, 2017. That is huge news, as then you can RAID all three of those M.2 slots, and even drives in PCI-E slots, and not be bottlenecked by the chipset to CPU connection. That is huge, and one of the coolest things the X399 motherboards will be able to do.
SATA and USB Considerations
SATA Considerations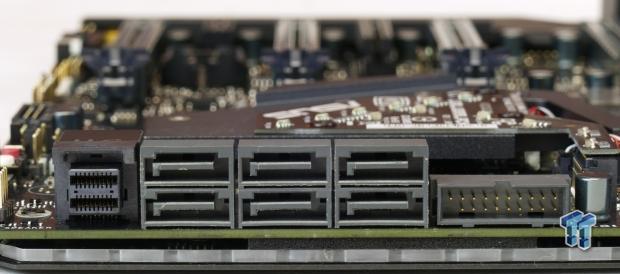 The majority of X399 motherboards offer eight SATA6Gb/s ports. These ports can utilize RAID 0, 1, and 10. AMD says that the X399 chipset supports up to 12 SATA ports, or eight SATA ports and two SATA Express ports. I have a hunch that adding four more ports does trade off with some PCI-E lanes. However, that is just a hunch based on the board in the image on the left. The motherboard on the left has only six SATA6Gb/s ports, and that is because it has used bandwidth from two SATA ports for two PCI-E lanes, as the motherboard required 10 PCI-E lanes from the chipset, and the chipset only offers 8 PCI-E lanes.
All of this means that AMD has some port flexibility, which means in the future we might even see crazier designs or even motherboards with 12 SATA6Gb/s ports. The reason we haven't already is probably because vendors don't see much demand for more than eight SATA ports, and they would rather use the PCI-E lanes from the chipset for other features.
USB Considerations

There are many different types of USB on X399 motherboards, and the motherboard's IO panel pictured above shows many of them. Threadripper CPUs provide eight USB 3.0 ports, and almost all motherboards implement all of them on the rear IO. On the board pictured above, the blue, yellow, and white ports are all USB 3.0.
The white port doubles as the port you use for a BIOS recovery feature, and the yellow ports offer special power delivery features allowing you to disable USB power or increase voltage for longer cables. There is a type-C USB 3.1 port and a type-A USB 3.1 port (in red), and all X399 motherboards offer two USB 3.1 ports from the X399 chipset, they might be used internally or on the rear IO panel.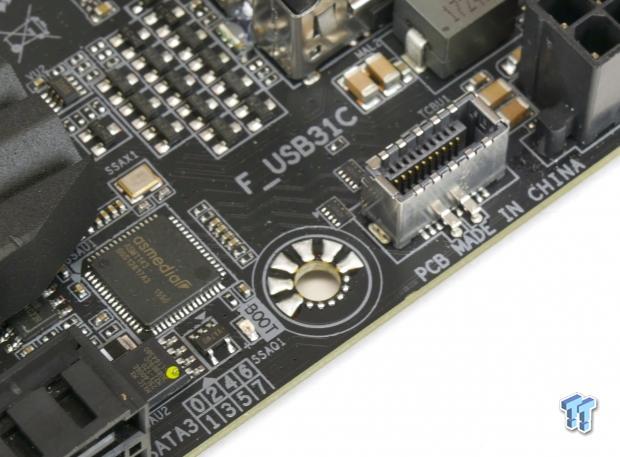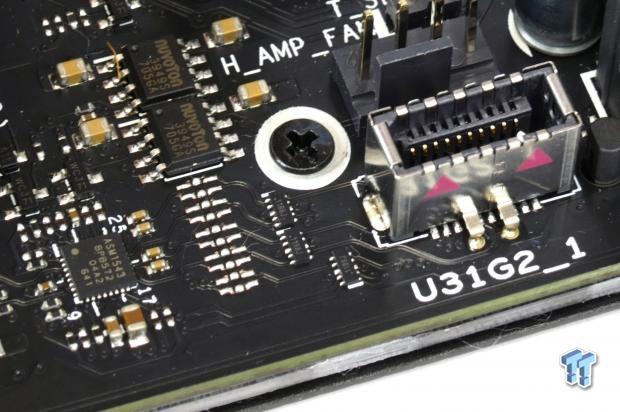 There are also type-C internal USB 3.1 headers on many X399 motherboards, and they can get bandwidth from a separate controller (on the left) or from the chipset itself (on the right). Typically, when the internal header gets its bandwidth from the chipset, a 3rd party USB 3.1 controller can be found near the rear IO panel for more USB 3.1.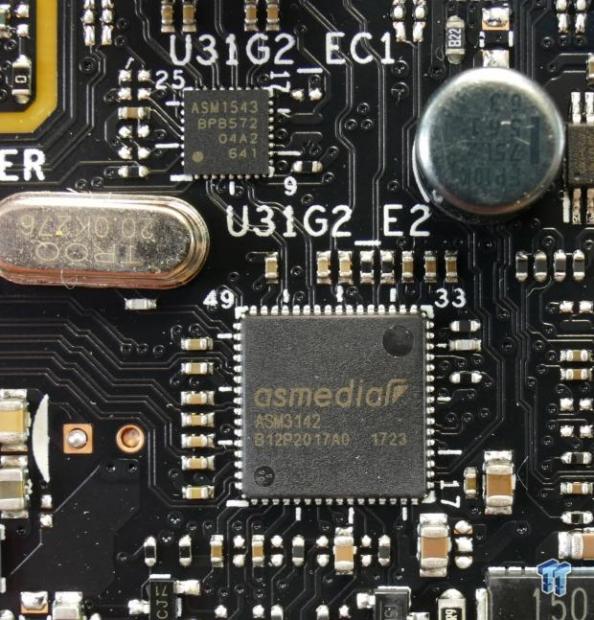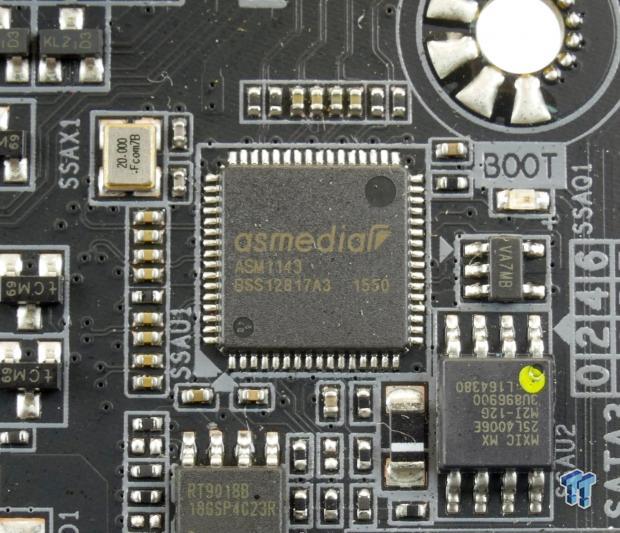 We find two types of USB 3.1 controllers on X399 motherboards; the ASM3142 and the ASM1143. The ASM3142 can accept two PCI-E 3.0 lanes, and is the latest generation controller; I believe the ASM1143 uses PCI-E 2.0 lanes.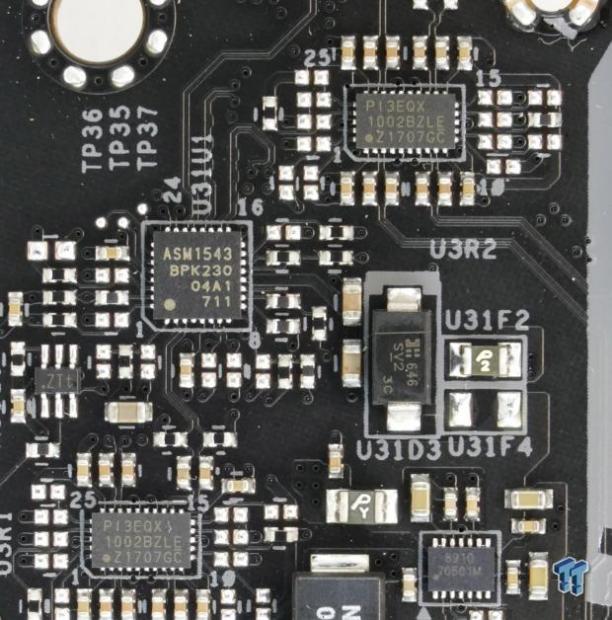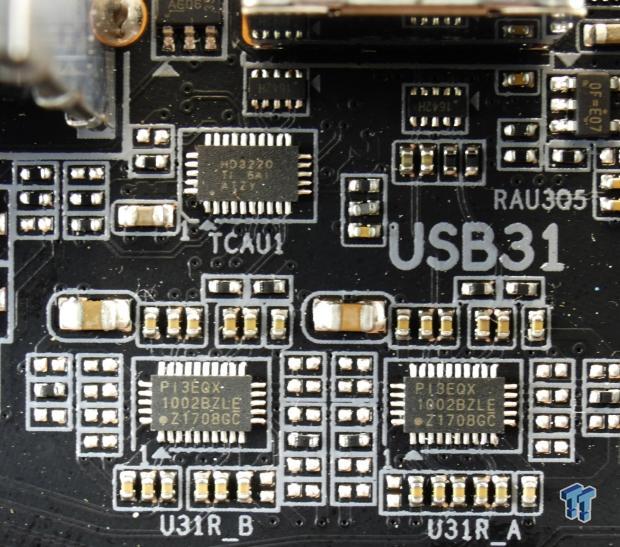 AMD's integrated USB 3.1 also requires redrivers, and these are almost always Pericom's PI3EQX USB 3.1 re-driver. Type-C ports also tend to have a switch chip or a switch chip with CC logic on X399 motherboards. The switch is needed for the type-C port to be reversible, as pin assignments aren't mirrored on either side of the connector. The ASMedia ASM1543 (left) is a switch chip with CC logic, while the Texas Instruments HD3220 (right) is a simple switch. In both the cases you see above, the integrated USB 3.1 from the chipset is being routed to the rear IO panel, and one re-driver outputs to the type-A port, while the second outputs to a type-C switch controller.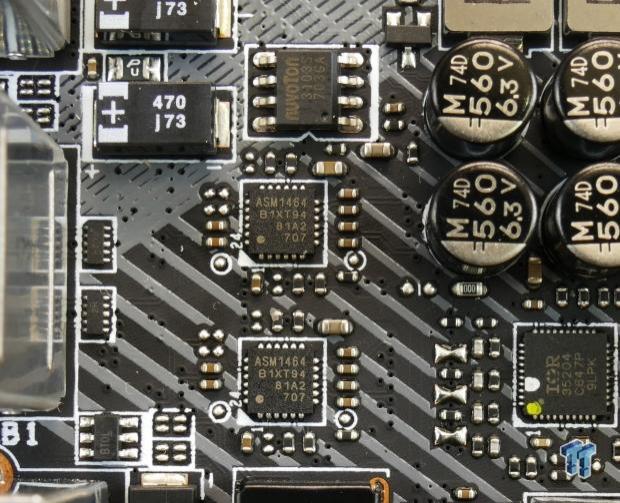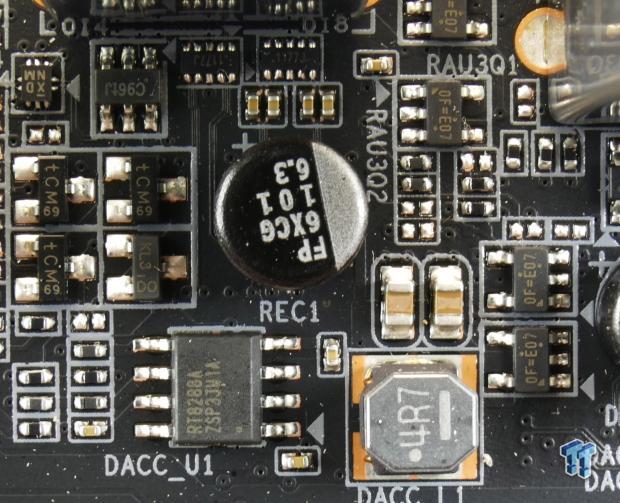 One vendor went and actually added in ASMedia ASM1464, which are USB 3.0 re-drivers that improve signal quality over longer distances, and they market it for VR. Another vendor (on the right) has implemented a power delivery chip, such as the RT8288A, to help control and increase USB 3.0 voltage levels.
Networking and Audio Considerations
Networking Considerations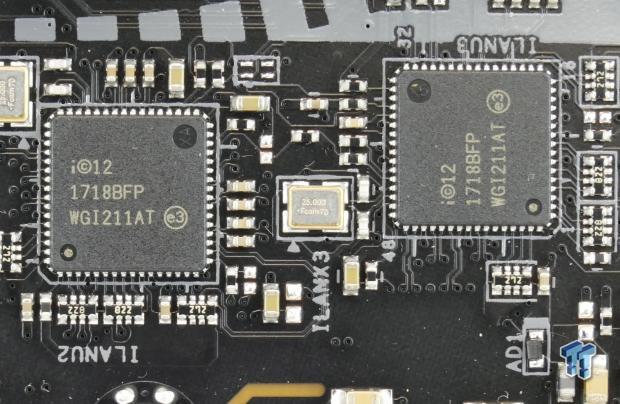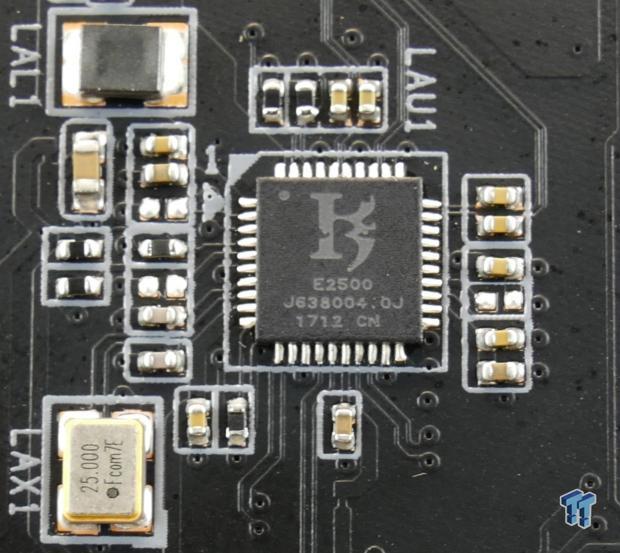 The most common NIC we find on X399 motherboards is the Intel i211AT, which is a Gbit Ethernet controller. Some motherboards have two (on the left) of these NICs. The Killer E2500 can also be found on X399 boards, and it's marketed more towards gamers, but does fine as a normal NIC.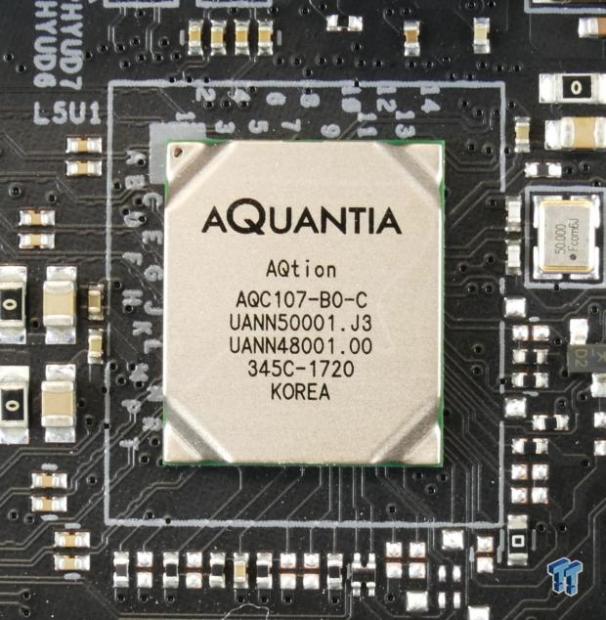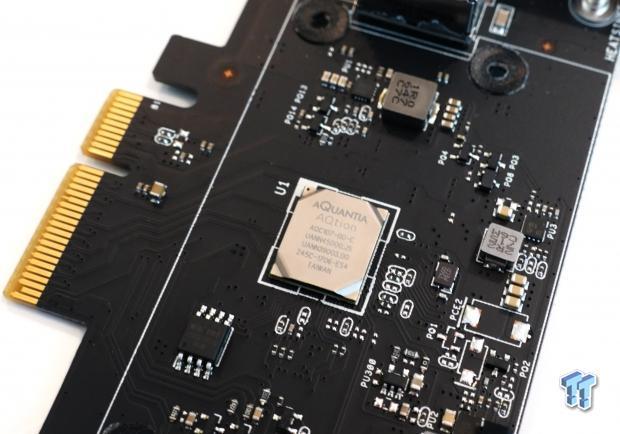 A nice treat can be found on some X399 motherboards, the new Aquantia 10Gbit NBase-T controller (AQC107). NBase-T allows for 10G, 5G, 2.5G, 1G, and 100M link speeds and will have you covered for future upgrades in the network arena if you don't already have a 10Gbit network. ASUS's XG-U2008 switch offers two 10G ports for $220, bringing 10G networking into the mainstream. I am told 2.5G and 5G will become much more common next year in affordable routers and switches.
While one vendor integrated the chip into the motherboard, another chose to put it on an x4 PCI-E card. The benefit of having it integrated means you can fill up all PCI-E slots, but you can't take it with you. The benefit of having it on a card is that you can use it in another system, but you can't fill up the PCI-E slots.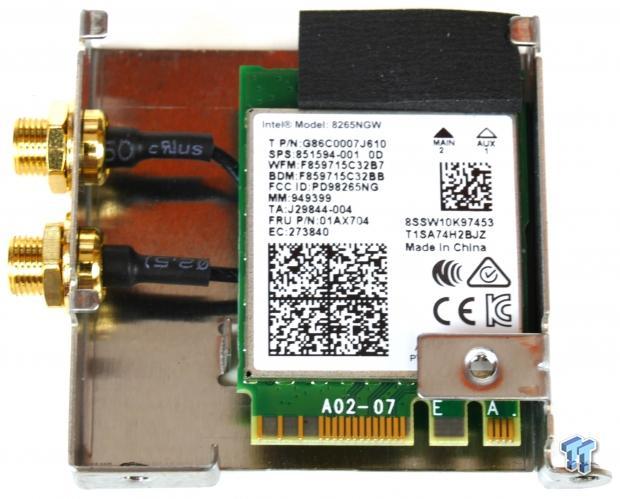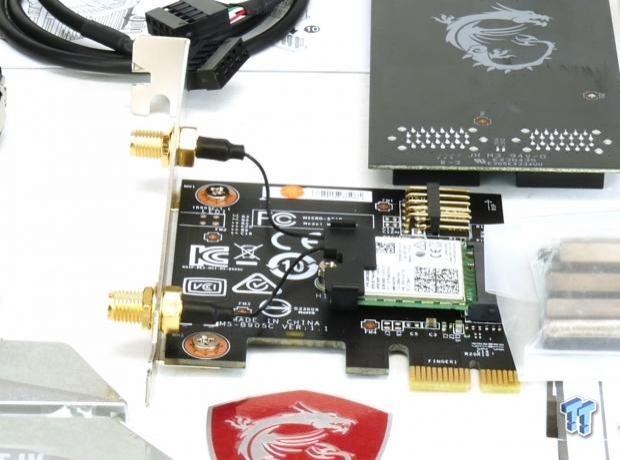 We also find some wireless AC solutions, and the most common so far is the Intel 8265NGW 2x2 (867Mbps) Wireless AC card. We find it built into the motherboard through an M.2 slot wired for WIFI cards and output on the rear IO, and we also find it on an add-in card included with an X399 motherboard. You can take both with you, since both ways it plugs into an M.2 slot wired for WIFI/BT.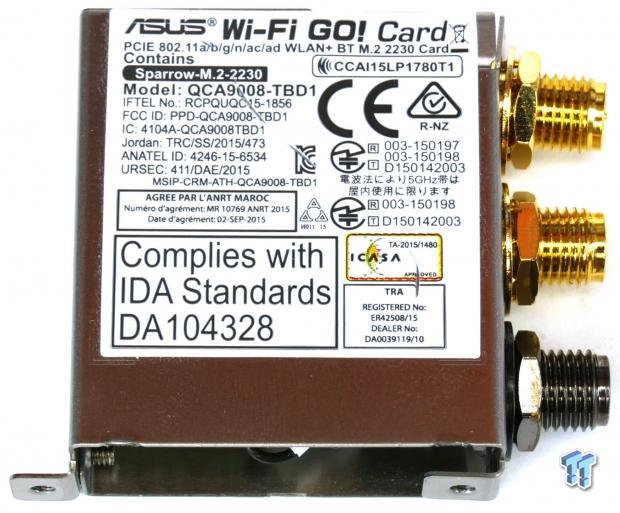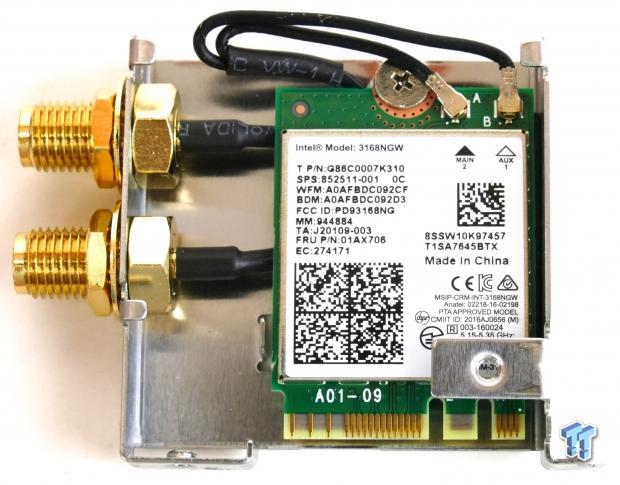 One vendor has gone above and beyond and implemented a Wireless AD (WiGig) card, the Qualcomm QCA9008, which is capable of up to 4.6Gbps (yea you read that right). The card also supports 2x2 Wireless AC and the other Wireless technologies below it. Wireless AD is super-fast, but it has to have a clear line of sight, and its main use is for future wireless VR headsets. I also spotted an Intel Wireless AC 3168NGW card, but it's half the speed as the other Intel cards I found on other motherboards at 433Mbps (1x1).
Audio Considerations

Some vendors have gone to lengths to improve audio, and some have gold plated audio ports on their motherboards as well, such as the vendor pictured above. You can also see the triple NICs, one of those is a 10G, and the other is 1G.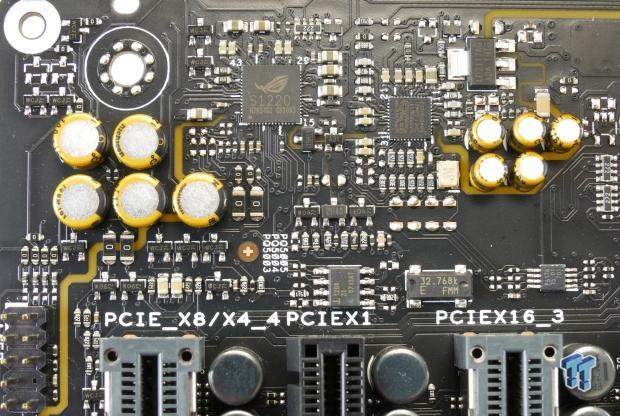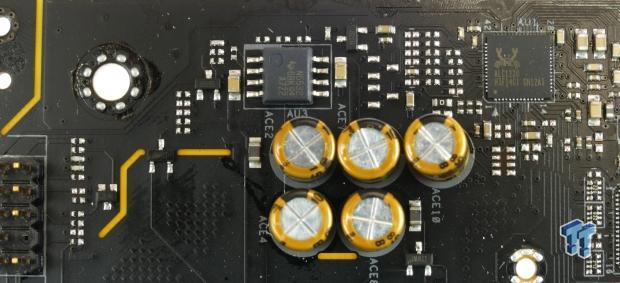 The basic audio solution found on X399 motherboards is a single ALC1220 audio codec. The codec offers 120dB SNR on one output, along with a single integrated headphone amplifier, some vendors add a second amplifier, so the rear and front panel audio output are both amplified (vendor on the right). One vendor has even added in an extra digital to audio converter (DAC), the ESS Sabre ESS9018, which should greatly improve audio. Vendors also implement physical PCB division and audio capacitors.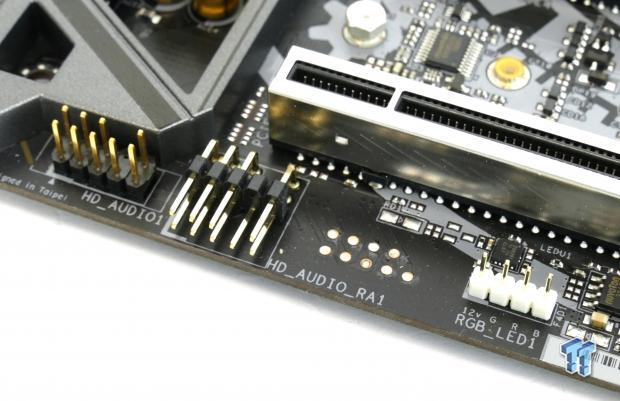 The vendor pictured above has actually implemented two front panel HD audio outputs. They are wired to the same output, and you can use one or the other, but the reason for their existence is for cable management. If you have a card in the last slot, it could block the front-facing port, but if you have a very short case, the bottom facing output could be blocked, so the vendor includes both types.
VRM and Overclocking Considerations
VRM Considerations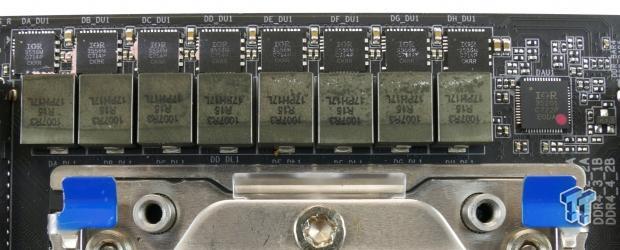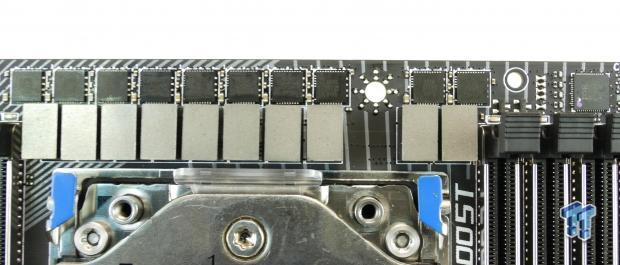 The most common VRM configuration is a true 8-phase VRM controlled by an IR35201 in 8+0 phase mode. These VRMs almost always use an Integrated IR PowIRstage, either the 50A IR3556 or the 60A IR3555. Some vendors have used inductors where we can find the current, or they have stated the current. The VRM on the left uses 50A power stages and 76A inductors, while the VRM on the right uses 60A power stages but we couldn't find the amperage on its inductors.
The vendor on the right has also used a different configuration for phases. Instead of a true 8-phase VRM, they used 5 PWM channels, doubled them to 10 phases. The 8-phase is more than enough, and more true phases improve performance but having ten power stages instead of 8 to spread the load across can help with powering the CPU as well. I wouldn't worry too much about VRM components, as all these boards use top-notch components, but I would focus more on cooling.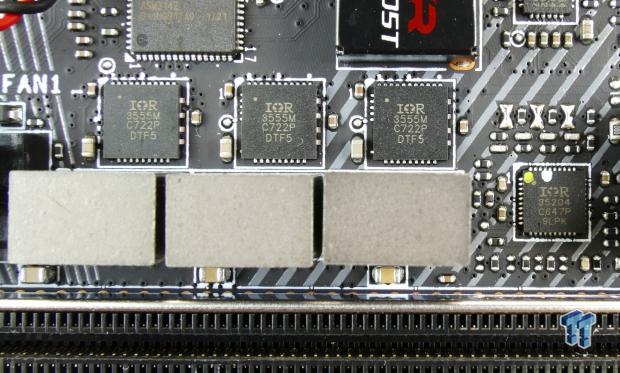 The SoC rail for the CPU also requires a VRM, and most boar4ds use the same PowIRstages and PWM controller, but a 2 or 3 phase VRM.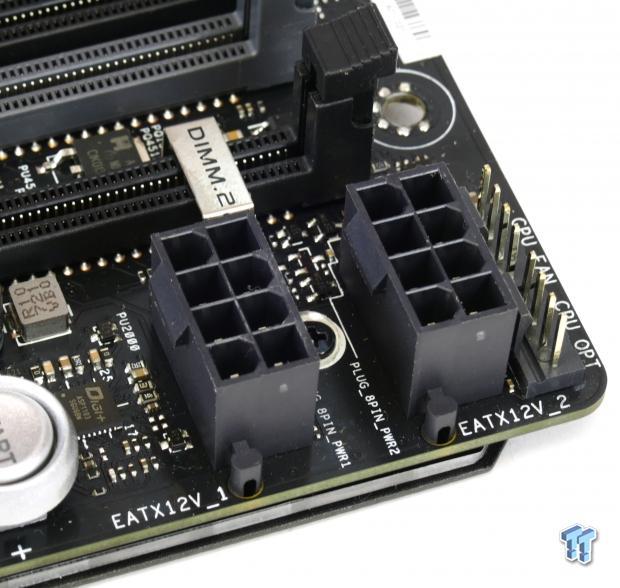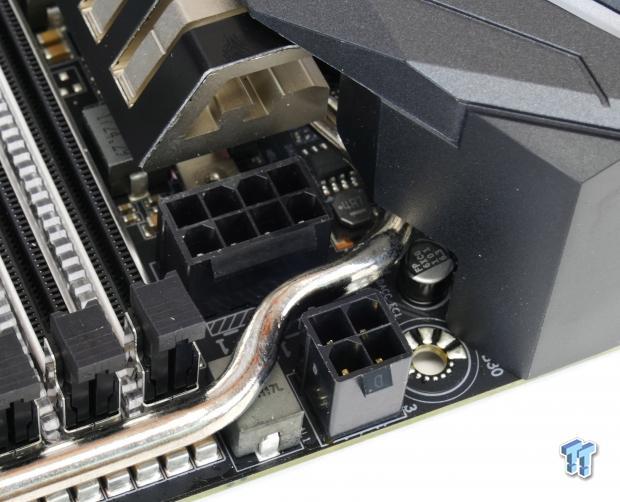 Some motherboards have two 8-pin power connectors, and that should provide 600W+ easily. Other vendors have one 8-pin and one 4-pin connector, and these are also good enough with up to 450W+ support. You can typically pull more than those wattage levels, but those are specified to standards as maximums.
Overclocking Considerations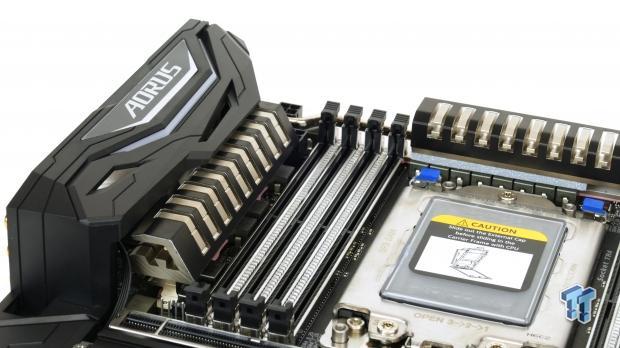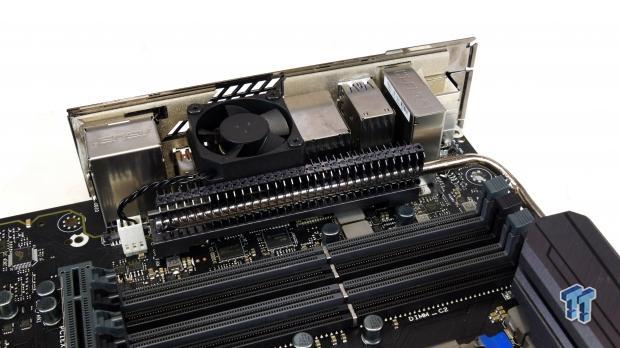 There are four different VRM cooling styles, and the effectiveness of each will depend on how the motherboard is used and where it is used. Some vendors have a big heat sink with a lot of mass, and others have optimized surface area with thinner fins. What I call a "sink" is a lot of mass that could easily absorb a lot of heat (or big bursts), and what I call a "radiator" is designed to better dissipate the heat with much more surface area than mass.
The "sink" should excel on a test bench where there is little airflow while the "radiator" should do better in a case with excellent airflow. The vendor on the left uses a mixture of a sink and radiator and should do well in a case and on a test bench. The vendor on the right has taken a much different approach and really created a hybrid, with a solid sink located on the VRM itself, and a real fin-type radiator with an active cooling fan. The motherboard on the right will do well in a case and on a test bench, especially because it can provide its own airflow.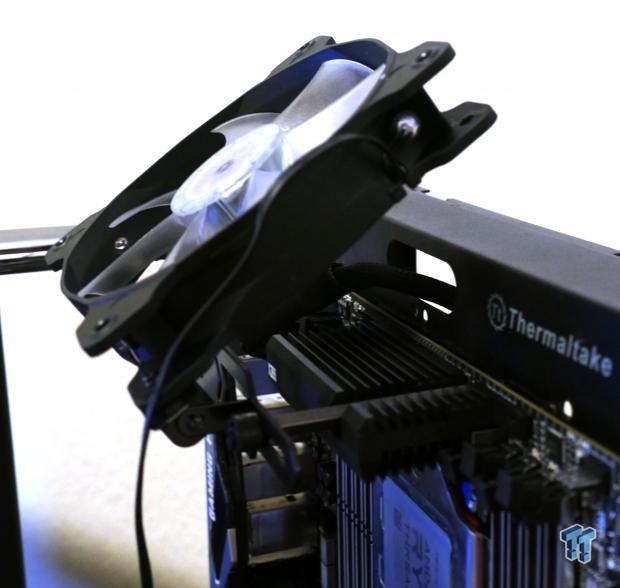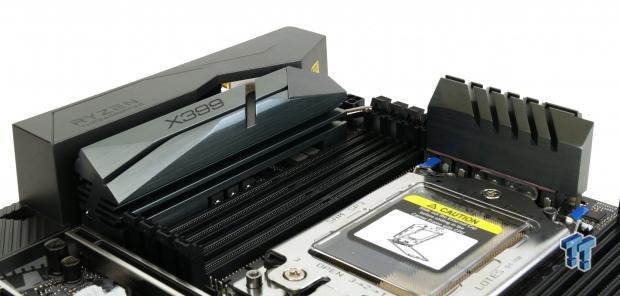 The vendor on the left has taken a different approach than the rest and created a standalone radiator type heat sink. However, they didn't stop there, and they include mounting hardware to mount a 120mm fan right over the VRM heat sink to properly cool the VRM. The vendor on the right has created a hybrid as well, but it's significantly more sink than radiator, and it has the most mass of any of the other heat sinks as far as I can tell.
Bottom line is that all vendors have done a decent job of avoiding the problems many early X299 motherboards had, the VRM shouldn't throttle the CPU on most X399 motherboards. The bottom line is that you either should have your system in a case with decent airflow, or you should provide active cooling on a test bench without airflow.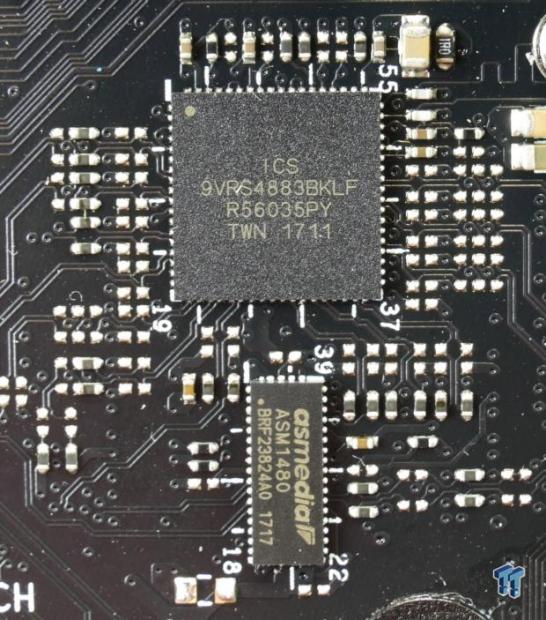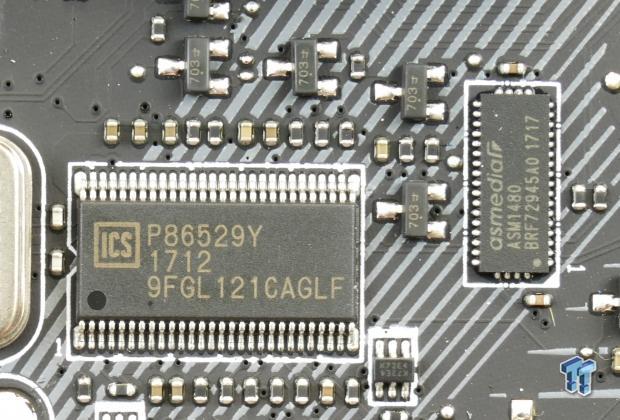 Most X399 motherboards also have clock generators that provide decent bus speed overclocking. While most people these days are used to multiplier overclocking, some people still want to experiment with bus speed control. If a motherboard has a clock generator, I will mention it in the review.
There are multiple types of clock generator implementations; you either get one clock generator or you get two clock generators and a quick switch that seems to be attached to one. I am not quite certain why some boards have two clock generators; perhaps one maintains the bus clock for system devices while the other can change the bus clock of the CPU alone.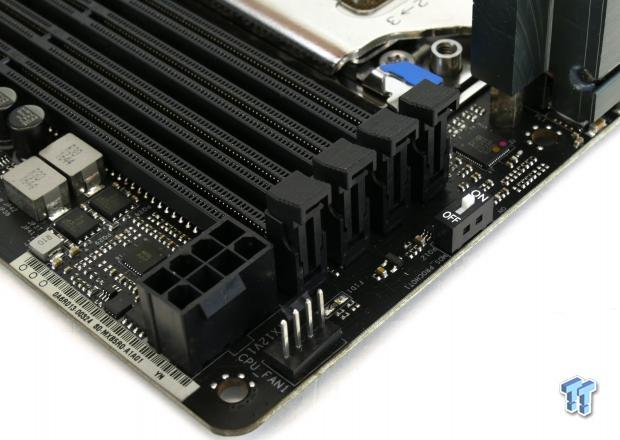 One vendor has also implemented a switch to disable temperature protection for their VRM, and it's designed for extreme overclocking. The same vendor also has put 2oz of copper in their PCB, which is a good thing for overclocking. If a vendor has implemented 2oz of copper, you will see them advertise it, as it's not cheap.
BIOS and RGB Considerations
BIOS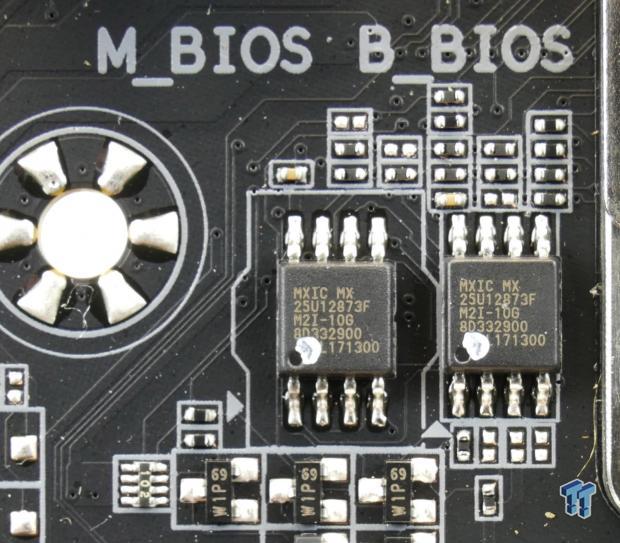 Most X399 motherboards have built-in USB BIOS recovery. A single port on the rear IO panel is indicated like it is in the image on the left, and with the press of a button on the rear IO panel (or another trigger), the system will flash the on board UEFI with an image on a USB stick, even if there is no CPU installed. One vendor not only implemented USB BIOS recovery but also implemented dual BIOS ROMs for redundancy and auto recovery.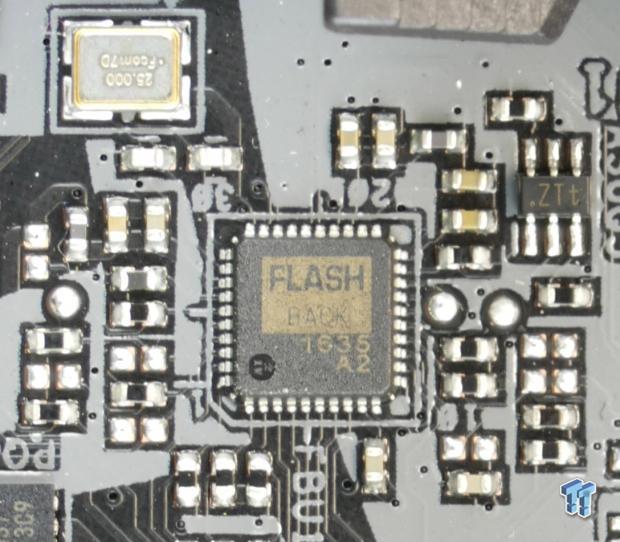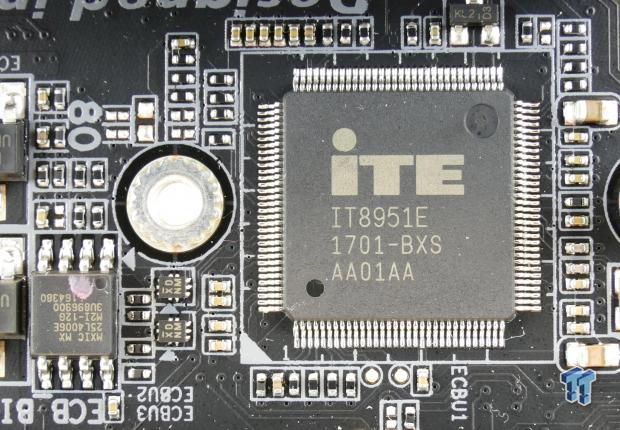 Many times, the USB BIOS recovery is done through a microcontroller implemented into the motherboard, and many times that chip is labeled as such (on the left). Sometimes it's not marked as such (on the right).
RGB Considerations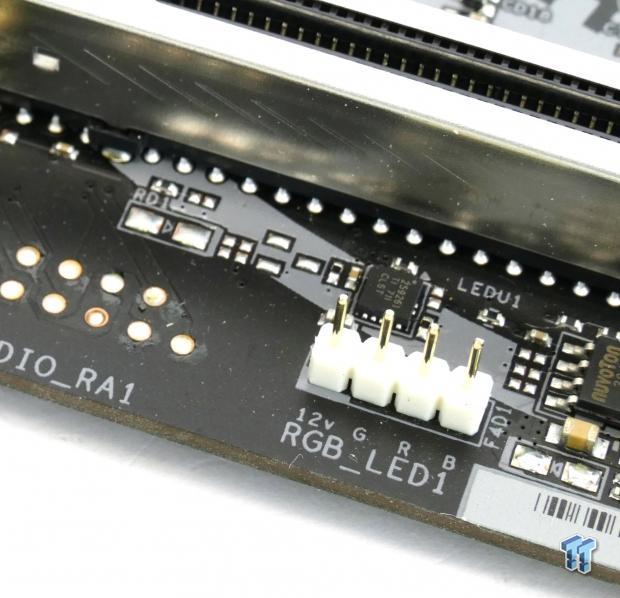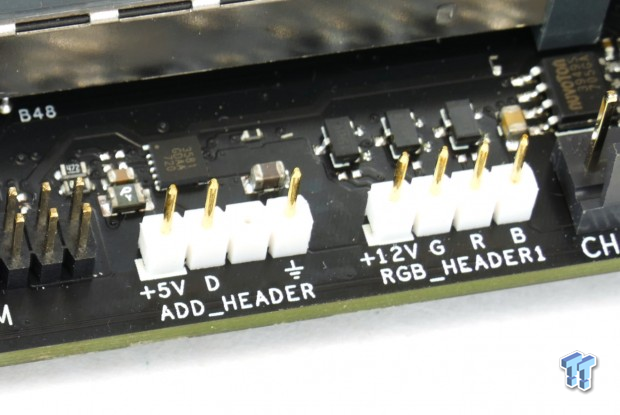 Most X399 motherboards also have RGB LED headers, and sometimes they are colored white so users can easily find them. However, we see a second type of header (image on the right) called a digital or addressable RGB LED header. Typical RGB LEDs on a strip or in a group operate as a single unit; they all have the same color and brightness at the same time.
However, with digital/addressable RGB LEDs, individual LEDs can be controlled independently. They can do things such as a wave of colors or moving pulses of light; the downside is that they are more expensive and harder to program unique creations. Digital/addressable headers typically only have three pins (D, GND, Power), while RGB LED headers have four (12V, G, R, B).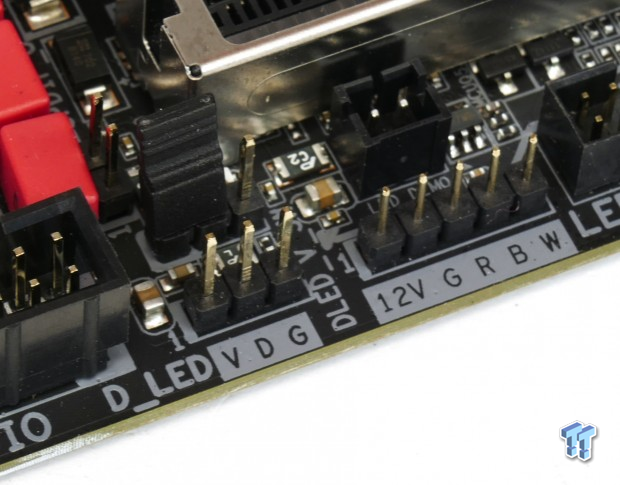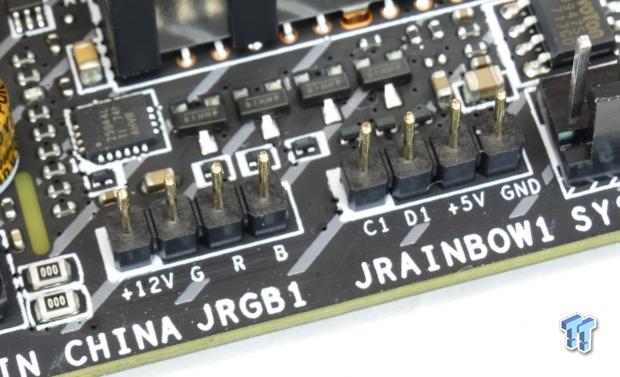 The image on the left shows a digital RGB header with a twist; it can work with both 5V and 12V digital RGB led strips (jumper above it controls it). The image on the left also shows an RGBW header, which supports RGBW (and RGB) strips that have an extra white LED next to each RGB LED. Another twist on the digital RGB header can be found in the image on the right, as it has four pins.
The pins are GND, 5V, D1, and C1, and while we have seen the D pin before for the digital signal, we also get a C signal, which is a clock signal. These digital/addressable RGB LED headers are said to work with specific models of strips, and you can find those supported models in the manual of each board.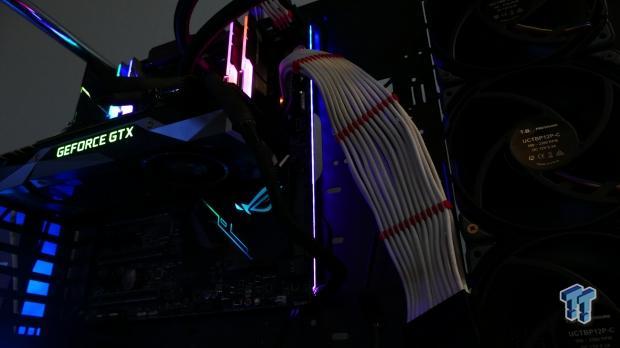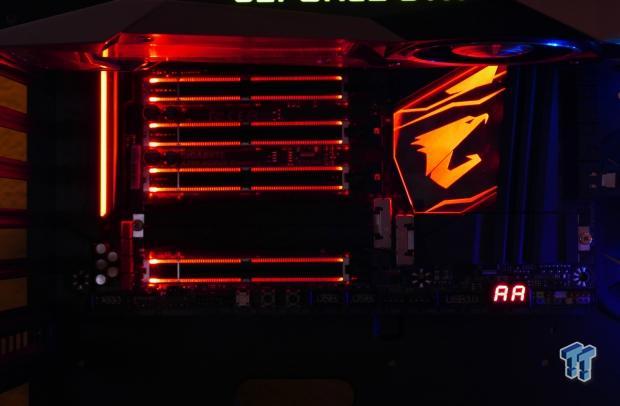 We can see how digital/addressable RGB LEDs differ with the images above. In one image the color is grading on the chipset LEDs from green to blue and on the edge from purple to blue. The memory kit used also has digital RGB LEDs built into it, and the colors are doing a wave. The other image shows a single color for all RGB LEDs, and while digital RGBs can also do that, normal RGB LED headers and implementations are typically significantly more cost-effective.
Overall, most X399 motherboards offer very similar basic features, as the CPU and chipset offer more than enough IO, so expansion isn't really necessary. I haven't found a USB hub on any X399 motherboard or a 3rd party USB 3.0 or SATA6Gb/s controller, and that is awesome. However, the motherboards still cost a lot because of the huge socket and HEDT chipset.
I hope this guide has helped many of you better understand our reviews, and if you have any questions, please feel free to comment and ask.
PRICING: You can find products similar to this one for sale below.

United States: Find other tech and computer products like this over at Amazon.com

United Kingdom: Find other tech and computer products like this over at Amazon.co.uk

Australia: Find other tech and computer products like this over at Amazon.com.au

Canada: Find other tech and computer products like this over at Amazon.ca

Deutschland: Finde andere Technik- und Computerprodukte wie dieses auf Amazon.de