Battlefield 1 PC Performance and Quality Report
We look at Battlefield 1 and evaluate how optimized or not it is for PC in terms of graphics, performance, controls, and more.
Published Oct 26, 2016 2:27 PM CDT
|
Updated Tue, Nov 3 2020 6:58 PM CST
3 minutes & 58 seconds read time
Introduction, Test Setup, & System Requirements
Swedish developer DICE has launched its latest entry in its acclaimed shooter series with Battlefield 1. Naturally, the game employs the superb Frostbite Engine and upgrades the graphics while adding support for Microsoft's DirectX 12 API.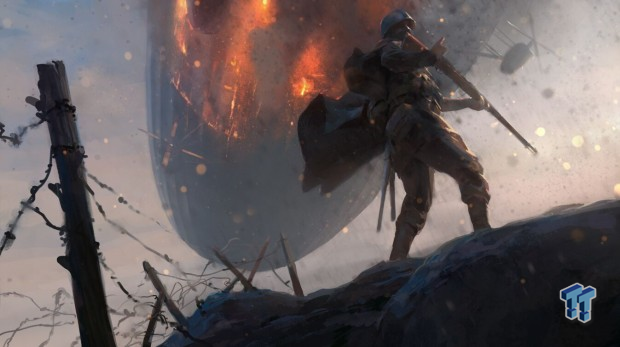 While the gameplay is great (as covered in our review here and here), you might still be wondering how the title shapes up regarding PC features, optimization, and performance.
Well, read on.
Test Setup and System Requirements
Our Test Setup
OS: Windows 10 64-bit

Processor: Intel Core i5 3570K 3.4GHz (Stock)

Memory: Corsair XMS3 8GB DDR3-1600 (Stock)

Storage: Crucial BX200 2.5'' 480GB 6GB/s SSD

Video Card: Sapphire Tri-X R9 290X 4GB (Stock)

Driver: Radeon Software Version 16.10.2

Resolution: 1920x1080

Input: Logitech G400 mouse (800 DPI), Hermes RGB mechanical keyboard
System Requirements
Minimum:
OS: 64-bit Windows 7, Windows 8.1 and Windows 10

Processor: AMD FX-6350 / Intel Core i5 6600K

Memory: 8GB RAM

Graphics: AMD Radeon HD 7850 2GB / NVIDIA GeForce GTX 660 2GB

Storage: 50GB available space
Recommended:
OS: 64-bit Windows 10 or later

Processor: AMD FX 8350 Wraith / Intel Core i7 4790 or equivalent

Memory: 16GB RAM

Graphics: AMD Radeon RX 480 4GB / NVIDIA GeForce GTX 1060 3GB

Storage: 50GB available space
Impressions and Final Thoughts
Graphics, Controls, & Performance Impressions
I've previously criticized Battlefield 1 based on released footage for not offering any graphics upgrades over its predecessors, but it appears DICE has made some real changes since alpha. That is to say, the game looks great, with (mostly) stunning work on textures, shadowing, lighting, vegetation, fire effects, particle effects, and more, as well as expert usage of ambient occlusion and tessellation.
In short, there's plenty enough to appreciate visually, even if you played Battlefield 4 to death.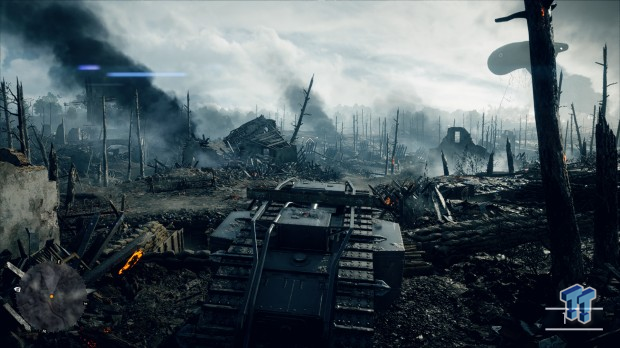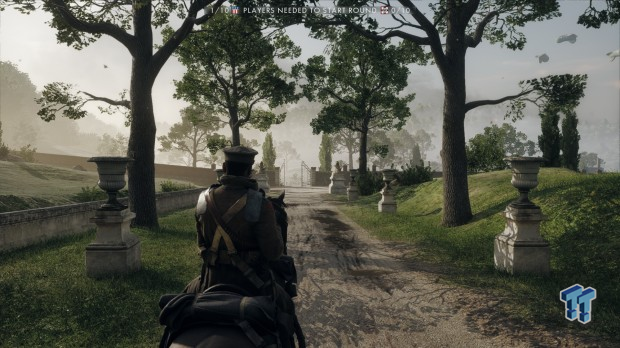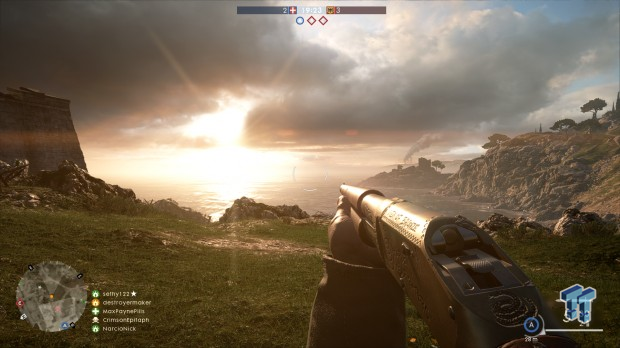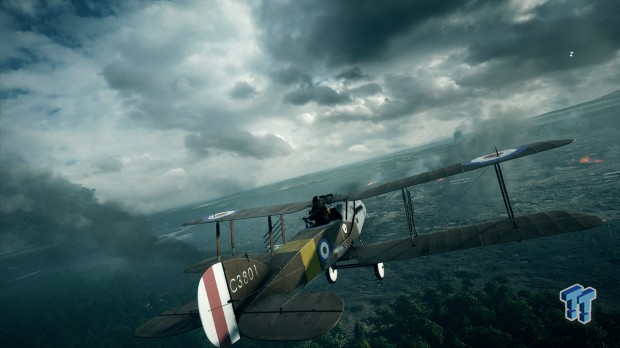 Graphics options-wise, you get the usual suite you'd expect from a DICE game: about 20 in total, including Field of View (an option for normal play, vehicles, and when aiming down sights, no less), DirectX 12, Resolution Scale, Texture Quality, Post Process Quality, and Anti-aliasing post (TAA and FXAA), to name a few. You won't be left wanting, that's for sure.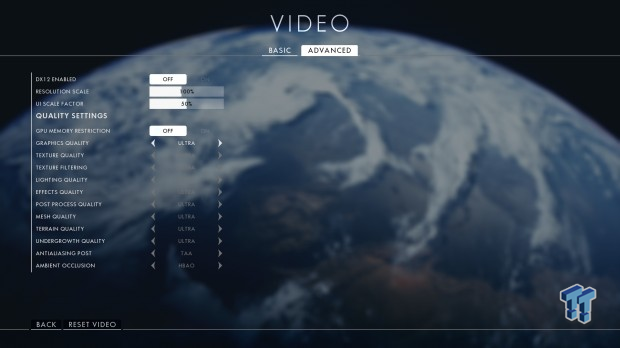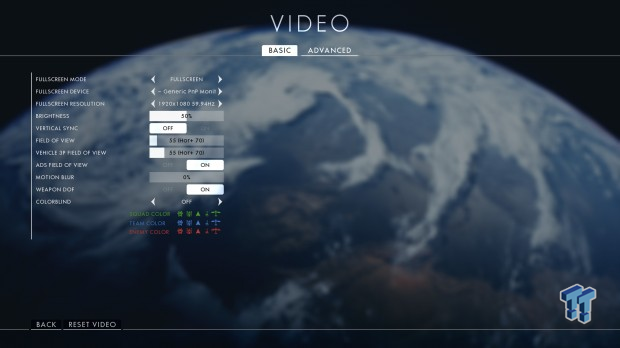 As for visual scaling, Battlefield 1 does what you'd hope: Low offers a bare bones but still acceptable looking game, while Medium brings much more depth and realism, and High and Ultra offer subtle upgrades to vegetation, shadows, and also add reflections.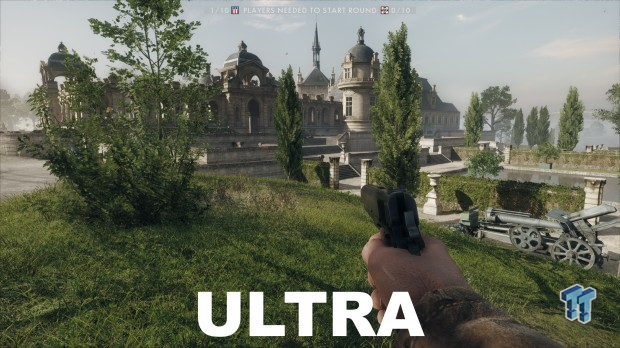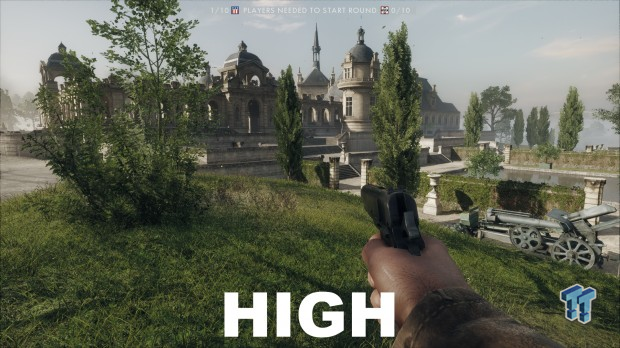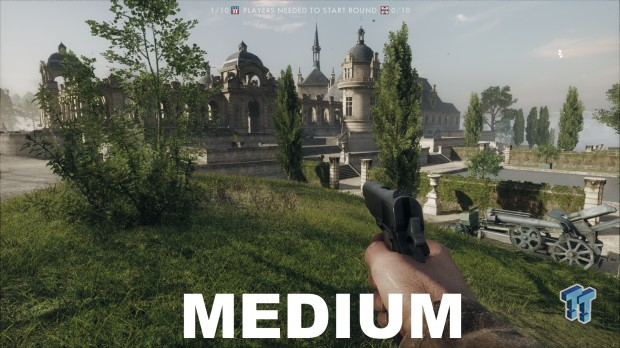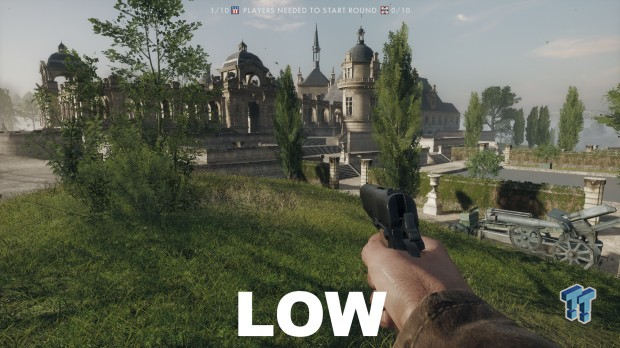 Regarding controls, camera movement and aiming while using sights (on foot or in a vehicle) is as smooth and precise as you could hope for, at least after tweaking settings. With my mouse set to 800 DPI, I used 3 soldier sensitivity, 10 vehicle sensitivity, 100 soldier zoom sensitivity, and enabled Uniform Soldier aiming, all of which I highly recommend, if only as a starting point.
No mouse smoothing or acceleration appear to be present, and the game has the most extensive control options I've ever seen. There's the usual click vs. hold options for things like sprinting and a mountain of key bindings to play with, but you also get the benefit of sensitivity options for every conceivable aspect of gameplay, whether it's every variation of zoom, vehicles, or cavalry, just to name some.
As for the interface, while it doesn't suit the gritty World War I setting, it's slick, mostly well-organized and efficient (particularly the quick weapon select menu in the spawn screen), appropriate for PC users in its design, and highly responsive (at least after the game's first patch). Plus, you can customize it to death, so if something isn't to your liking or you just want it gone, it can probably be changed.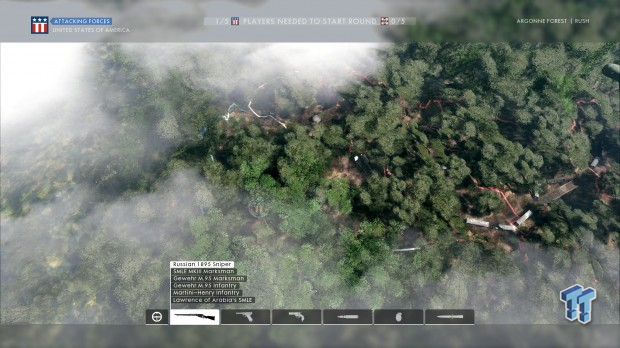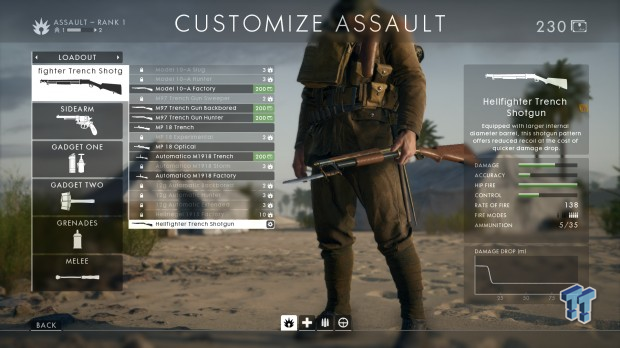 As the benchmarks below show, Battlefield 1 is a demanding game if you want to run Ultra settings, but if you're happy enough to run High or lower or tweak a lot of settings, it will run very smoothly on mid-range setups like mine. In fact, performance as such is very much in line with Battlefield 4 after extensive patching, which is no small feat.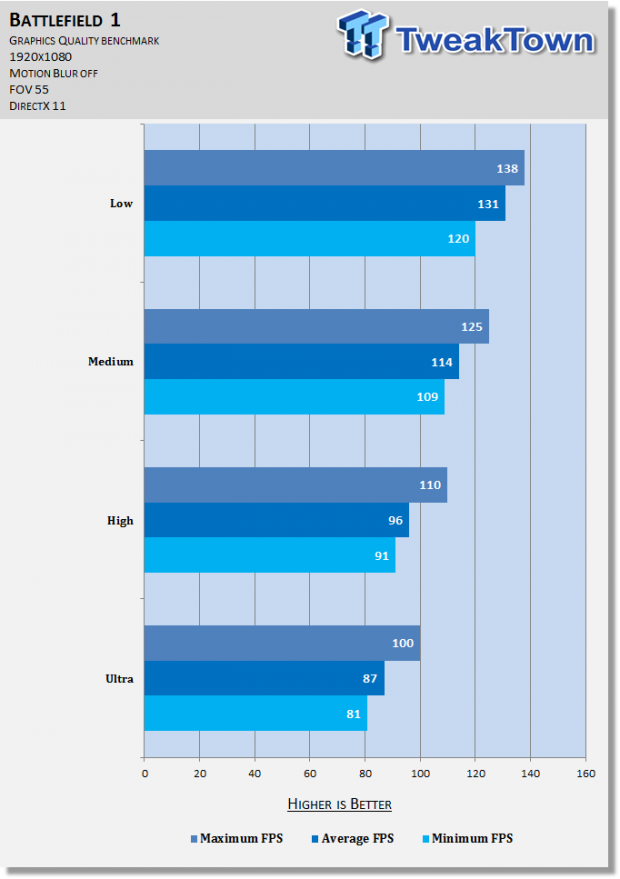 The benchmarks took place on an empty server for consistency, but "real" results in full servers, while impossible to replicate, are more or less in line with the above findings.
Single player results are improved of course, as having set render elements affords greater optimization. Here, Ultra was no issue at all.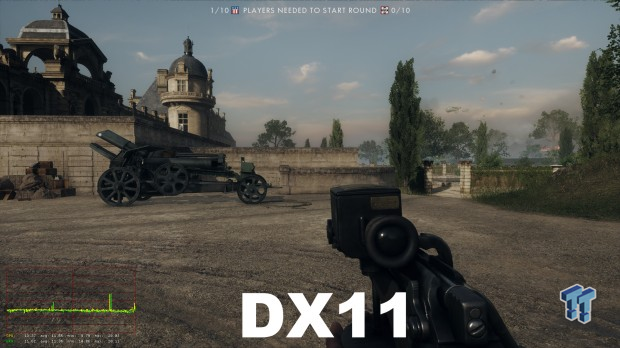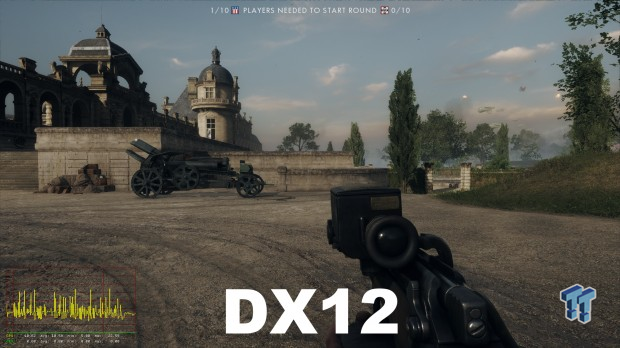 DirectX 12 did give me serious issues, however (see above). While frame rate was overall slightly improved for the modern API, frametimes suffered greatly, and the result was anything but subtle. To put it another way, DirectX 12 can cause massive stuttering, so if you're experiencing it and wondering why, this setting should be the first you disable when troubleshooting. I expect DICE will fix this up good within a few months or so; in the meantime, DirectX 11 gets the job done.
A server browser is again on hand, complete with the usual filters for maps, modes, health regen, 3D spotting, and so on, alongside some sweet additions in weapons, classes, and permanent fog. Servers are now all hosted by EA, so the experience should be more consistent.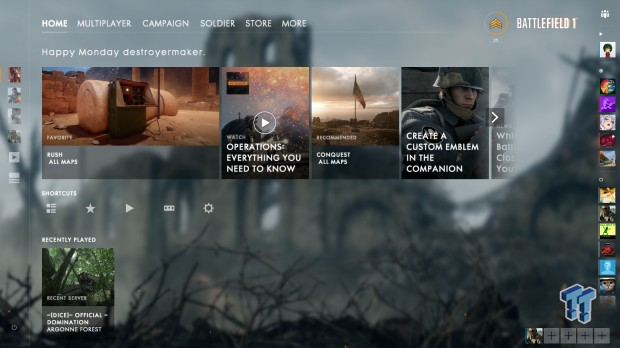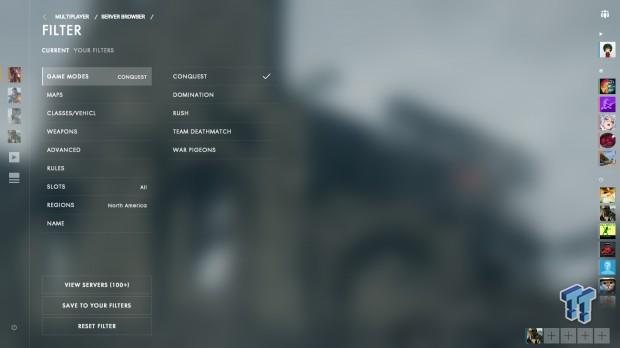 The downside is a new infrastructure means communities and users can't obtain and customize their own for awhile as EA is still getting set up to launch its rental program (slated for sometime in November). As well, details on what customization will be offered are vague, which has prospective renters worried.
As of now, key items like procon access (for essential plugins like Teamsync, which facilitate much greater teamwork), kicking, banning, and team balancing are all up in the air. While EA has stated more customization details are on the way, there's good cause for concern until at least then.
Final Thoughts
Battlefield 1 is another excellently optimized game for PC by DICE, only this time from the get go. With great controls, tons of options, beautiful visuals, and mostly stellar performance, it's easy to recommend.
The game's only real downside at the moment is poor DirectX 12 support for some systems, but as mentioned, that shouldn't be an issue before too long.
PRICING: You can find products similar to this one for sale below.

United States: Find other tech and computer products like this over at Amazon.com

United Kingdom: Find other tech and computer products like this over at Amazon.co.uk

Australia: Find other tech and computer products like this over at Amazon.com.au

Canada: Find other tech and computer products like this over at Amazon.ca

Deutschland: Finde andere Technik- und Computerprodukte wie dieses auf Amazon.de