Battlefield 1: War Stories Review
DICE crafts a high-octane, amazingly polished visceral World War I experience, but it's more of an appetizer than a main course.

Published
8 minute read time
TweakTown's Rating: 87%
The Bottom Line
Battlefield 1's War Stories is a fantastic single-player campaign that's filled to the brim with authentic visceral action and amazing visuals. Don't buy the game just for the campaign, but definitely take a break from multiplayer to try it out.
Introduction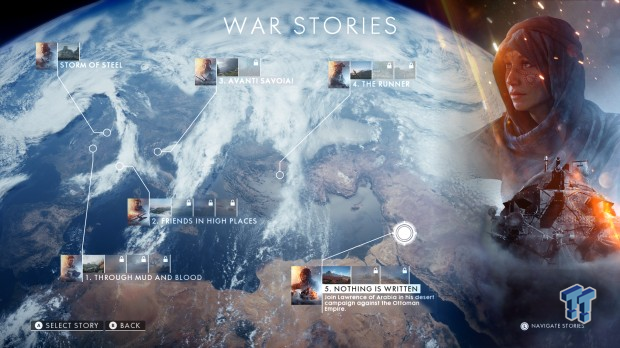 Developer: DICE
Publisher: Electronic Arts
Release Date: October 21, 2016
Platform: Xbox One (Reviewed), PS4, PC
Genre: FPS, Shooter
"Only the dead have seen the end of war."
While multiplayer is the star of the show for Battlefield 1, the War Stories single-player campaign is a delicious appetizer to whet your appetite for carnage. The campaign itself takes players across a world torn and ravaged by destruction, depicting a unique story line for each chapter.
The War Stories campaign is broken into one semi-mission intro and five main missions. Each of the five missions features a different theater of war across World War I, taking place in various regions of the world. The missions themselves are separated into chapters and sections, with some being as long as four chapters, and others being as short as two.
Each mission tells its own story and has its own unique and dynamic objectives and moments, so you don't ever get the feeling you're playing the same thing twice.
While it does show different perspectives, the basic tenants of FPS campaigns are still in play: you don't switch characters throughout the mission, and you're empowered to the point where it feels like a basic campaign mission from any shooter; i.e., you'll gun down dozens of baddies, planes, and tanks... making you feel like a superhuman.
When you first start War Stories, the perspectives shift from each character when you die, giving you the feeling of a kind of shifting battle. I thought the entire campaign would be like this, but it's not; you'll play as the person you start at the beginning of the campaign till the end.
At the same time, however, the missions still smash you down with a visceral iron fist; the gameplay isn't tight, and really reflects the era's firearms and weaponry. Often you'll use shovels, picks, and bayonets to dispatch your foes or toss a lucky grenade to take out a gunner outpost.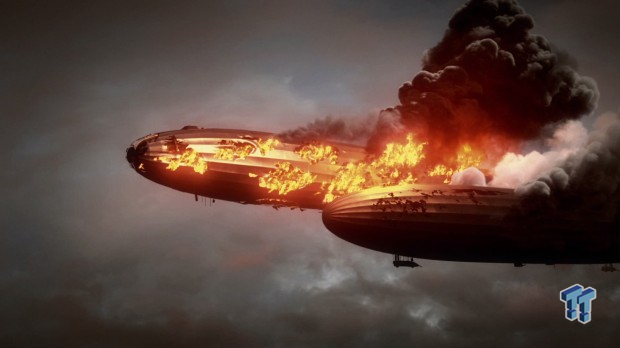 War Stories shows DICE's masterful prowess for visuals and visceral style, with every single scene outlined in pure glorious havoc and rather impressive graphics. Even on Xbox One, Battlefield 1 looks impeccable in terms of raw footage, but the actual War Stories' cut scenes are shown in a weird grainy style.
Gameplay is purely enthralling, with explosions, gunfire, and total annihilation breaking out every turn, making the campaign genuinely feel like an immersive arcade-style experience.
Gameplay is supercharged and feels like a modern FPS, but the actual mechanics are brutal and sloppy; there's no high-tech HUD tech here. Instead, there's violent authenticity that rings out with every kickback of an assault rifle, every booming tank blast, and every ripping of airplane machine gun fire.
It's gritty, it's cruel, it's raw and brutal, and it really does exemplify what I'd imagine the Great War to be like.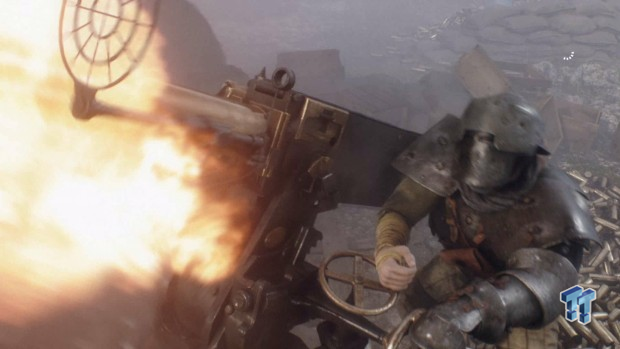 You feel as if you've entered the Great War itself with two goals: gun down everyone in sight, and stay alive. The chapters themselves can be quite short at times, but they are quite sweet, offering a fantastic pace and basic linear style.
Now, should you buy Battlefield 1 for its campaign alone? Absolutely not.
The War Stories are obviously meant to be supplementary fare, something you play when you're tired of multiplayer but still want your WW1 carnage. If you're the type of gamer who likes to play FPS campaigns, then rent it from Redbox or GameFly; you won't want to spend $64 to play a 5-8 hour campaign.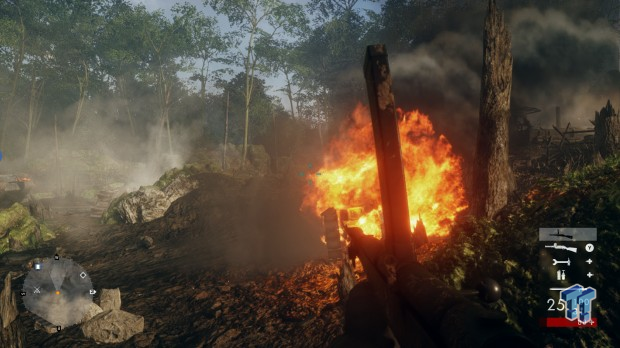 That being said, War Stories does offer a nice chunk of gameplay. Each mission can last anywhere from 1 to 2 hours, depending on difficulty and skill. The missions last even longer if you complete all of the optional side objectives, and go in for all the hidden field manuals. Plus, you could go achievement hunting to prolong the missions, too.
The campaign has legs and stands quite proudly, but it's still very short. The time you do spend with it though is almost always quality, so there's a very real battle between quantity and quality going on here.
Through Mud and Blood
1. Through Mud and Blood
Length: 4 total chapters
Playtime: ~2 hours or so, depending on skill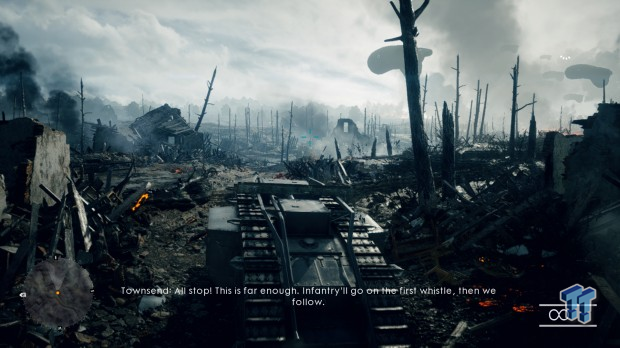 This is a tank-based mission, and you'll be using the excellent British Mark V Tank (aka Black Bess) to blast enemies to shreds across Ribecourt, France. There's a nice mix of satisfying vehicle and on-foot skirmishes throughout this mission, but the end chapter is all-out tank-on-tank annihilation.
There's even a section where you have to stealthily infiltrate enemy camps and steal spark plugs. It adds a nice little change of pace to things, and you can ride a horse to boot.
The most enjoyable part of this mission is just blowing things up. I'm in awe of how many things you can destroy in this game; it feels like the very environment itself can be torn apart. You'll be rolling over trees, blasting entire buildings to rubble, smashing massive windmills to bits, and massacring troopers left and right.
The feeling of invincibility is made even stronger by the fact that you can easily repair your tank at any moment, somewhat cheapening gameplay and making it feel artificial.
Again, that sense of realism is sacrificed for an enjoyable arcade-style experience, and that's basically what War Stories is all about.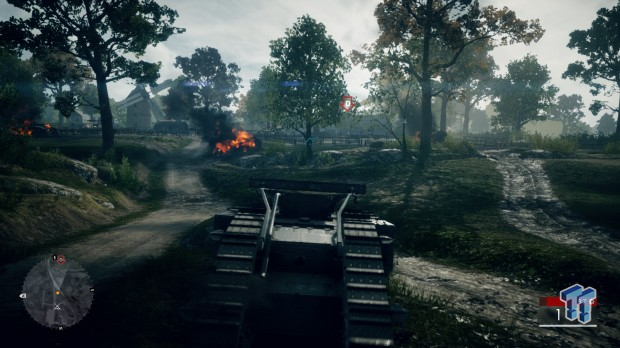 Friends in High Places
2. Friends in High Places
Length: 4 chapters
Playtime: ~2 hours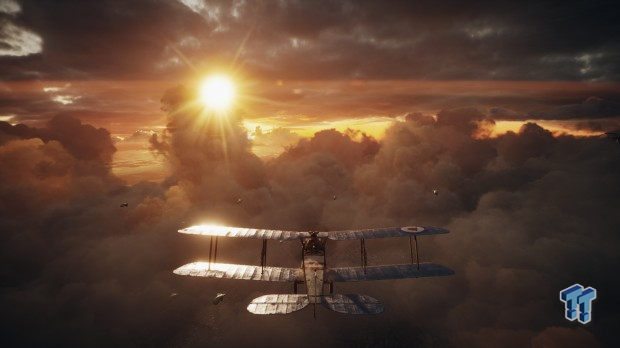 This one is exceptionally fun; you're dog fighting Central Power baddies in the skies, sawing them down with your machine gun, and even crash-land on a burning zeppelin to blast down even more airplanes.
You take the role of a skilled and extremely cocky British Royal Flying Corps pilot named Clyde Blackburn who impersonates a commanding officer and hijacks a mission. Most of this entire level, you're in the cockpit of the esteemed Bristol F2.B plane, and it's actually quite satisfying, as DICE has tailor-made this experience for everyday gamers.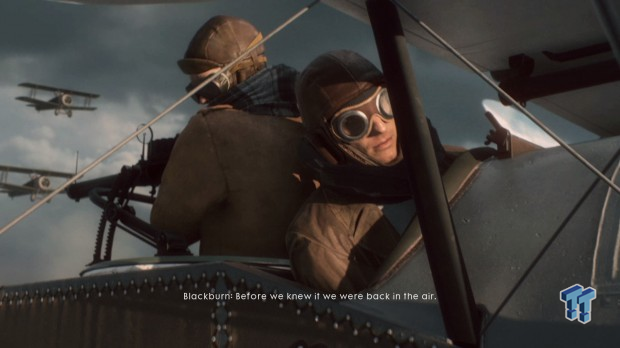 This mission is incredible as far as visuals go: DICE has captured the skies in a striking way, making every single segment feel alive. Your eyes will constantly be drawn to the beautiful backdrops as you chase red fliers through the sun-blazed clouds, bringing a true feeling of next-gen gaming.
The most memorable moment (well, besides the burning zeppelin, which was absolutely insane) was your crash-landing into No Man's Land. Seeing that totally broken, burning patch of utter devastation was intriguing and horrifying, and I found myself entranced by this depiction of grim modern war.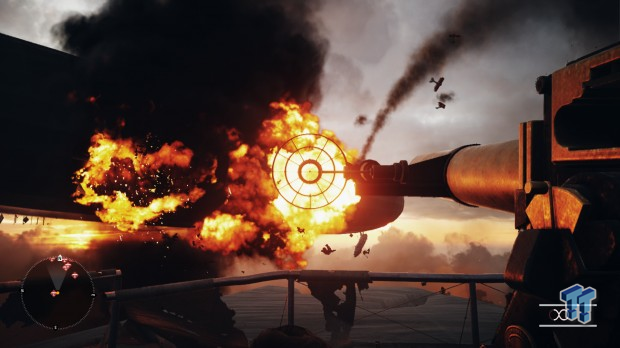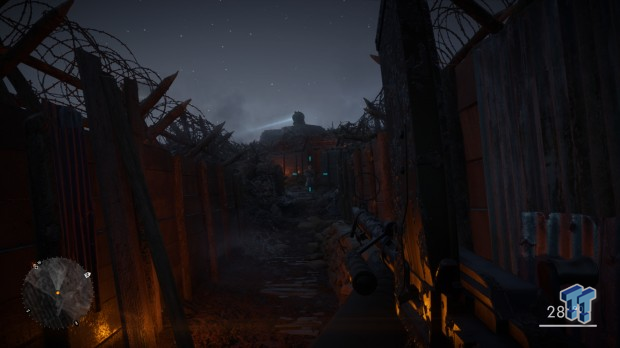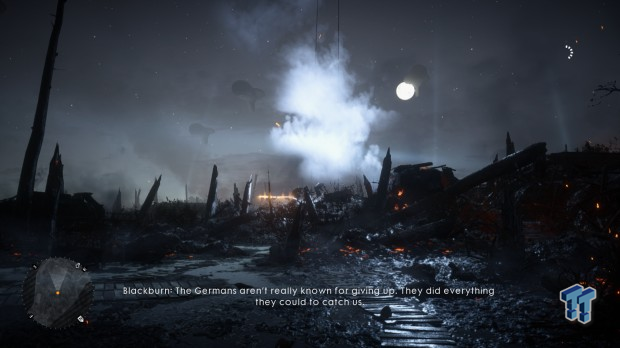 Avanti Savoia!
3. Avanti Savoia!
Length: 2 chapters
Playtime: ~1 hour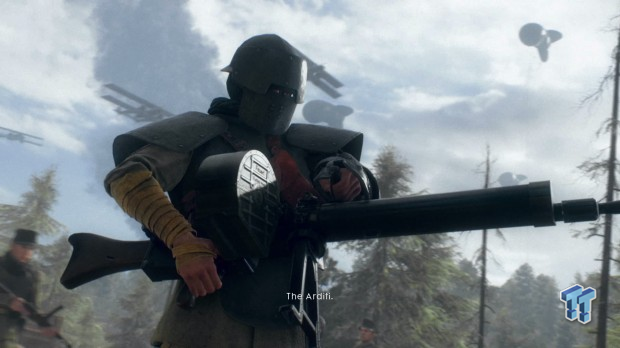 Remember the footage showing a soldier in full plate mail and a massive machine gun? This is that mission, and boy is it satisfying... at first.
It starts off with an Italian soldier, Luca Vicenzo Cocchiola, recounting his memories in the war to his daughter, as you tear enemies to shreds in a hail of glorious bullet storms. Players are empowered more than ever in this mission and turned into hulking juggernauts of death. I tried to keep count of how many Central Powers enemies I annihilated and lost count.
After that deliciously enjoyable sequence, you're stripped of your armor and reduced to a lowly grunt in a burning country land; in fact, the Central Powers have blown up half of a mountain to rain down burning rubble down on the entire skirmish.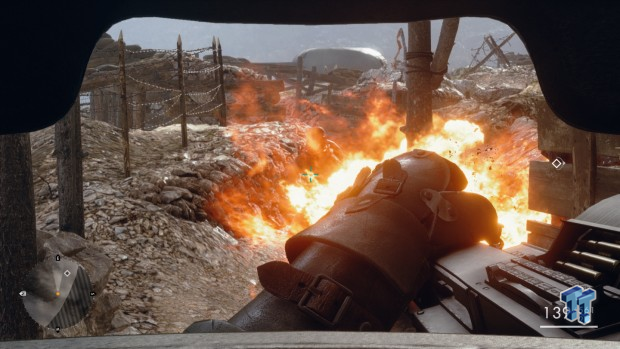 Once again, you're shoved into a hellscape of barbed wire, fire, bullets, rubble, bodies, cold metal, and just all-out desperation. You gun your way to victory like before, but this time you have to plan your moves and actually think strategically to survive, or you'll be blasted by turrets, bombarded by shell fire, or burned to a crisp by those damned flamethrowers.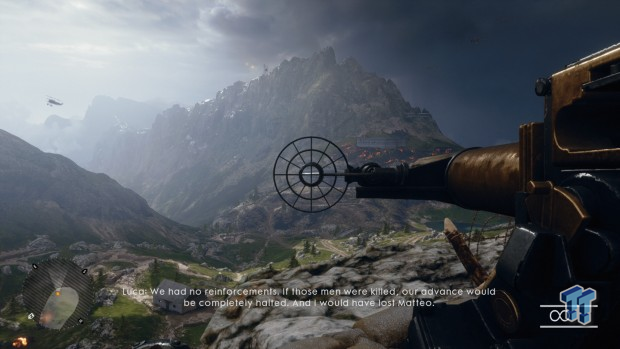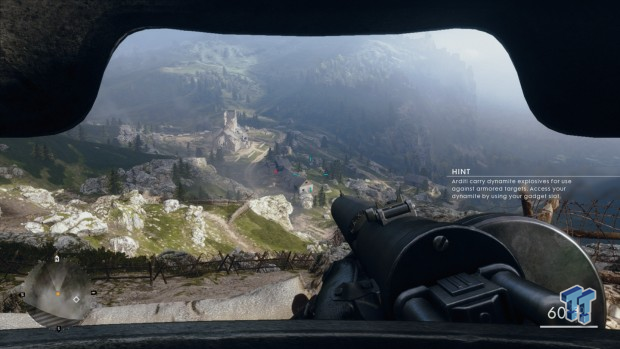 The Runner
4. The Runner
Length: 3 chapters
Playtime: ~1.5 hours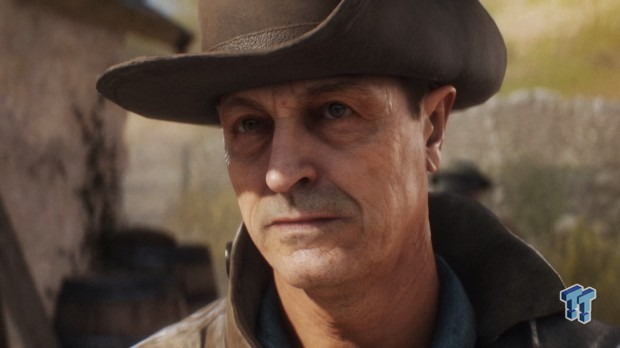 The Runner is somewhat fun, but I find it to be the weakest of all the missions. Now, every level stands on its own merits and shines in its own way, but I didn't find the actual story to be that good. However, the gameplay was pretty solid, as always.
The opening sequence depicts the largest naval fleet ever assembled storming the beaches of Gallipoli during the Dardanelles Campaign, so you think it's going to be an awesome warship mission.
But it's not; for the most part, you're doing what the title says: running. Well, running and gunning.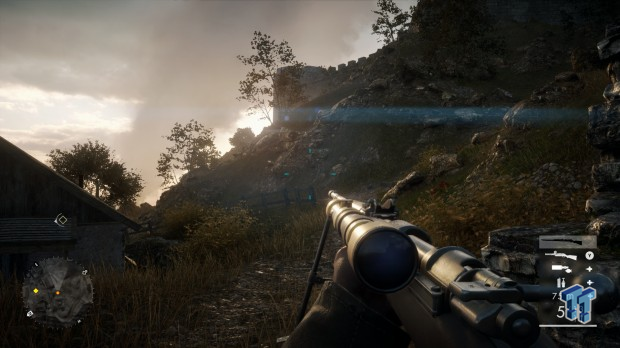 You play the role of legendary Australian soldier Frederick Bishop, aka the Pride of Australia, as you blast enemies and scout locations. You're a runner, so you're the one they send to infiltrate enemy lines and gather intel and report back - but it doesn't always go to plan.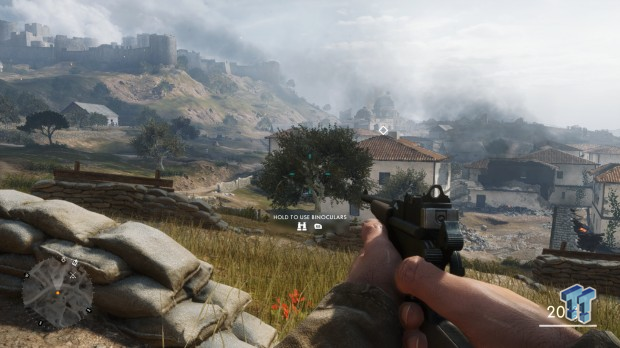 The battle sequences are enthralling as ever, and the actual town of Gallipoli is mesmerizing in detail. Everything is pristine and ripe for destruction, showing a beautiful European city wracked by war.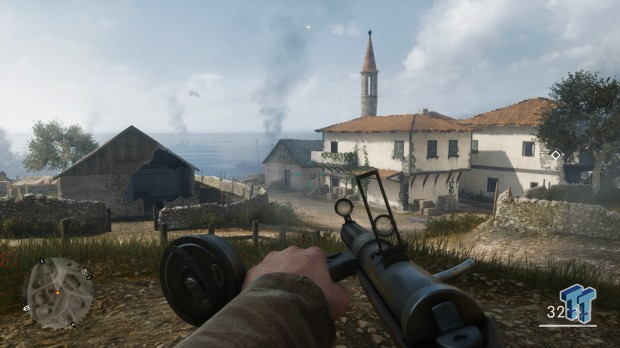 Nothing is Written
5. Nothing is Written
Length: 3 total missions
Playtime: ~1.5 hours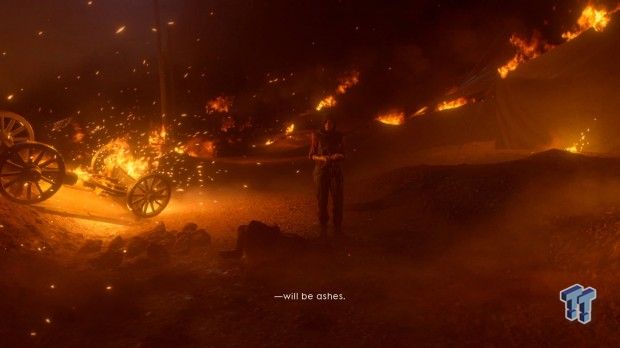 This is by far the most compelling mission of them all. This level tells the story of Lawrence of Arabia, and how he and his rebels sweep the scorching Arabian desert to thwart the iron reign of the Ottoman Empire.
Instead of playing as the legend himself, you play as Zara, a fierce Bedouin rebel. The entire mission is most closely tied to actual history and is brimming with character. DICE does a great job quickly and easily depicting the plight of the Arab nation at this point in time; the Ottoman's want the oil, and they want their freedom.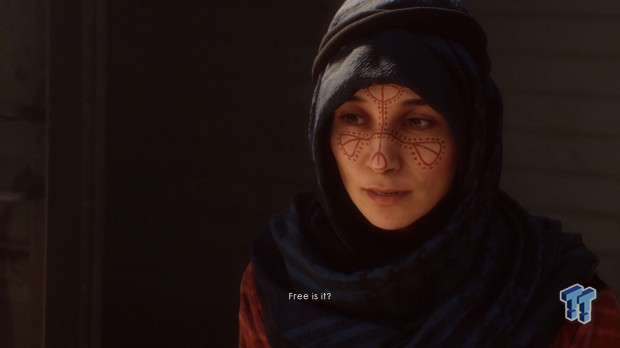 DICE's Arabian Desert is beautiful, shimmering dunes and skirling sands and baking heat, but it's exotic and really reflects that sense of wonder about the Middle East. I can see ties with Battlefront in the cut scenes, but everything is stalwart, from the shadows to the textures and even the atmospheric effects.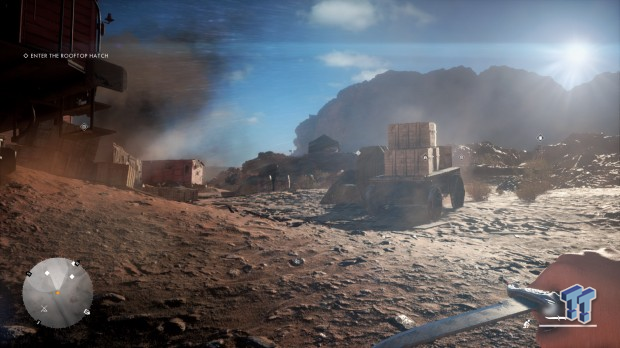 The mission itself revolves around you stopping a horrendous engine of death: a steam engine that's been transformed into a monstrous killing machine. The train itself is rather striking and very memorable, as is the atmosphere. Everything feels new, different, and interesting - and you actually want to revel in the environments and explore.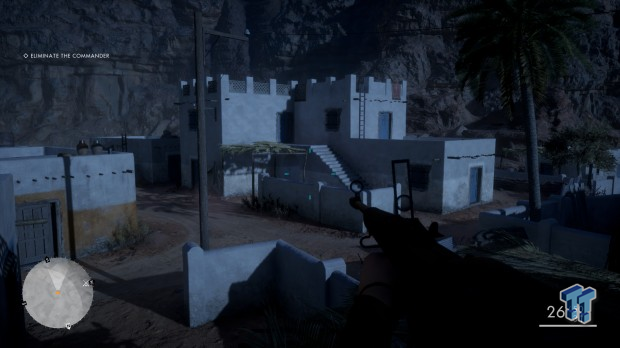 Honestly, this one feels like Metal Gear Solid V: The Phantom Pain. It's more open than the other missions and feels decided open world.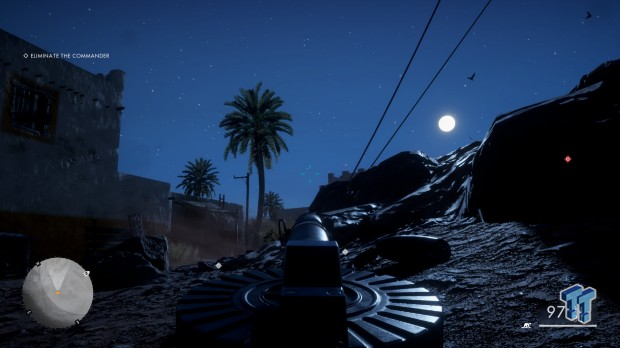 But the mission isn't all guns out a blazing; as Zara, you can go in stealthily and take out enemies to gather the intel and complete objectives. It's a nice change of pace and gives you an actual choice on how to approach the mission, rather than just gunning everything down.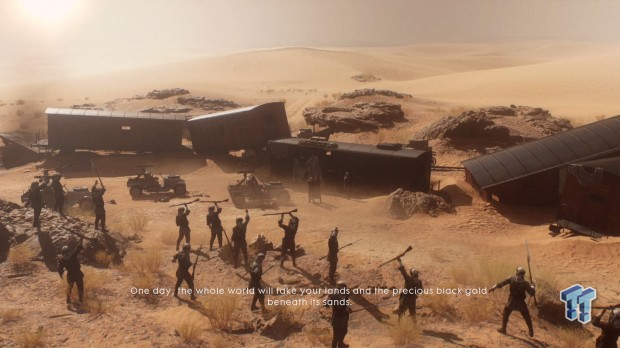 Final Thoughts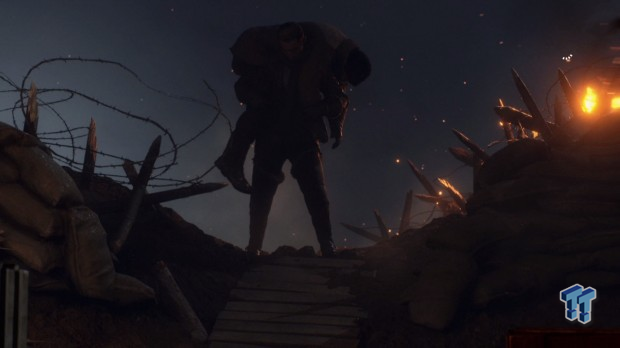 All in all, Battlefield 1's War Stories are an excellent series of missions, and stand strong as a competent single-player campaign.
Everything about the campaign reflects quality, from the in-game graphics and lighting to the animations, sound effects, and facial expressions; everything feels realistic and visceral, adding to a heart-pumping experience filled with chaos and mayhem.
The frame rates were also quite superlative, and I didn't receive any real frame drops. There were some ugly texture pop-ins here and there, and some glitches, but I didn't encounter anything game-breaking or crazy.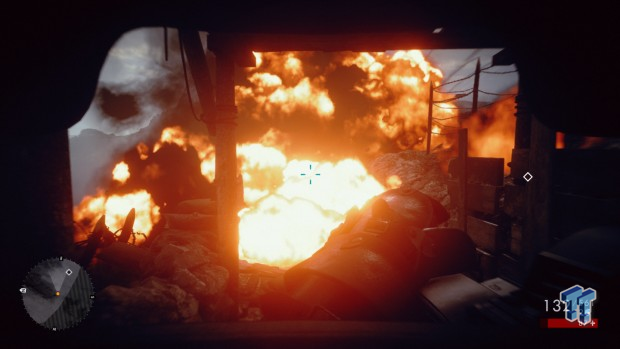 Now there were some hiccups here and there, and War Stories does have its problems. The checkpoint system is rather bad, and you'll have to reach an actual auto-save point before your progress is saved. I've gone half-way through a daunting segment and died, only have to repeat it once again.
Another rather disappointing feature was that the War Stories are only told through the eyes of the Allied Forces, not the Central Powers. I think it'd be interesting to put a spin on this, and maybe DICE will release more campaign missions over time.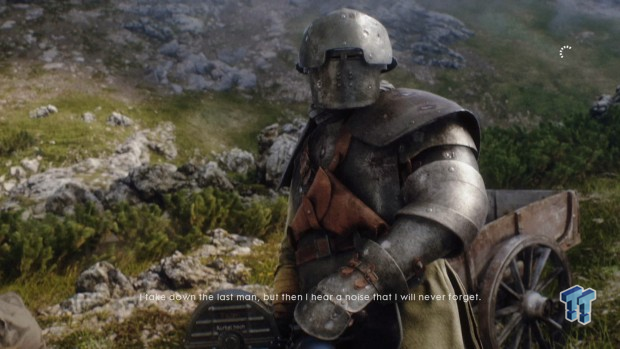 War Stories offers about 5-8 hours or so of gameplay on Normal, and even more if you play it on Hard and/or try to get all the challenges.
DICE is at the top of their game in every aspect of Battlefield 1, and it's great to see the series return to its chaotic roots and take the franchise in a new direction.
| | |
| --- | --- |
| Gameplay Performance | 90% |
| Visuals and Graphics | 90% |
| Controls | 85% |
| Fun Factor | 90% |
| Value for Money | 80% |
The Bottom Line: Battlefield 1's War Stories is a fantastic single-player campaign that's filled to the brim with authentic visceral action and amazing visuals. Don't buy the game just for the campaign, but definitely take a break from multiplayer to try it out.
PRICING: You can find products similar to this one for sale below.

United States: Find other tech and computer products like this over at Amazon.com

United Kingdom: Find other tech and computer products like this over at Amazon.co.uk

Australia: Find other tech and computer products like this over at Amazon.com.au

Canada: Find other tech and computer products like this over at Amazon.ca

Deutschland: Finde andere Technik- und Computerprodukte wie dieses auf Amazon.de
We openly invite the companies who provide us with review samples / who are mentioned or discussed to express their opinion. If any company representative wishes to respond, we will publish the response here. Please contact us if you wish to respond.