Quantum Break PC Performance Analysis
Quantum Break is a graphical masterpiece borne from years of development, but how does it play now that it's out?
Published Thu, Apr 14 2016 6:03 AM CDT
|
Updated Tue, Nov 3 2020 6:58 PM CST
Introduction and System Specs
Time is of the essence
Quantum Break (our review) is a game that we've been pining over for just shy of three years now. It was previewed at E3 to a huge applause and mouths that were agape at the level of fidelity and the very cool gameplay mechanics, never before done, that Remedy Entertainment was showing off. That was on the Xbox One? Yeah, it was, and it looked good. The time shifting paradigm itself was awesome, but damn if it didn't look good. But, as we know, the Xbox One is still slightly limited in total compute power, so whether it'll run as well as the demonstration when released, is always suspect.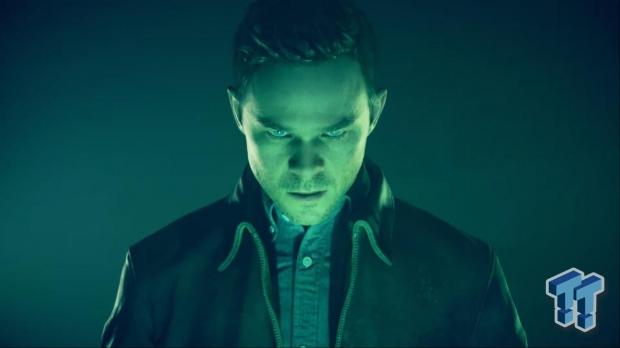 The pretty visuals were developed using their internal Northlight engine built atop DirectX 12. They were aiming for a 30FPS framerate target on consoles, but the PC allowed them to increase the demands of the engine for those that have the hardware for it. Textures are works of art, the poly count for characters and set pieces are massive, which lend to a great deal of realism. The sub-surface scattering, physical-based lighting and smart use of tessellation makes for some very good looking graphics.
They've also implemented some incredible facial animation to better display the facial-capture technology they used. Another great piece of technology is the use of Digital Molecular Matter for more realistic destruction and better looking temporal effects. All of those combine for one of the best looking games of this generation. At least in pictures.
Due to the initial development on a memory-constrained platform, when compared to the PC, certain sacrifices have had to be made to elicit the best performance possible. Textures aren't rendered in their full size until you become close enough, which ends up resulting in a texture-popping like motion that can break the immersion and make the game look weird at times. That, unfortunately, is permanent. Performance issues otherwise are not; they just might take time to explicitly program for now that they've switched completely to DX12, which relies on explicit control as opposed to implicit control.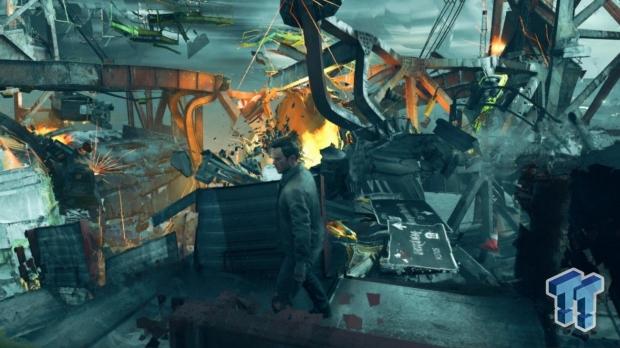 It was initially released with a few performance issues on the PC version, being a Windows Store only game, that made it difficult to benchmark. The performance wasn't indicative of the full potential of the engine, or the game. To this day, there's still some slight stuttering in some areas, even though VRAM usage isn't nearly reaching maximum, even with 4GB from the Fury X.
In their lessons learned, Remedy noted that memory management is absolutely vital during the entire process. The drivers no longer help in that regard, and you must specify what uses what. And they also learned that developing for different cards is not a trivial task, either - thus the disparate issues with brands that were initially seen. We've seen a few updates hit the game since that initial release, so we've seen some performance increases as a result. Let's take a look at where we're at with Quantum Break. We can't quite travel back in time, so we'll see how it performs right now.
Jeff's Video Game Benchmark Setup
Performance at 1080p, 1440p and 4K, & Final Thoughts
Popping textures and popping heads
Testing the game has proven to be quite the challenge, and the fact that DX12 is not so friendly with too many overlays for counting frames or frame times makes it quite difficult. In this case, the program called Action! was used to record the framerate, as it's the only one available. Framerate is stuck at 60FPS unless you have a 120Hz monitor, a consequence of using UWP at the moment. To test 1080p, I ended up having to borrow both a FreeSync and G-Sync monitor to test, hence the delay in getting the results to you.
Let's take a look at how it runs at 1080p. Remedy themselves have even warned that there's a large performance hit when selecting this resolution, perhaps due to that up sampling tech they use, which happens to work great on the Xbox One, but doesn't quite do anything but take up resources here.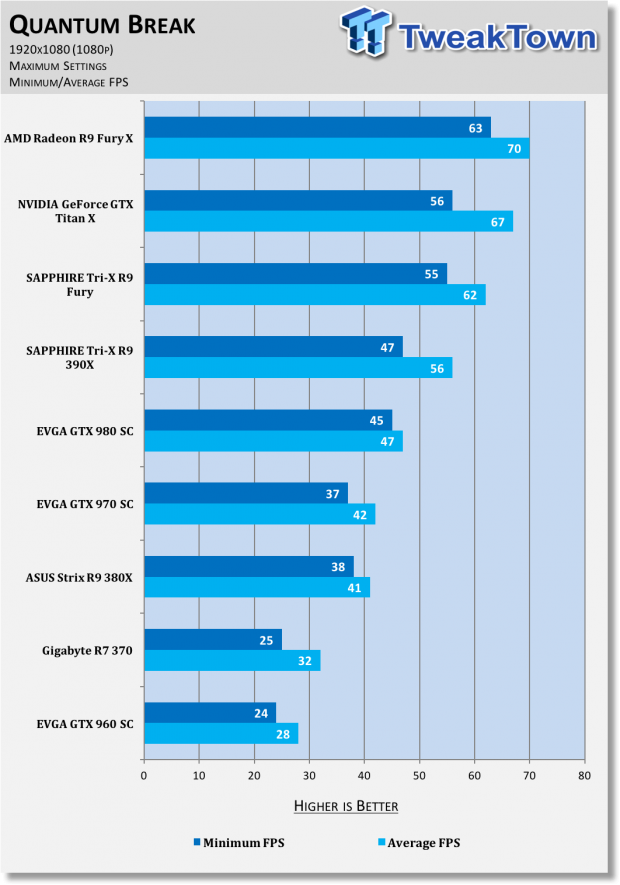 The rumors are indeed true; the resolution is actually up sampled from 720p, and it looks atrocious. But performance at least is acceptable and smooth. Stuttering was only present on NVIDIA cards, however. If this is a result of a performance hit, then I'm curious as to how it plays when whatever mechanism is in play is taken out. It doesn't play terribly, by any means, but it is lacking.
It does look good, but the great special effects don't warrant not being able to play at higher than 60FPS on some cards. Interestingly, AMD has a good showing here, and NVIDIA isn't doing so hot. Even the Titan X is struggling quite a bit to maintain, easily being bested by a Fury X with considerably less VRAM. Maybe 1440p will even things out.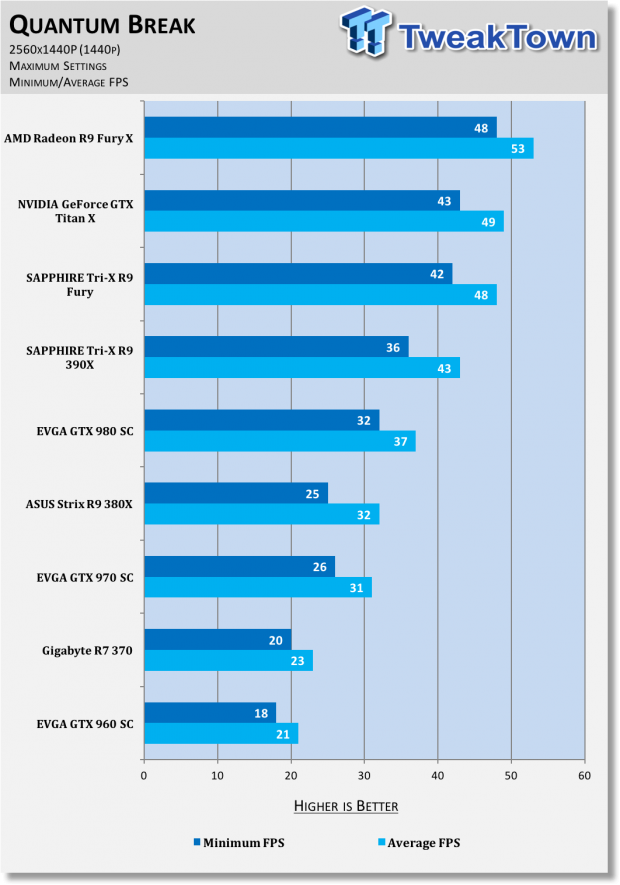 At 1440p, we still see the same advantage for AMD as we did at 1080p. The stuttering continues to be a problem on NVIDIA hardware, even if slightly but the game does look much better at this resolution than at 1080p.
Textures are sharp, the neat time effects are very well done, and the characters look like what you'd expect an AAA game to look like. There's a clear dip in performance, but it's relative to the increase in resolution. Checking memory usage yields around 3.1GB of VRAM on the Fury X and 4.6GB on the Titan X being used. At this resolution, AMD is the clear winner.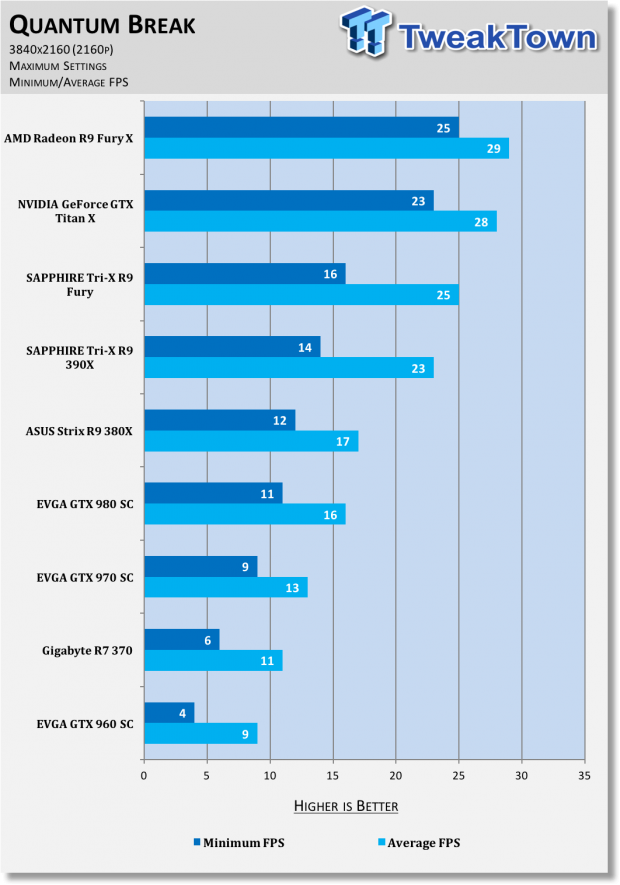 4K sees memory usage jump up to 3.9GB for the Fury X and 6.2GB for the Titan X, meaning much more is being copied to memory, obviously from the increase in resolution like this. We also see our framerate dip into something absolutely unacceptable as well.
It's unplayable, unless you want that cinematic feel and can handle your action games is small doses. It's good looking, though, quite possibly one of the best-looking ports to date.
Final Thoughts
There is something odd afoot that you wouldn't quite expect from a game that's been adamantly ported over to DX12. One would think that a few of the temporal effects, or even the AA methods used, would be offloaded to the compute queue, especially on the Xbox One version, which could benefit greatly from asynchronous compute. But though it's definitely DirectX 12, there doesn't seem to be anything actually being put into the compute queue at all. It's empty.
Even though AMD has quite the large advantage in all resolutions, it isn't because of asynchronous compute at all, but due to something else entirely. Taking a look at GPUView after a particularly grueling session revealed literally nothing but the render queue full, to the brim.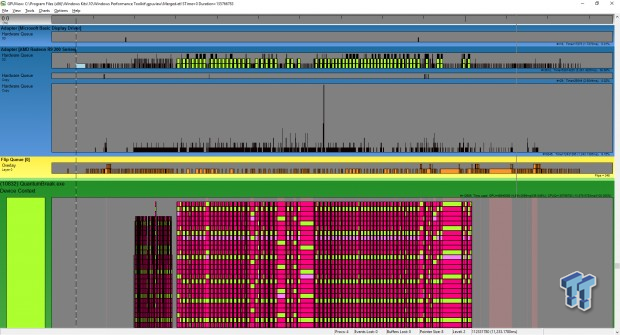 Regardless of how they get the work to the GPU and our screens, it still looks quite good, and though it's odd that there's little difference between 720p and 1080p, it's quite good looking at higher resolutions, and it even runs well enough to be playable at anything but 2160p.
As we said in the review itself, the gameplay is great, if the game as a whole is a bit lacking. But regardless, it runs, and even runs acceptably on AMD hardware at the moment, despite not making use of asynchronous compute. Be sure to let us know how your system runs in Quantum Break and if you see any other issues that we haven't yet.
PRICING: You can find products similar to this one for sale below.

United States: Find other tech and computer products like this over at Amazon.com

United Kingdom: Find other tech and computer products like this over at Amazon.co.uk

Australia: Find other tech and computer products like this over at Amazon.com.au

Canada: Find other tech and computer products like this over at Amazon.ca

Deutschland: Finde andere Technik- und Computerprodukte wie dieses auf Amazon.de