Introduction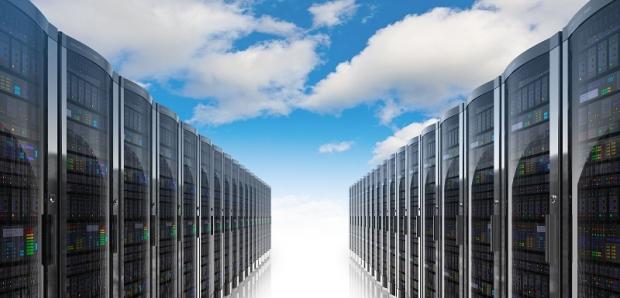 There certainly is no doubt that cloud storage has been a big sell for many storage companies. Over the past year, we have seen many newcomers to the market with those that have firmly held a footing since the beginning.
As such, we now have quite a few cloud storage solutions available ranging from OS included SkyDrive from Microsoft to iCloud on Apple devices. In addition, there are many web based solutions such as Box, Dropbox, Amazon Cloud, Google Drive, Media Fire, and Mega - you get the point the list can go on quite literally forever. The one downfall to all these services is there a point where data storage no longer is free, and that happens to range from 2GB to 7GB depending on the service.
For those of us that own and use a NAS appliance, we have had the luxury of having our own private storage for many years. Even before the cloud movement, you could setup a private FTP server on your appliance and upload/download, as you wish, on the go or at home. Though, with this movement, things have become more mainstream with the addition of applications for your smartphone, tablet and PC in some cases.
Today, in this article, I will attempt to outline some of the unique features of the QNAP network appliances, and touch on some of the unique and useful apps that come along with it.
If you're ready to build your own cloud solution, read on.
Getting Started with Qsync

With the new QTS firmware or operating system from QNAP, they introduced a new set of applications to make is easier to access your files on the go. The basis of this was to ensure maximum compatibility across devices and aide in the user experience from those devices. The basis of the entire cloud operation on QTS lies within Qsync. From the menu system, we have the ability to setup Qsync for our PC and Macintosh devices, then additional access for mobile devices is configured through QFile.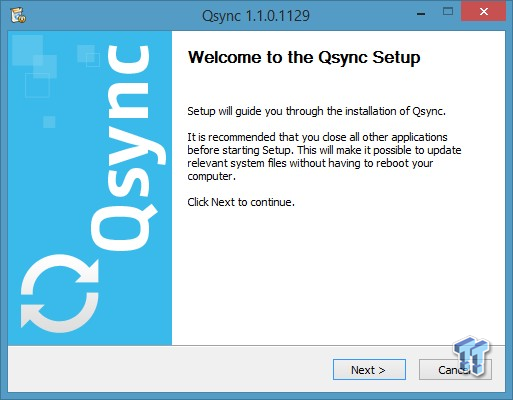 Qsync is an application that installs on both Windows and Macintosh based systems. Here we have initialized setup for our test system on Windows 8.1.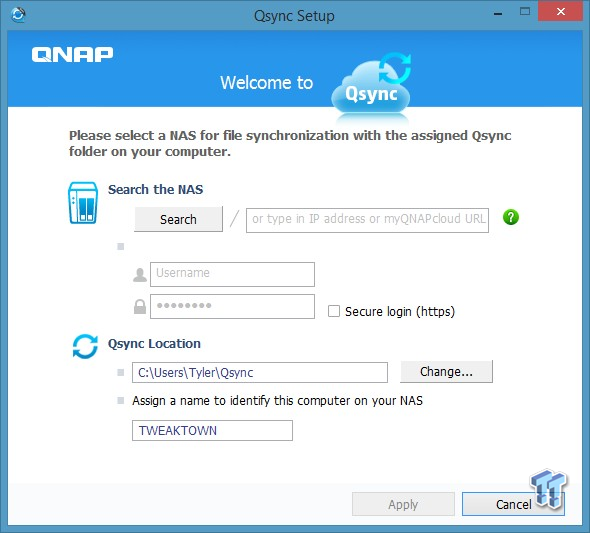 Within the setup menu, we have to find our network appliance. There are two ways to go about this - we can search for the NAS or enter the IP address manually. At the bottom of the installer, you can change where you would like your Qsync directory placed.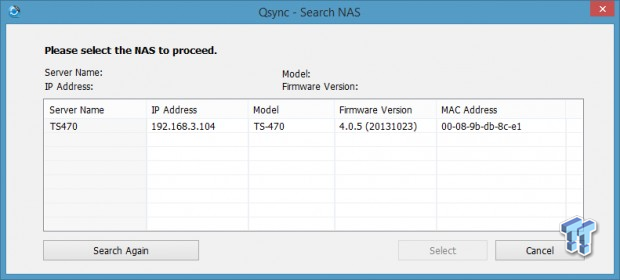 We chose, in our setup, to use the search function. Here we the software quickly found the NAS on our network.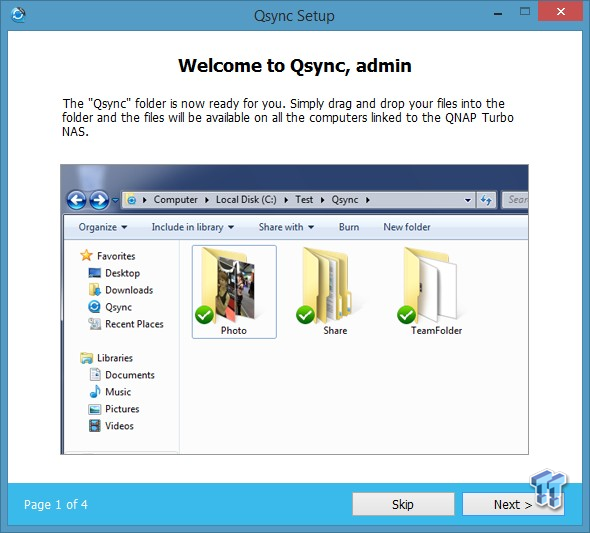 Here we are in the last stages of setup, where QNAP has put together an overview in each slide of how to use Qsync.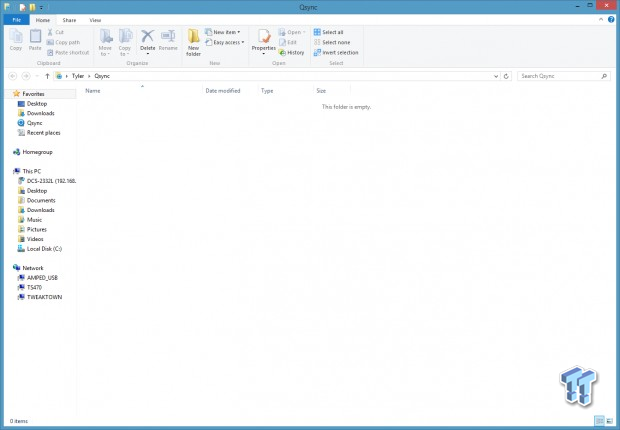 Now that installation is complete, you can see we now have a Qsync folder placed in our favorites. This allows us to drag and drop files from our PC to the NAS or vice versa and at the same time if you have multiple PCs or Macintosh systems connected, share files across the network with ease.
QFile for Android and iOS
No storage solution in this day and age could be called a "cloud" without complete integration into all the systems we enjoy on a day to day basis. So, as we have connected all of our PCs and Macintosh devices alike to our NAS via Qsync, we also have QFile for Android and iOS devices.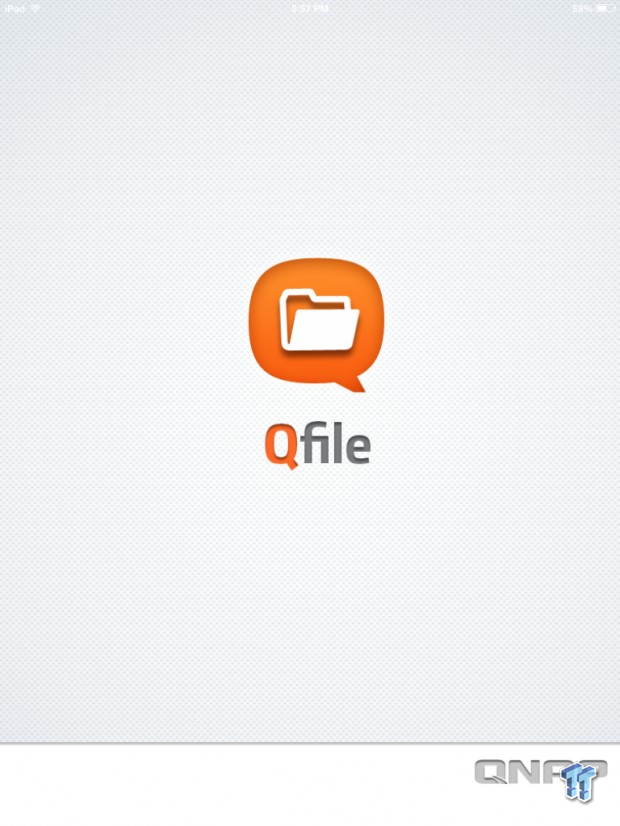 QFile is freely available on the Google Play store and the App Store from Apple. We are using our iPad Mini for this article. After downloading the app, we launched and were greeting with the QFile splash screen seen above.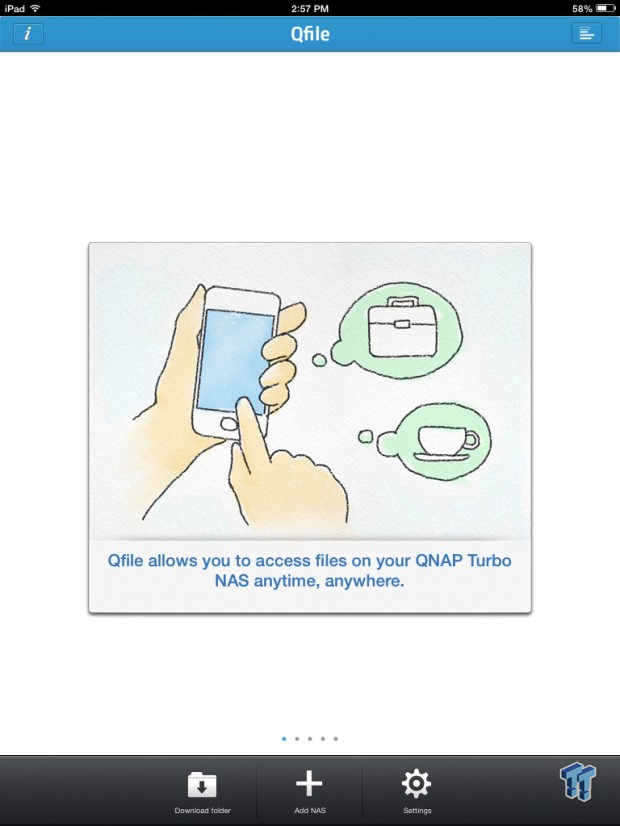 Here we have a slide from QNAP, outlining the capabilities of QFile.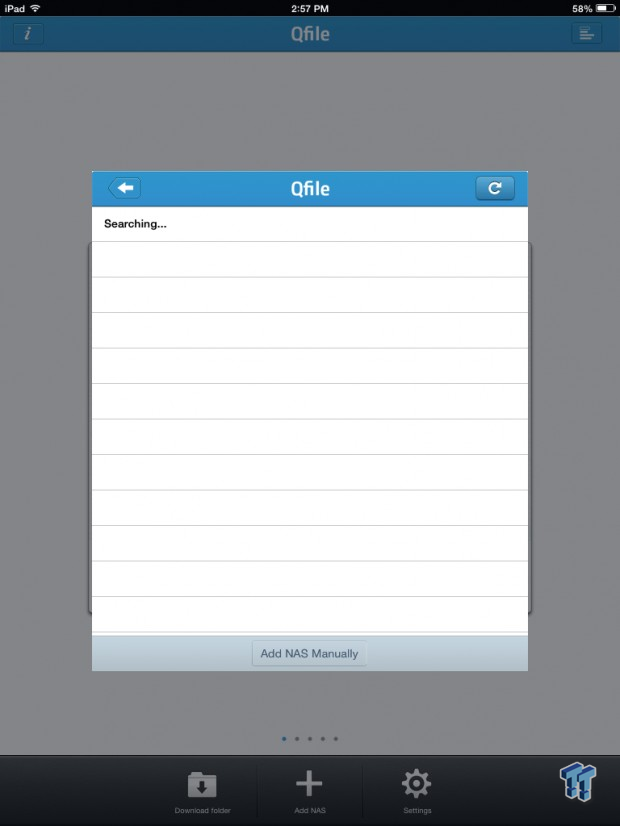 As before, you can add your NAS by letting the application search for appliances on your network or manually, which is available below.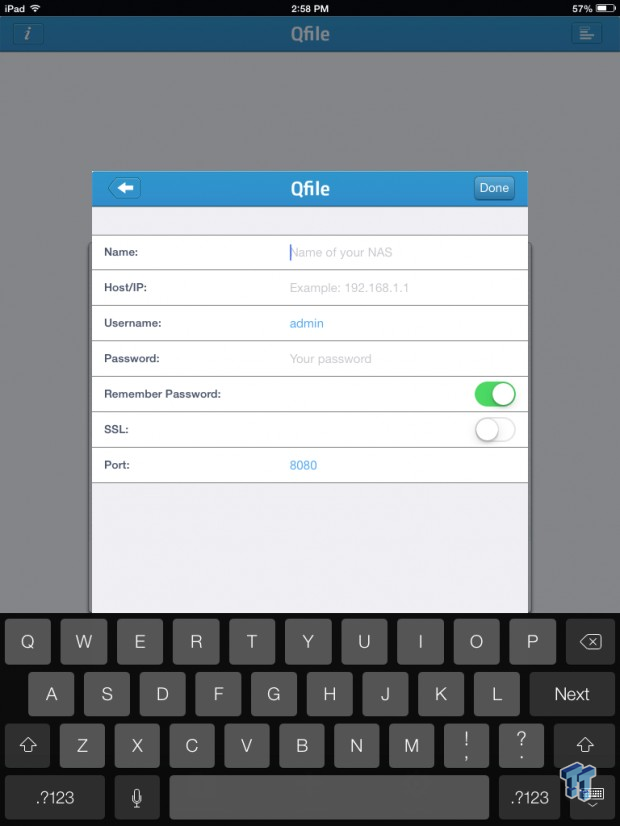 We chose for this article to use the manual method and outline how to do so. Starting off, we first need to name our connection, enter the IP of the NAS, and then of course enter username and password information to access it. You can also use SSL encryption if you so choose, just make sure it's enabled for file services in the NAS administration panel.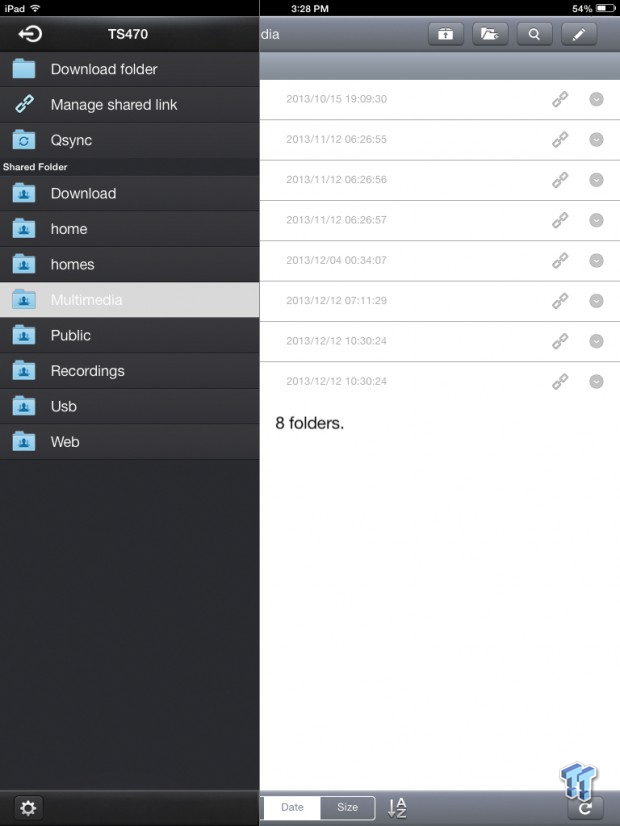 Okay, so we have added our TS-470 appliance to the QFile application and above you can see we land into the application with our entire folder list. At the top of the folder list you will find the Qsync folder, which allows you to move files between your PC and mobile device. In addition, you also have complete access to all your other folders including your media, where in my case, I have stored backups of my DVD and Blu-ray collection.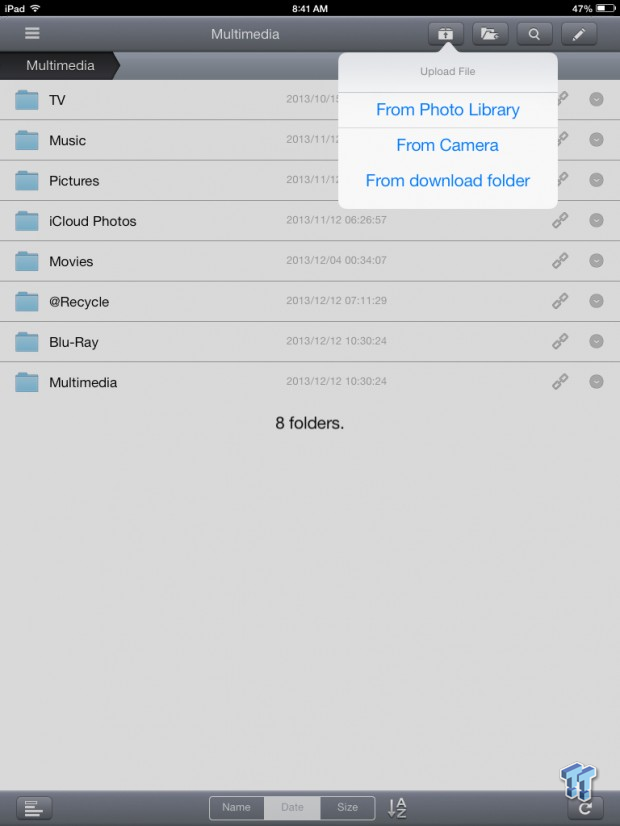 If you're like me and purchased the 16GB version of the iPad mini, then you to know that these things fill up rather quick. The same holds true for all iOS and Android devices. In this case, what better option is there than to move all of that data to your own personal cloud, within your NAS. The process is rather simple, first tick the upload button at the top of the application.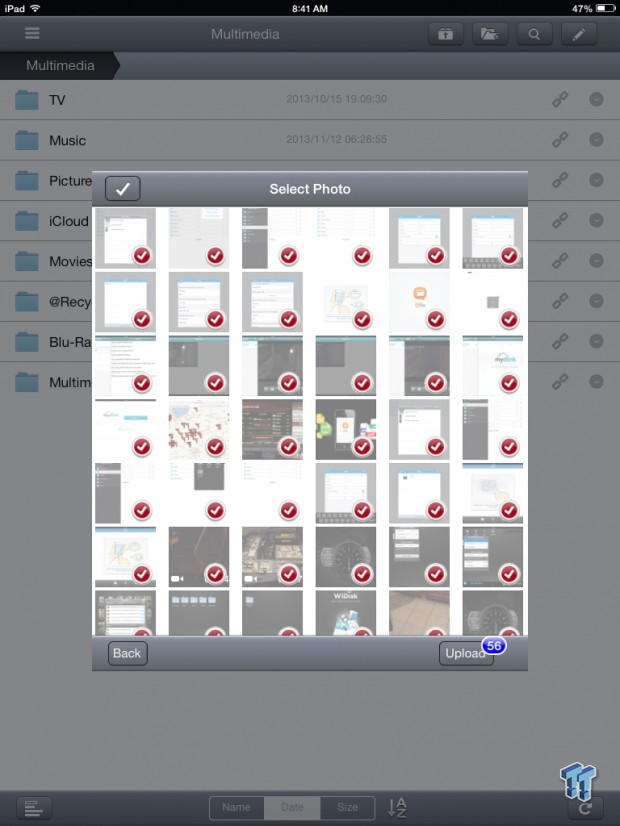 Then you can choose the folders or files you would like to upload, the app keeps a tally at the bottom, then tap upload and away it goes into your personal cloud.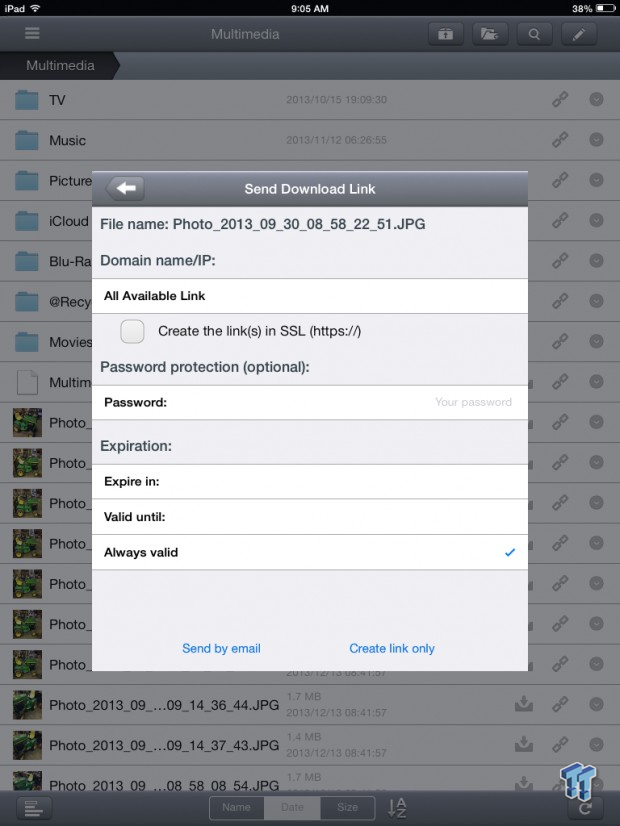 In addition to the cloud storage capabilities, you can also share direct links to a photo from your NAS with family, friends or colleagues. To do this, you simply navigate to the folder from the QFile application and click the link icon next to the media file you wish to share. Doing this brings up the above menu, where you can add SSL or password protection, along with adjusting how long the link shall be valid.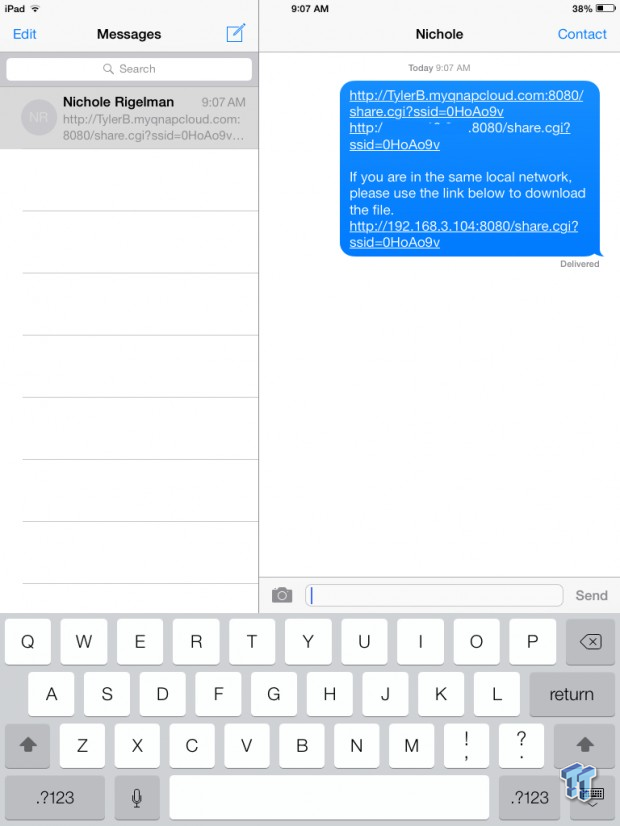 Now that you have your link created it is automatically stored in the clipboard of your device, allowing you to paste it into messages.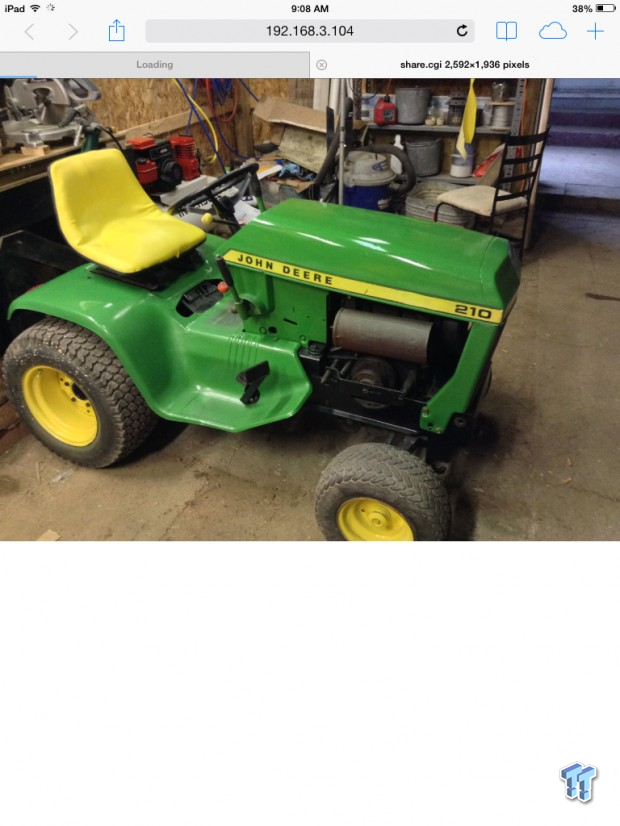 Here we have the image I shared in the previous message.
Remote Access via myQNAPcloud
"myQNAPcloud" is a service made available by QNAP that enables users to publish the contents of their NAS over the internet via DDNS.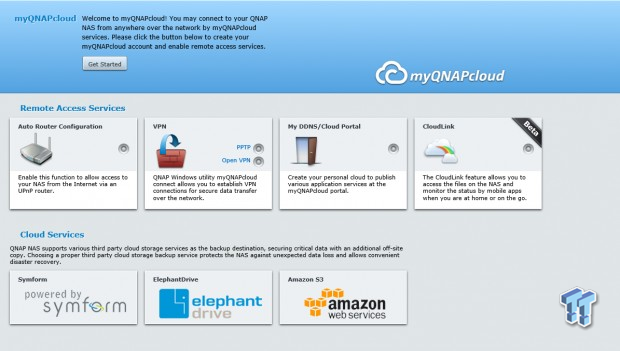 Getting started with myQNAPcloud is rather simple. From the app inside QTS, we click the get started button to begin the process.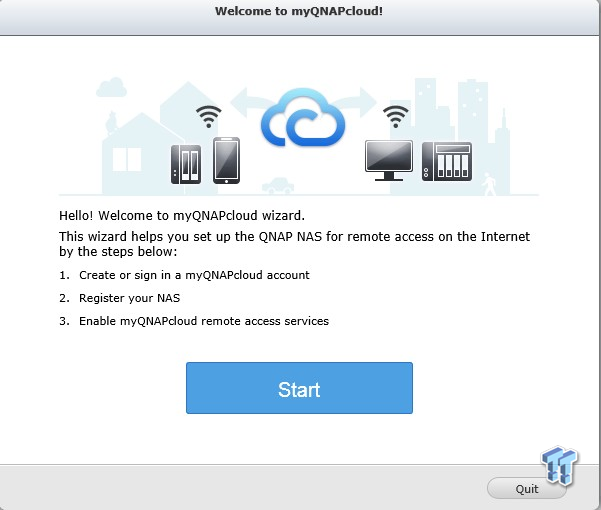 In the next few steps, we will sign up for a free myQNAPcloud account, register our NAS with the system and enable what services we would like published.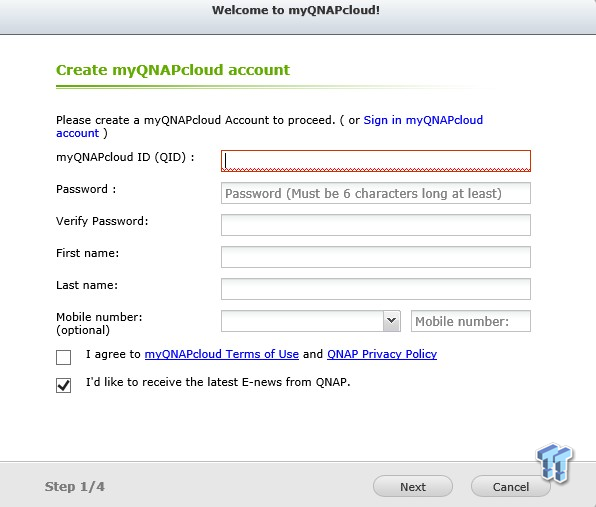 The first step is creating an account with QNAP.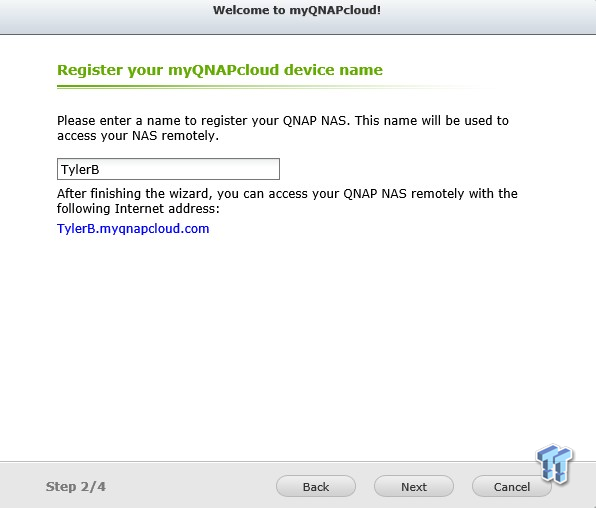 Here we setup the name for the DDNS service.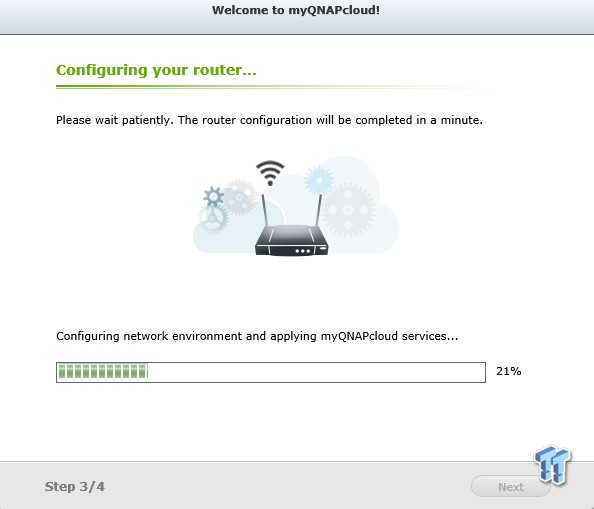 From here the NAS takes over and configures network components including the router for the service.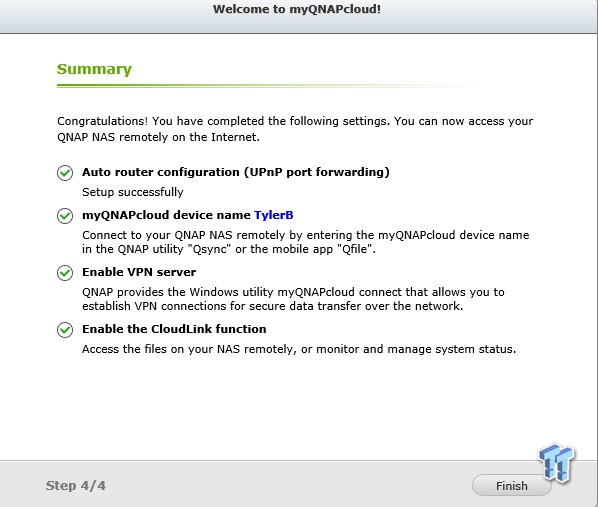 About 3- 5 minutes later setup has finished and we are ready to connect to our NAS from the internet.

Above, you can see I have publish the Wed Administration, File Server and Web Server to my account. As I said, you can choose which services you would like access to on the go.
Final Thoughts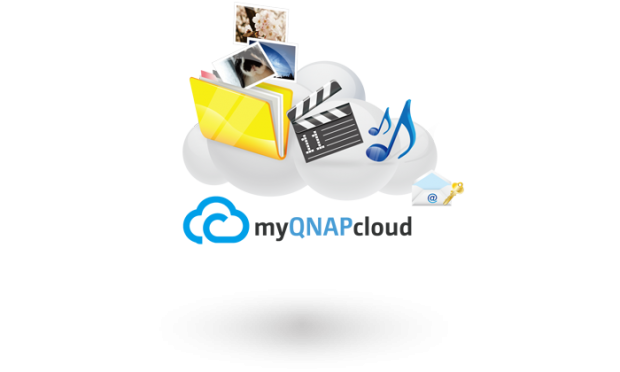 In the small amount of time I have had testing and looking over NAS products, it has become increasingly clear NAS vendors see tremendous value in the home user. If we look back just a few years ago, NAS appliances were, to be honest, tedious devices to setup. This left a lot of users not wanting to mess with and use these devices as most saw them as very expensive external hard drives.
In the past year, things have changed, with most vendors going for that user-friendly approach including intuitive apps that people want, case and point HD Station. What started out with one vendor in QNAP now has every NAS manufacturer including it within their products.
Then came along the cloud movement, which really stemmed from average users, like you and me, wanting options to store our files easily without all the mess of setting up an extensive network, or having great knowledge about networking. With QNAP, they have all of the underlying network knowledge built into an application that configures it for you with a few clicks here and there.

As I stated in the introduction, there are a plethora of cloud storage options available to you. What it really comes down to is cost, where as you can see in the graphic above, services like Dropbox charge you nearly $1500 per year for ten users and 2TB of storage. If you have more users and need more storage, you're looking close to seven grand for 50 users and 10TB of storage, per year!
With QNAP, you control it all, from the appliance you choose down to the amount of users and storage capacity you want, and with applications like Qsync and QFile, you will have always-on cloud storage, wherever your travels may take you.