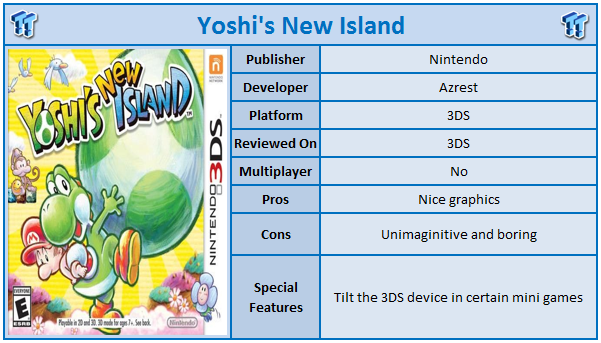 Although the Wii U is not performing anywhere near what Nintendo probably would have hoped, in the last 12 months, the 3DS has really picked up steam and they have been returning to some of their most famous franchises again to keep the releases rolling. The latest is Yoshi's Island, the sequel to Super Mario World on the ever-popular SNES system. This is not the first time that Nintendo has returned to this series, but with both Mario and Donkey Kong games doing well on the system, it's no surprise they went back to the well. Perhaps they shouldn't have.
The story of Yoshi's New Island on the 3DS is very much like that of the past games. In the Mario universe, the children are delivered by stalk to their parents. One evening when the stalk is delivering Mario and Luigi, the parents inform the stalk they were not expecting any children. At the same time, Luigi is taken away and Mario is left alone. Yoshi comes along promising to help Mario, and the adventure begins from there.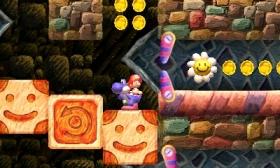 The gameplay is as you expect from the previous games in the series. Baby Mario sits on the back of Yoshi as you control Yoshi running from point A to B. Occasionally, you have to solve a puzzle that is more infuriating than clever and interesting. Each time Yoshi gets hit, baby Mario will fall off Yoshi and you have a set number of seconds to retrieve him before he will be taken by some enemy characters. Each time you lose Mario, this number drops, while keeping him on Yoshi's back will build that number up again.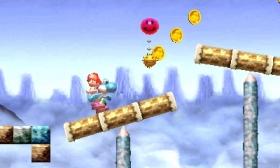 There are six world's to complete in this game, and while the world's offer variety and puzzles, they are in general fairly run of the mill. There is also occasionally the chance to take control of Yoshi as a vehicle, but there is one major problem that presents itself here. When using Yoshi as a vehicle, you have to tilt the 3DS left and right. It's about time Nintendo realized that people play these systems on public transport and do not want to use this accelerometer system. There is no option to control Yoshi other than this way.
However, that is not the biggest problem with Yoshi's New Island 3DS; in fact, it's the least of its problems. This game is an unimaginative, boring game that lacks in any innovative design or anything interesting to keep you coming back. We finished the game in about four and a half hours of play and, quite frankly, none of it is memorable. Mario and Yoshi on the SNES was an innovative, fresh take on the franchise, and this is anything but. There is not one single level we would consider a must play, and in fact, some of the levels are over within about a minute of gameplay.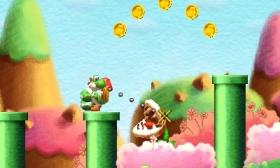 The structure of the game shouldn't come as a surprise either. Finish six world's, each with a boss character at the end and a mini boss in the middle. There generally is nothing wrong with this structure, but with the complete lack of innovation elsewhere in the game, it just exacerbates the problem. There is some level of change, at least, to mention. Yoshi can now gain larger eggs by eating enemies, and this helps solve puzzles but isn't used anywhere near enough, and it's pretty obvious when this needs to occur, primarily because a large enemy will appear.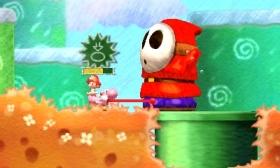 When it comes to the visuals, they are impressive, and the 3D of the game is used quite well, although not as impressively as we have seen on some recent titles. There is no real part of the game that requires 3D, and even in 2D, the game looks fine. Perhaps again one of its flaws that there is just no innovation here. The developers have so much to work with and use so little of it. Music, well, is just passable. Every level has close to the same musical score, which is an absolute travesty when you compare it to some of its brethren. Many Mario levels have been memorable purely because of the amazing soundtrack; not in this game.
Yoshi's New Island 3DS is just not good enough. It's not good enough to hold the name of one of the most famous characters in video gaming, and it's barely passable. It is boring, and we had to really push ourselves to finish this one. When was the last time a Mario universe game could be considered so boring you struggled to finish the game? If you desperately want a new platformer on the 3DS system, this game will suffice, but if you are looking for a good game in the Mario universe, look elsewhere. Back to the drawing board, Nintendo. Cookie cutter releases like this are not good enough, especially when there is so much to work with on a 3DS system.
PRICING: You can find the Yoshi's New Island (3DS) Game for sale below. The prices listed are valid at the time of writing but can change at any time. Click the link to see the very latest pricing for the best deal.
United States: The Yoshis New Island (3DS) Game retails for $39.96 at Amazon.
Canada: The Yoshis New Island (3DS) Game retails for CDN$41.33 at Amazon Canada.
Australia: The Yoshi's New Island (3DS) Game retails for $49.99 AUD at Mighty Ape Australia.
New Zealand: The Yoshi's New Island (3DS) Game retails for $74.99 NZD at Mighty Ape NZ.