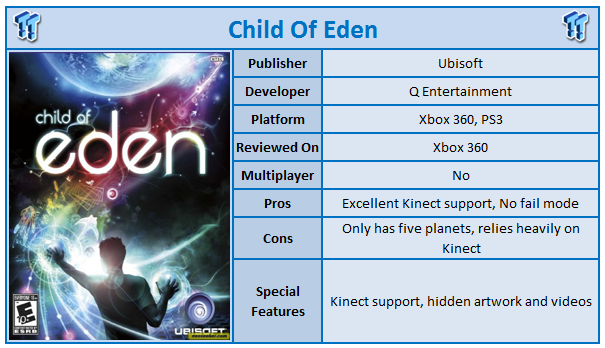 One of the most loved games on the PS2 and Dreamcast system was Rez. Re-released recently on Xbox Live arcade, Rez was one of the first games to try and combine the rhythm of music with the interactivity of gaming and it became a massive commercial hit. For years gamers have clamoured for Mizuguchi to create a sequel to Rez, but he never has. Possibly because the system it was born on, the Dreamcast, was not a successful console.
However, almost a decade later he is back with Child of Eden and just like Rez, it brings to the table an incredibly unique experience that is almost difficult to call a game in the true sense of the word. Child of Eden has you as the player trying to rescue a young girl named Lumi, trapped inside the internet sometime in the future. You do this by taking out virus materials within the systems of the game and that's about it. Child of Eden is not a game that has a strong storyline, but as you will discover as you play it, the focus is on other areas.
Child of Eden has two ways of playing; either with a traditional controller or for those who you have it, the Kinect sensor for Xbox 360. Although most of the game remains the same whichever control system you choose to use, there are some slight changes which are apparent. One thing we can say is that the game is nowhere near as enjoyable with a traditional controller.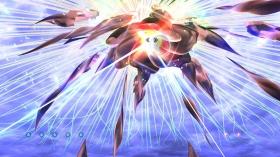 First of all, the game is a lot more difficult with a controller. Mizuguchi has given some leeway when it comes to the Kinect controls and thus the game is easier. That is not necessarily a problem, but the difficulty is strikingly increased with a controller. As well as this, certain visual indicators do not appear on the screen when using a controller such as 'well done' and 'perfect'. We are puzzled as to why they do not appear on the screen when using a controller.
When using the Kinect sensor, the game feels a lot more enjoyable. This comes from the motion of your body as your move your arms to take out the enemies; it can feel like you are gliding with the tune of the music. Also, the key way to gain lots of points quickly in Child of Eden is to 'queue up' enemies to take them all out at once. With a controller this is harder to achieve, where as with the Kinect it seems natural.
The thing is that in many ways Child of Eden is not a game. There are only a few key points in each level where an enemy will produce a bullet and fire it at you, with most of the time you only being tasked with taking out the enemies on screen and not being punished for not doing so. If you are very good at the game, it's possible to go through lengthy sections without any bullets thrown towards you. Many enemies if taken out quickly do not produce fire. This is both a benefit and problem with the game. You will at times wonder where the 'game' element is.
There are also some problems in the design of the game that can lead to a frustrating time, especially for the casual player. At certain points in the game you will hit sections which significantly increase the difficulty all of a sudden and without warning.
[img]2[/img]
It is highly unlikely you will finish each planet the first time around as the game mixes it up so much and learning the traits of each level is important.
However, if you do succumb to the enemy attacks, you have to start the entire planet all over again and considering the length of the planets, that is incredibly frustrating. Numerous times we got to the final boss only to lose and have to play through the entire planet again. This type of game design belongs in the 1990s along with not being able to see enemy attacks which are off screen as you don't happen to be looking at them.
Child of Eden contains five planets and each planet's mission takes about ten minutes to complete. On paper that means you could finish the game in under an hour, but in reality this is not the case. Each planet requires a number of stars to unlock and those stars are gained based on how well you do on the previously unlocked planets.
We had to play through some planets many times before being able to progress, but with that said, you should easily have finished the game within about three hours. This is not a game you finish and don't go back to, it's a game you play every so often for something different. However, for a full priced game the length is a bit of a problem.
As you would expect with a Mizugchi game, the graphics are very futuristic and vibrant and form a major part of the game. Each of the planets has a very unique visual style and through each mission that style changes many times. There are times, especially with the Kinect sensor, where you are interacting directly with the background of the game as well as the foreground and it seems that you can affect the world the game takes place in, via many ways.
[img]3[/img]
On the music side of things, Mizuguchi has again gone for a techno style dance soundtrack and it suits the game well. The enemy sounds fit in with the soundtrack, just like Rez, and overall the soundtrack is impressive which given the style of the game, it had to be.
Child of Eden is the successor to Rez in everything but name. It really does feel like an updated, high definition version of Rez which also happens to use a very impressive motion controller. Child of Eden is one of the best implementations of Kinect that we have seen, but it's not without its problems in terms of length and whether certain sections of the game could be too boring for its own good.
If you have a Kinect, you should play Child of Eden, but for those only touting a controller, either buy a Kinect and play the game the way it was designed to be, or take a pass on this one.