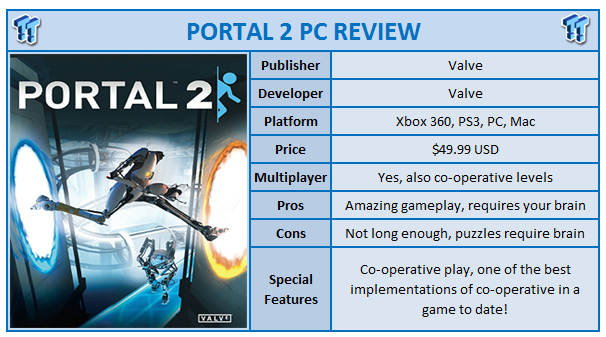 Before I start this review, I will need you to do one thing for me. Buy Portal 2. I could finish the review right here with those words - seriously, that's all I need to say; it's that good. For those of you who trust me, follow the first step, buy Portal 2. Those of you who require a bit of persuasion, well, continue reading why you should buy Portal 2 and once you've played it, you'll understand exactly where I'm coming from.
Why should you buy Portal 2? Well, mainly because the game is a stand-out achievement of how an AAA title should be done. Valve is like Pixar in my mind, they take a relatively plain-sounding concept and polish, polish, polish until it's perfect. Valve has done this with Portal, which was great, but did not reach the levels of fanboy screams that Portal 2 has.
Portal 2 starts you off in a room where you've woken from cryo-sleep. What happens next, I don't want to spoil, but it's these little touches that add to the atmosphere and general 'feel' of the game.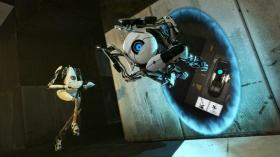 The game then drops you into the puzzle solving mayhem that the first one did, with some familiar faces and voices - another thing Valve has done perfectly. Wheatley (a personality core, voiced by Stephen Merchant) is hilarious. He's just a robot, but he shows more emotion in the game (and through the use of his voice) than 99% of most voice acting in today's "AAA" titles.
Wheatley acts as your guide again and helps you through the various training portals, building you up for the rest of the game. GLaDOS makes her eerie appearance again and is [like Wheatley] voiced to perfection.
Another stand-out feature of the game is the script and humor. It's witty, hilarious and keeps you laughing the entire way through - it is just another layer of Valve sauce that they put over the game. Portal 2 did have the great Erik Wolpaw and Chet Faliszek who wrote the games script with Faliszek previously working on the Left 4 Dead games. National Lampoon veteran Jay Pinkerton was also involved, with Wolpaw and Pinkerton working on the single player campaign story while Faliszek was hard at work with lines for GLaDOS in the cooperative campaign - they've done such a great job.
[img]2[/img]
The campaign (depending on how fast you go through it, or how easy you find the puzzling levels) is around 5 - 7 hours. It sounds short, but considering that Portal 2 is under $50 this is quite good. Because the game feels chocked to the edges full of gooey goodness in the form of characters, graphics, physics, humor, wit and pure greatness, those hours feel very long. Especially when you've done a puzzle 20 times and still can't figure it out.
The levels obviously get more and more difficult as you get more and more obstacles in your way. Levels begin to break apart as Aperture falls apart around you with GLaDOS popping in with hundreds of little arms repairing and rearranging the portal chambers - these little things happening around you feel so seamless, but act to creating an atmosphere for Portal 2, and it works; it works very, very well.
There are portals, gravity-based propulsion, propulsion gel, [frickin] lazer beams, large falls (hope you don't suffer from vertigo!), water, obstacles other than generic crates you say? How dare Valve create a game that doesn't have crates as an obstacle!!
The levels in the game can vary in size, too. Some test chambers are quite small while others are just absolutely huge and it feels like you've portaled into another game altogether. Valve seamlessly change between small and large levels without it even feeling like you've done a thing. All you're required to do is step into the elevator (can I call it that? maybe
tube
is a better word) and you're off to another level.
[img]3[/img]
One negative point I will raise is that I've read people saying load times between levels is long - I have Solid State Drives in all my machines, so the load times were only a few seconds between each level. Considering what happens in a level (from a review point, it sounds like a little, but just you wait!) it's quite impressive.
Graphics wise the game looks and feels great. I tried it on two different machines to give an opinion on each. My first rig is an 1156-based Core i7 @ 4GHz, 8GB RAM, NVIDIA GTX 570 SLI and 3 x Alienware AW2310's in Portrait running 3540x1920 @ 120Hz. I ran full detail (minus AA) and was achieving a minimum of 95fps with an average of around 135fps or so.
Secondly, I ran it on my MacBook Pro (2011 edition with Core i7, HD6750M) at 1920x1200 full detail (again without AA) and was enjoying minimum 60fps gaming.
Valve's Source engine is a thing of beauty. You don't need to have the latest and greatest (but if you do, it scales very, very well) to play it. Even people on modest laptops can get by with a great experience in Portal 2.
I also ran some testing on the Mac OS X side of things and again, it runs great. 1920x1200 native res, full detail (minus AA) and 60fps goodness was achieved.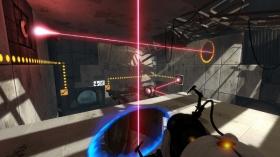 Another point I will touch on is the PlayStation 3 support. Valve has included Steamworks in Portal 2 for the PS3 which includes auto-updates, downloadable content and community support. The PS3 version also supports cross-platform play with Windows and Mac OS X gamers and allows users to save their game to the Steam Cloud and reuse them on any platform. I think I'm going to stop playing other games until all developers enable this feature.
One of the best things with Portal 2 is an addition that the first one did not have and an addition that most games need - Cooperative play.
Cooperative play supports two users and you each have to solve Portal-based puzzles together. This (in my eyes) was one of the hands-down best additions the game could have ever wished for. Each player of course has their own portal gun; they can each press TAB to view the other player's perspective (handy for looking through their point of view to see where they'd shoot their portal, etc).
Each player can press an action key to tell the other player to do things such as; shoot a portal at a particular spot, to look at a particular spot or to start a timer that counts down from 3 for levels that require both players to press a button or pull a lever at the exact same time - kind of like how Miles Dyson and John Connor have to unlock the doors to the Terminator arm in Terminator 2 - yeah, well, whatever - that's how I felt.
The cooperative levels are fantastic. It's an absolute blast to play them with a friend and the puzzles can get quite tricky with both of you requiring to shoot portals at specific places and sometimes, at specific times or shoot on, off, on, off quickly.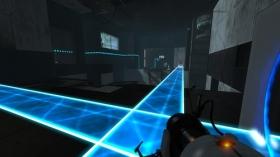 So while the single player portion of the game can feel quite short, the co-op mode adds hours and hours onto the game which increases its value (in my opinion) far higher than most games at this price point or in the AAA-based category. Multiplayer is great and all, but at the end of the day it's only great if you are in a good server or with friends. Pubbing it out can be tedious in this console-ported COD clone world we're in now.
Another thing that I realised with Steam and Portal 2 whilst playing between multiple machines for this review is the Steam Cloud save games. I went to my PC to test the game with NVIDIA's Surround Vision and when I fired up Portal 2 it said I had save games on the cloud, would I like to download them? Uh, what?! YES thank you. Valve, this is an amazing feature - something that should be on every single game sold.
This is where we get to the final bit. If you have not bought Portal 2 yet, I really don't know what you're doing with yourself. Do you need GLaDOS to come flying into your house and insult you as she does in the game? Insulting your intelligence or the human race itself?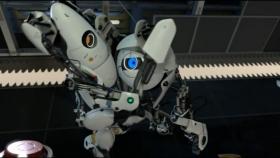 Portal 2 is an amazing achievement for Valve and I now have the utmost confidence in them delivering Half Life Episode 3 (or Half Life 3, on a next-gen Source-based engine) to me in a beautiful, perfect, stunning, fun package whenever they feel like it.
Shoot a portal to your nearest gaming store or Steam, shoot another portal at your monies and let Valve take whatever it needs for Portal 2. Grab it yesterday!