Guitar Hero 5 Multi-Platform Review
The series which started it all returns for another year, but may be slowly showing its cracks now.
Published Thu, Sep 24 2009 5:29 AM CDT
|
Updated Tue, Nov 3 2020 7:03 PM CST
In 2009 it seems like we can't go a month without a Guitar Hero game being released. However, the grand daddy has returned and along with it some mega stars of music. The philosophy was no doubt to bring the best of the best in the music world into the game as well as their music plus add a few new features for gamers. However, with the competition starting to ramp up including an incredible Beatles game, has Activision done enough to keep gamers happy? Only just.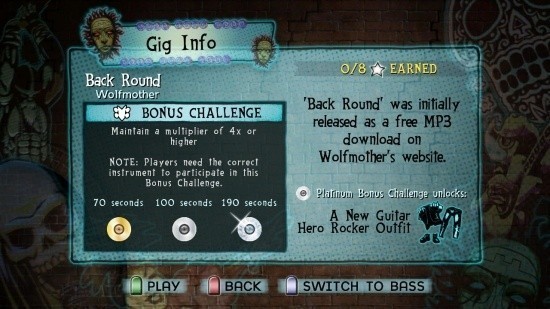 The traditional style of Guitar Hero returns. Highways display on screen and you hit the buttons on your guitar or drum in time with the music. On different difficulty levels and songs, the intensity increases and the challenge improves, but all in all the formula remains the very same since Red Octane first unleashed its sleeper hit back in the PS2 days.
As mentioned earlier, Guitar Hero 5 is all about the mega stars and some of the biggest names in music feature. Names ranging from Johnny Cash through to Kurt Cobain and Shirley Manson give an eclectic mix as well as add a level of authenticity to the game and music credibility not seen in the genre yet. However, there was one mistake Activision made that just turns the game a bit cheap and nasty.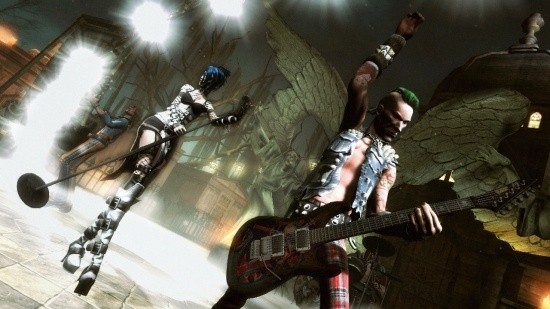 Once you 'beat' the song which that star sings (for example, 'I only like it when it rains' by Garbage unlocks Shirley Manson) you can then change your avatar in the game to be that character. Now this is just silly in certain circumstances. So for example, if you unlock Santana, one of the greatest Guitar players of all time, you can have him sing songs that he would never dream of singing or even playing the drums. This is where the music credibility is lost.
That said, the mix of music is one of the best that Guitar Hero has seen yet. From mega stars of the world Coldplay through to the up and comers, the game caters for all. On paper the track listing doesn't impress, but there is a few reasons for this. First of all, it is likely if you are into music that you will at least know some of the songs in the game or at least will know them once you hear the melodies and riffs that make up each song.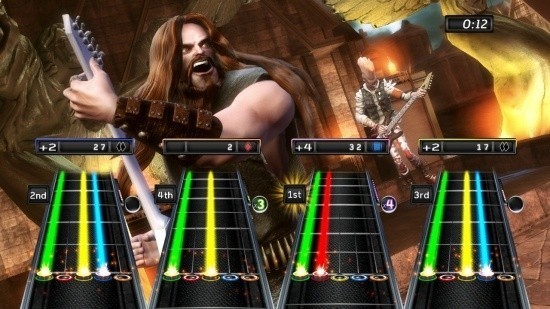 There are recent songs, old songs and very old songs included so it should appeal to the whole family. Eighty five are included so it's hard to list them all here, but the most popular bands from today such as Coldplay make an appearance as well as classics such as Song 2 from Blur. The entire music track list is available from the Guitar Hero site. Music from Guitar Hero World Tour is also compatible with a free update from Xbox Live. One feature we do like this year is that all songs are unlocked from the start; no more playing songs you don't want to just to get the best.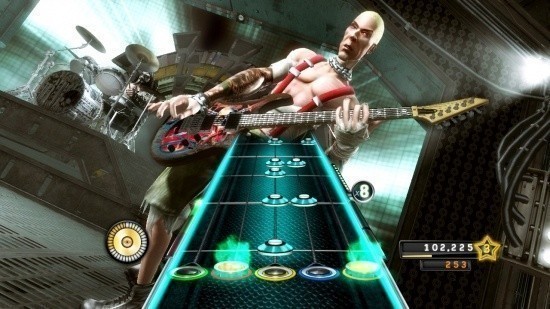 Where Guitar Hero impresses this year in a big way is the highways themselves. When you are pressing buttons on the plastic guitar it really does feel as if you are in tune with the music which considering the medium you are playing on is nothing short of impressive. And because of this you can really get into the music and the tunes and want to perfect them. This is where the killer element of Guitar Hero 5 lies. Re-focusing the game back onto the guitar has allowed Neversoft to produce a guitar driven game and return to the series roots. You will try and try again to get that perfect run through your favourite songs because not only is it tough, it's addictive.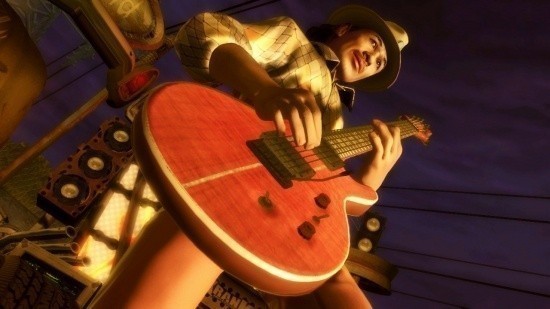 Aside from this, the new features are nothing to write home about. Continuing the crazy theme of the game, you can have multiples of each instrument in a multiplayer environment. So if you want four drums, you can. No more fighting over who gets to play which instrument. And you can now have four way multiplayer battles which is something the series has needed for quite some time in the new era of consoles. Players can now also jump in and out of songs in multiplayer, although considering the length of most songs we can't find this feature overly needed as much as it may be in other genres. There has also been some refinements to the in-game music creation system.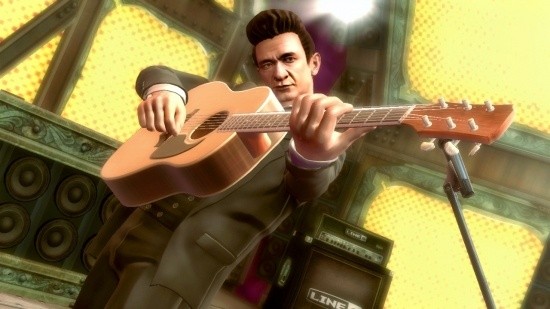 Guitar Hero 5 puts the focus back on guitars and is all the better for it. That's not to say you can't play as a band, you truly can, but it is clear the most fun comes from the guitar. There was a few puzzling decisions made by Activision with this one, but also some winners such as allowing all songs from the time you first turn on and on the balance of power the good generally outweighs the bad. Nothing new from the Guitar Hero series and this is not going to win new fans, but keep those ones happy for at least the next twelve months.
PRICING: You can find products similar to this one for sale below.

United States: Find other tech and computer products like this over at Amazon.com

United Kingdom: Find other tech and computer products like this over at Amazon.co.uk

Australia: Find other tech and computer products like this over at Amazon.com.au

Canada: Find other tech and computer products like this over at Amazon.ca

Deutschland: Finde andere Technik- und Computerprodukte wie dieses auf Amazon.de