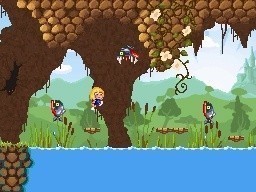 In the 1980s Nintendo released a mega popular console in the NES. The Nintendo Entertainment System made Nintendo a household name in America and Europe and launched the platform of success they still enjoy today. Many attribute this success to Super Mario Brothers, a platform game which uses fictional plumber characters as the protagonists and challenges gamers to jump through levels, collecting coins and beating Bowser.
Upon release Giana Sisters was quickly removed from the market after Nintendo informed the publisher they intended to sue them. However, twenty years later we have the crazy situation where the game is re-released and even on a Nintendo platform. Looking and playing the game, it is clear to see why Nintendo had issues, but twenty odd years later the game still remains a title worth playing.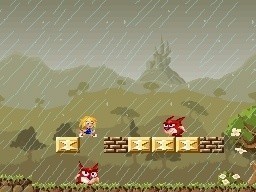 In Giana Sisters you take the role of a young girl tasked with finding gems. This young girl takes many forms. If she eats bubble gum, she then gains the ability to throw fire pellets (very much like Mario) and take a hit without losing a life. Other than that there is not much to say about the story. You jump, you eat bubble gum and you reach the end of levels. However, there is some areas where the game does differ to Mario and shows that the developers did actually innovate in this title as well as imitate.
One such difference is that you collect flags (well, that specifically is not different) to end the level. However, the difference is that the game acts on all four axis, that is the flag may not necessarily be at the far right of the level, instead suspended mid-air in the middle of the level. This can lead to you running around and around for a while trying to find this flag.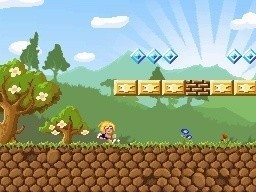 This does not equal fun as you might imagine. Another difference is that the developers have used the DS technology and updated the game. For instance, there are some areas where you need to blow a bubble and not hit spikes in an intricate maze. You can do this with the microphone, but the developers have also been smart enough to realise that a loud area would not be a good situation for this, so they have implemented 'loud mode' where you can use the buttons instead.
However, from there it really is Super Mario Brothers with girls. This is not a bad thing. The game is enjoyable to play and enjoys boss fights every so often with a dragon. The platform mechanics are done well and the levels are interesting, but there is one major problem with the game that we just can't shake. It's lifeless and dull in terms of story. The reason you play this game is the levels and intricate jumps required at times, it is not the story.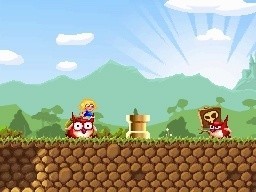 And because it really is Super Mario Brothers with a girl coat of paint, nothing stands out as overly impressive. As well as this, if you are a moderately good platform gamer, you can finish this game quite quickly. That is not to say it's short in terms of levels, it's just some levels last two minutes or so, if that.
Great Giana Sisters is a fun title, which is over all too soon and shows why the DS should be the platform of choice for developers wanting to make a platform game in this day and age.