Intel Joins the Overclockers - Bad Axe 2 Motherboard
Today we look at Intel's own Bad Axe 2 motherboard based on 975X chipset. Could it be Intel are actually supporting OC?
Published Tue, Nov 28 2006 11:00 PM CST
|
Updated Tue, Nov 3 2020 7:04 PM CST
Introduction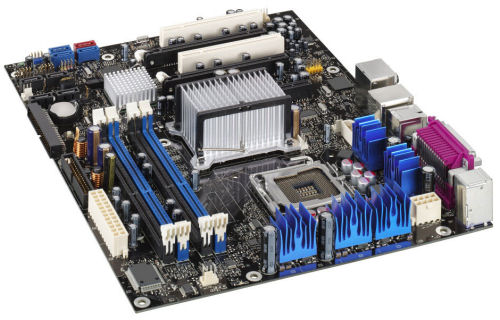 Recently overclockers have been given a wide birth when its comes to how far you can go - in fact, there is more emphasis on the ability to get more speed out of your CPU, Memory and Motherboards than ever before. This is pretty much evident with nVidia, ATI and yes even Intel getting in on the action on the chipset front. Can you say, "P965"?
AMD was clearly the first company to embrace overclockers. While in the past they have tried to thwart them with unlocked multipliers on their processors. Now if you want to do it without restrictions, its a matter of paying extra dollars to do so. AMD calls this the
Athlon FX
line, and Intel calls it the
Extreme
line.
While both Intel and AMD are giving you the option to overclock your CPU, you need a board that can actually do it. While actively denying overclocking in the past on their own Desktop boards, Intel's 975X and P965 chipsets have been overclocking power houses using the latest Core 2 Duo chips, especially the P965 with bus speeds of well over 400MHz easily being obtained without special voltage mods or what not.
Today Intel joins overclockers by giving them the option of overclocking on their very own desktop boards and who would have ever thought such a thing? This is definitely a first for the big CPU giant who tried to prevent overclocking by introducing locked multipliers and even removing asynchronous bus clocks in its early PCI Express 915 chips.
Today we have Intel's D975XBX2 or Bad Axe 2 motherboard in our test labs. This board was originally intended to be the flagship board for the Core 2 Quad. While we did have it to use for the Core 2 Quad, we decided to use our trusty Gigabyte DQ6 for our CPU review, as its proven to overclock to the max. This time we are looking at the board which Intel provided and just to see how well it stacks up to the mother of all Core 2 overclocking boards, the Gigabyte P965 DQ6.
Specifications
Specifications of the Bad Axe 2CPU
Supports Intel Core 2 Extreme X6000 and Q6000 Series
Supports Intel Core 2 Duo Series
Supports Intel Pentium Extreme Series
Supports Intel Pentium D 800 and 900 Series
Supports Intel Pentium 4 500 and 600 Series
Supports Intel Celeron D 300 and 400 Series
Chipset
Intel i975X with HT
i975X Northbridge
i82801GB Southbridge
DMI @ 2GB/s
System Memory
4 DDR2 SDRAM 240pin DIMM Sockets
Supports DDR2-400/533/667MHz
64/128Bit Dual Channel
Supports up to 4GB Total Memory (4x 1GB)
Bus Frequency
133/200/266MHz Internal
533/800/1066MHz External
Expansion Slots
3 PCI Express x16
2 PCI
Connectivity
1 Parallel ATA port supporting 2 IDE Drives
8 Serial ATA ports
1 Gigabit Ethernet Port
Expansion Ports
1 PS2 Keyboard Port
1 PS2 Mouse Port
8 USB 2.0 Ports (4 rear accessible, 4 via expansion bracket)
1 SPDIF RCA Port
1 Toslink Port
1 Serial Port
2 Firewire Ports (1 rear accessible, 1 via expansion bracket)
1 Parallel Port
5 Stereo Audio Ports
Motherboard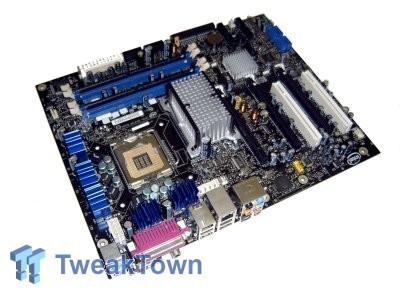 When Intel ship their test systems out to reviewers they don't include any retail packaging, so here we have just jumped into the board itself. The first thing we noticed about the layout is that it looks rather like a lot of boards out there. Intel uses a black PCB with the 30x24cm layout. Keep in mind though, you
can
buy the Intel Bad Axe 2 motherboard, it's a retail product.
Layout is extremely clean, in fact, some of the other motherboard manufacturers could learn a lot from Intel in terms of layout. First off the power connectors are in extremely efficient places. The 24-pin ATX power connector is located behind the DDR-2 memory slots along with the FDD connector. The 8-pin ATX power connector is located at the top left of the board behind the PS/2 towers.
There is one quirk with this series of boards. If you have a 4-pin CPU voltage PSU, you won't get this board to power up. We tried our PSU with both 4-pin and 8-pin and when the 4-pin power connector was used, the board simply powered up and then powered down in the space of 3 seconds. When the 8-pin was used, the board worked fine.
The IDE port is located below the FDD port and is rotated 90 degree to the board so the cable doesn't stand up and keeps the cable away from large graphics cards. The board also has a total of 8 Serial ATA ports.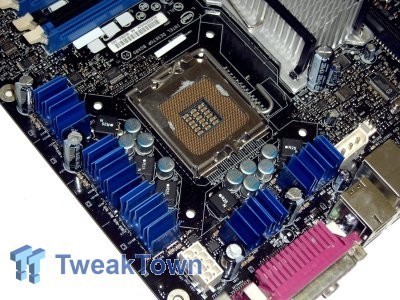 The CPU layout is of Intel specs and that makes sense since the board is designed by Intel. There is enough room to install larger heatsinks than the Intel OEM heatsink. The CPU is powered by a 4 phase digital VRM setup with a large heatsinks assembly across the Mosfets. Intel has used this setup since its first batch of Pentium Extreme boards to try and keep them cool when using over 130 watts of power. Core 2 draws a lot less, but its nice to see this tradition kept.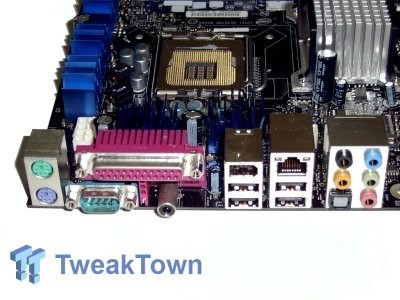 The rear I/O is rather plane by today's standards. Companies are adding e.SATA ports and SPDIF ports and whatever else to their high-end products. Intel only has a single SPDIF RCA port for its digital I/O. The rest is all legacy ports like Serial and Parallel ports.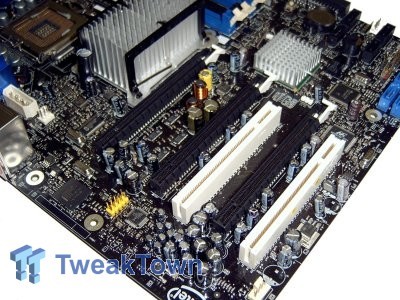 Expansion ports on the board resemble what you would expect to find on a high-end board. There are a total of 3 PCI Express x16 slots - the top 2 are used for ATI Crossfire graphics cards, nVidia SLI isn't supported as both companies haven't come to any arrangements but don't count on that happening anytime soon. When you have only 1 PCI Express graphics card in the system, the top slot runs at full x16 speed. If you place a PCI Express expansion card into the second PCI Express x16 slot, it will only function in x1 mode unless you place a PCI Express card that runs in x4 or x8. In that instance, the second slot enables into x8 and the top slot also slows down to x8 speeds. When 2 PCI Express Graphics cards are used the 2 top PCI Express x16 slots run at x8 each.
The third PCI Express x16 slot may physically be x16 in length but it only runs at x4 electronically. This slot is used for a third graphics card if you want multiple monitor setup. Also with the use of a third graphics card you can use it as a physics engine like ATI demonstrated for us earlier this year. While good for graphics cards, you can use any PCI Express expansion card in there. It's good to have for server or workstation PCI Express RAID controller cards that come in x4 or x8 layouts.
Lastly on the expansion layout are 2 PCI slots for TV tuners and discrete sound system rather than having to use the Azalia audio codec that Intel now pushes.
Lastly we take a look at the extra features the board supports through external chips. While the board supports 8 SATA ports, the Southbridge only supports 4 of them. A Marvell PCI Express chip controls the extra 4. The blue ports are run by the Marvell chip. Firewire support comes from the Texas Instruments PCI Firewire chip. Lastly the Ethernet is a Tacoma PCI Express Gigabit LAN controller.
BIOS and Overclocking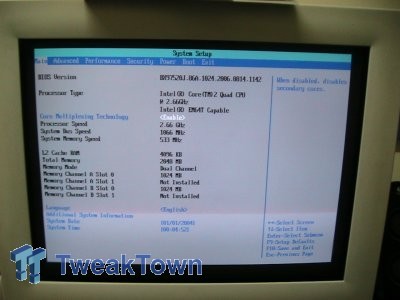 Now it's onto the BIOS of the Bad Axe 2. Those who use ASUS boards will know just how to navigate the BIOS of the Intel Bad Axe 2.
While Intel boards in the past have been very lacking when it comes to overclocking features, it seems Intel finally have caught onto the fact that overclocking sells to the enthusiasts, and if Intel wants a piece of this sector their boards are going to have to change.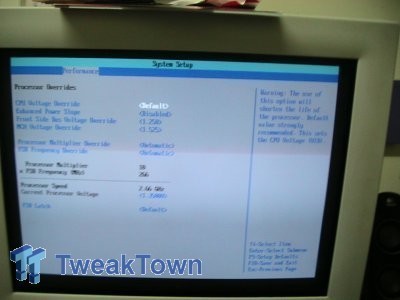 Intel places its overclocking settings under the Performance Menu in the BIOS. You are able to adjust all aspects of overclocking here.
First off is the CPU voltage Override which in plain English is for the CPU voltage. You can go as low at 1.1v or up to 1.6v in 0.025v increments. Enhance power apparently allows you to give the CPU a little extra juice to keep it stable, however, during testings it made no difference.
Front Side Bus voltage override gives extra power to the FSB the system uses, this goes from 1.20v to a max of 1.5v in 0.025v increments.
For Core 2 Extreme owners you can adjust the Processor Multiplier Override from 6x to a max of 20x. For Core 2 Duo owners, you cannot adjust your multiplier to anything other than 6x or the default your CPU uses.
Lastly is the FSB Frequency Override. Intel has finally given up on a percentage increase system and gone to raw MHz. You can go as low at 200MHz and all the way to 433MHz in 1MHz increments.
Lastly is the DDR-2 Voltage which you can adjust from 1.8v to a max of 2.8v in 0.04v increments.
Using all the available settings we maxed the boards 433MHz FSB (7 x 433MHz FSB = 3031MHz) out without any problems. DDR-2 was at 2.2v, MCH voltage at 1.6v, FSB at 1.3v and CPU at 1.4v Overall it is a great result and though it doesn't have as much range as other boards out there, no other board can say they max out their FSB range.
Important Editor Note: Our maximum overclocking result is the best result we managed in our limited time testing the motherboard. Due to time constraints we don't have enough time to tweak the motherboard to the maximum and find the highest possible FSB as this could take days to properly find. We do however spend at least a few hours overclocking every motherboard to try and find the highest possible overclock in that time frame. You may or may not be able to overclock higher if you spend more time tweaking or as new BIOS updates are released or "burn in" time might come into play if you believe in that.
Benchmarks - Test System Setup and Sandra
Test System SystemProcessor
: Intel Core 2 Extreme X6800 (Supplied by
Intel
)
Memory
: 2x 1GB DDR2-1066 Corsair (Supplied by
Corsair
)
Hard Disk
: 500GB Seagate 7200.9 SATA (Supplied by
Seagate
)
Graphics Card
: 2 x MSI Radeon X1950 Pro in Crossfire (Supplied by
MSI Australia
)
Cooling
: Gigabyte 3D Galaxy II (Supplied by
Gigabyte
)
Operating System
: Microsoft Windows XP SP2
Drivers
: Intel INF 8.1.1.1001, ATI Catalyst 6.11 and DX9c
Our tests today consist of the P965 motherboard supplied to us by Gigabyte, the 965P-DQ6 and the Intel Bad Axe 2.
We wanted to show you the results of the two boards at both stock and overclocked speeds. When overclocked the Intel Bad Axe 2 ran at a FSB of 433MHz with a multiplier of 7x to give us a CPU clock speed of 3031MHz.
Our Gigabyte board ran at the same rate to determine if Intel's claim of tweaking the BIOS for greater memory performance does in fact hold up.
Let's get this show on the road and see how the Bad Axe 2 can perform.
SiSoft SandraVersion and / or Patch Used:
2007
Developer Homepage:
http://www.sisoftware.co.uk
Product Homepage:
http://sisoftware.jaggedonline.com/index.php?location=home&a=TTA&lang=en
Buy It Here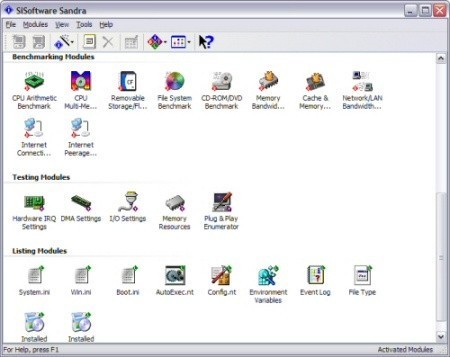 SiSoft Sandra (
S
ystem
AN
alyser,
D
iagnostic and
R
eporting
A
ssistant) is a synthetic Windows benchmark that features different tests used to evaluate different PC subsystems.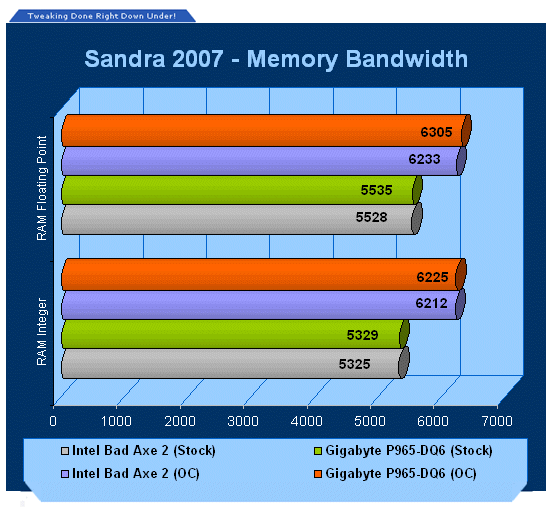 At stock speeds, the Bad Axe 2 and the DQ6 are pretty well matched.
However, thanks to Intel's latency reducing technology that the Core 2 and P965 chipsets share, its manages to keep just ahead of the 975X chipset based Bad Axe 2.
Overclocked speeds show the same trend giving the more mainstream P965 the leg up.
Benchmarks - PCMark
PCMarkVersion and / or Patch Used:
1.1.0
Developer Homepage:
http://www.futuremark.com
Product Homepage:
http://www.futuremark.com/products/pcmark04/
Buy It Here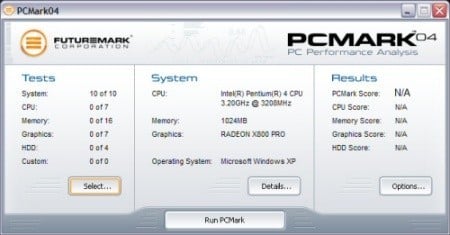 PCMark is a multipurpose benchmark, suited for benchmarking all kinds of PCs, from laptops to workstations, as well as across multiple Windows operating systems. This easy-to-use benchmark makes professional strength benchmarking software available even to novice users. PCMark consists of a series of tests that represent common tasks in home and office programs. PCMark also covers many additional areas outside the scope of other MadOnion.com benchmarks.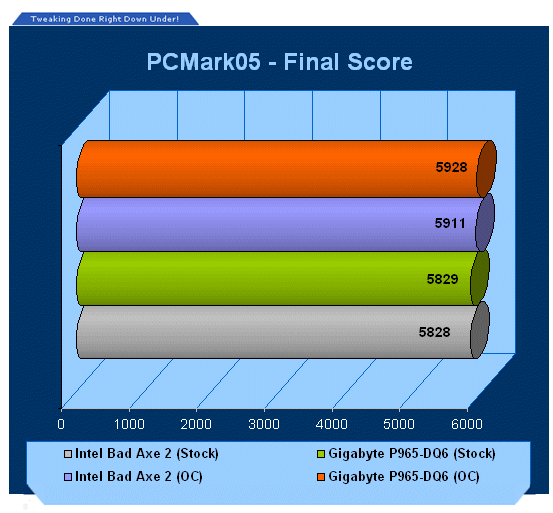 CPU optimisations between the two boards are identical even when overclocked, its only the memory and final results that show any improvement and this is towards the Gigabyte P965 board.
Benchmarks - 3DMark05
3DMark05Version and / or Patch Used:
Build 120
Developer Homepage:
http://www.futuremark.com
Product Homepage:
http://www.futuremark.com/products/3dmark05/
Buy It Here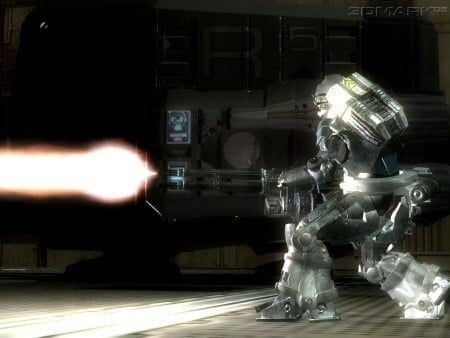 3DMark05 is now the second latest version in the popular 3DMark "Gamers Benchmark" series. It includes a complete set of DX9 benchmarks which tests Shader Model 2.0 and above.
For more information on the 3DMark05 benchmark, we recommend you read our preview
here
.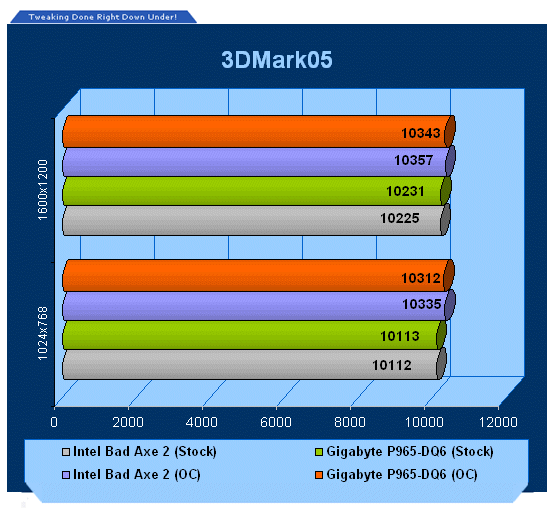 At stock speed when the graphics are turned up, the Intel Bad Axe 2 just outscores the P965 board.
We were wondering why and realised it's the way ATI Crossfire works on the two platforms. The Intel 975X uses 2 x PCI Express x8 lanes for its Crossfire system whereas the P965 uses a x16 lane for its primary card and a x4 lane off the Southbridge for its secondary card leading to a slight drop in performance.
Benchmarks - 3DMark06
3DMark06Version and / or Patch Used:
Build 102
Developer Homepage:
http://www.futuremark.com
Product Homepage:
http://www.futuremark.com/products/3dmark06/
Buy It Here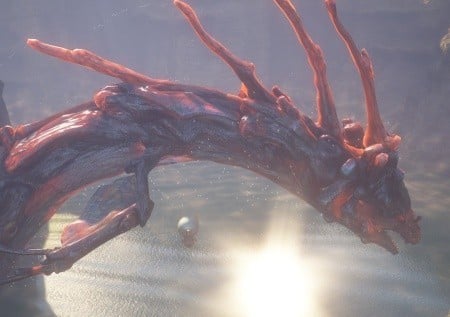 3DMark06 is the very latest version of the "Gamers Benchmark" from FutureMark. The newest version of 3DMark expands on the tests in 3DMark05 by adding graphical effects using Shader Model 3.0 and HDR (High Dynamic Range lighting) which will push even the best DX9 graphics cards to the extremes.
3DMark06 also focuses on not just the GPU but the CPU using the AGEIA PhysX software physics library to effectively test single and Dual Core processors.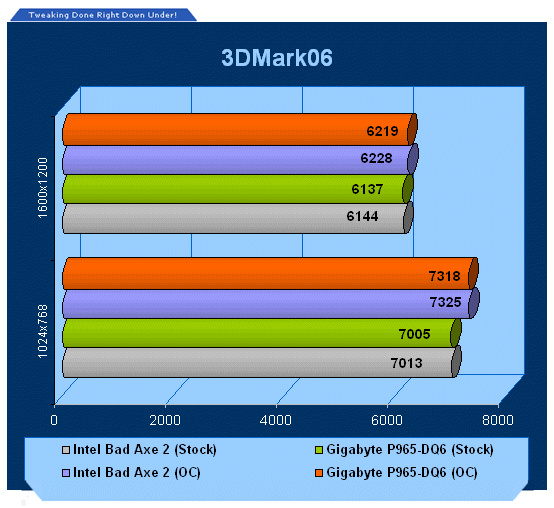 3DMark06 shows the same trend as 05 with the Bad Axe just in front due to the superior ATI Crossfire setup of the Intel 975X chipset.
Benchmarks - PREY
PREYVersion and / or Patch Used:
1.2
Timedemo or Level Used:
Hardware OC Timedemo
Developer Homepage:
http://www.humanhead.com
Product Homepage:
http://www.prey.com
Buy It Here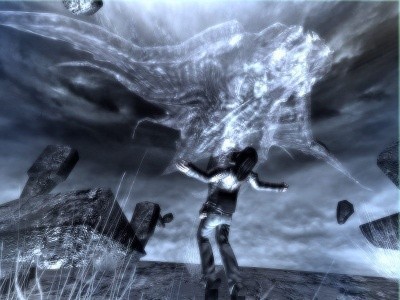 PREY is one of the newest games to be added to our benchmark line-up. It is based off the Doom 3 engine and offers stunning graphics passing what we've seen in Quake 4 and does put quite a lot of strain on our test systems.
Here we see that the Crossfire setup in real life doesn't play as much of an impact as we thought with the boards almost equal at stock. When overclocked the Gigabyte board manages to just beat out the Intel Bad Axe 2.
Benchmarks - F.E.A.R.
F.E.A.R.Version and / or Patch Used:
1.08
Timedemo or Level Used:
Built-in Test
Developer Homepage:
http://www.vugames.com
Product Homepage:
http://www.whatisfear.com/us/
Buy It Here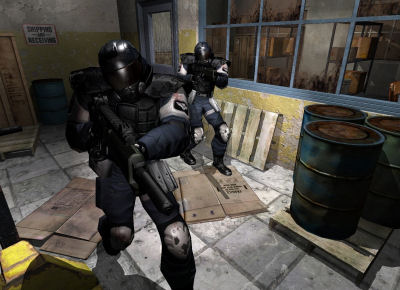 F.E.A.R. (First Encounter Assault Recon) is an intense combat experience with rich atmosphere and a deeply intense paranormal storyline presented entirely in first person. Be the hero in your own spine-tingling epic of action, tension, and terror...and discover the true meaning of F.E.A.R.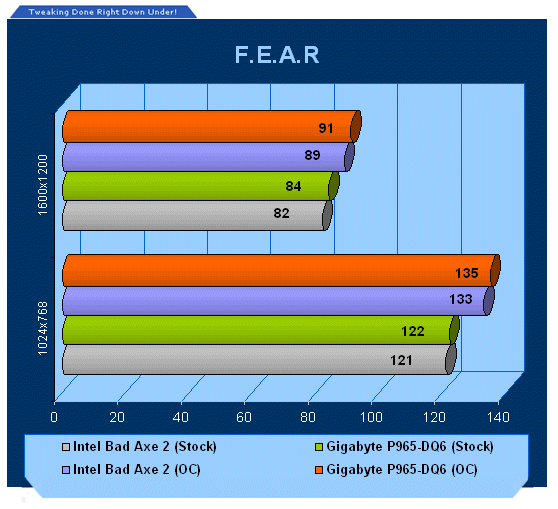 P965 still manages to hold a small lead.
Benchmarks - Far Cry
Far CryVersion and / or Patch Used:
1.3
Timedemo or Level Used:
Benchemall Default
Developer Homepage:
http://www.crytek.com
Product Homepage:
http://www.farcrygame.com
Buy It Here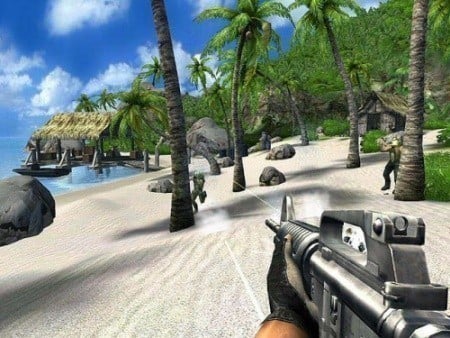 While Far Cry is now one of our older benchmarking games, it is still able to put pressure on most computers systems as it is able to utilize all parts of the system. Utilizing PS2.0 technology with the latest versions supporting Shader Model 3.0 with DX9c and offering an exceptional visual experience, there is no denying that even some of the faster graphics cards get a bit of a workout.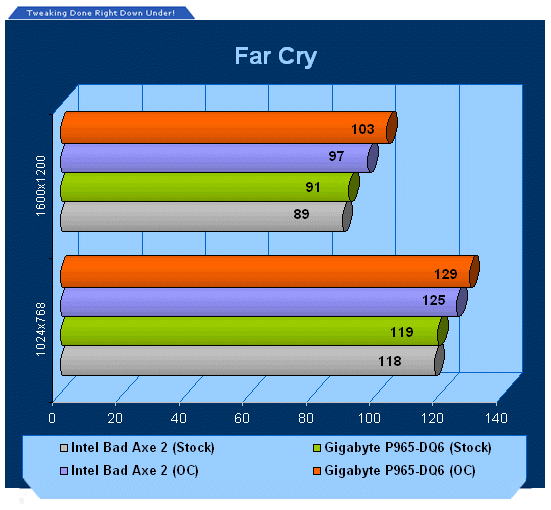 Here we see that the graphics don't play as much a part and the P965 manages to just edge ahead.
Final Thoughts
The overclocking market has now taken a big turn with even the big CPU firms now taking a hold of it. Both AMD and Intel have released processors that allow you to adjust your CPU multiplier at your will, but its has taken some time for Intel to start supporting overclocking on their own "Desktop" motherboards.
We have seen that Intel has put some very small overclocking features in its original Bad Axe board, but simply not able to compete with the more prominent motherboards on the market from the big Taiwanese brands.
Intel has really taken a big step into the overclocking world with some real positive results. The Bad Axe 2 motherboard is not only laid out in what we would consider a extremely efficient fashion, but its features and performance results really speak for themselves.
We can only hope this isn't a one time thing from the CPU giant and they keep on this kind of overclocking support and quality in the future.
- Pros
Efficient layout
Good performance and as stable as a rock
Supports a decent overclock for the first time!
ATI Crossfire support
Extra PCI-E x16 slot for third graphics card
4 port Marvell PCI-E SATA controller
- Cons
Higher FSB than 433MHz would be nice but a good start
Not a very exciting feature-set but workable
- Latest Pricing
Rating - 8.5 out of 10
PRICING: You can find products similar to this one for sale below.

United States: Find other tech and computer products like this over at Amazon.com

United Kingdom: Find other tech and computer products like this over at Amazon.co.uk

Australia: Find other tech and computer products like this over at Amazon.com.au

Canada: Find other tech and computer products like this over at Amazon.ca

Deutschland: Finde andere Technik- und Computerprodukte wie dieses auf Amazon.de
We openly invite the companies who provide us with review samples / who are mentioned or discussed to express their opinion. If any company representative wishes to respond, we will publish the response here. Please contact us if you wish to respond.