Introduction
NVIDIA changed the game with the introduction of its DLSS (Deep Learning Super Sampling) technology, and as DLSS has evolved -- so too has the image quality, the performance, and everything in between.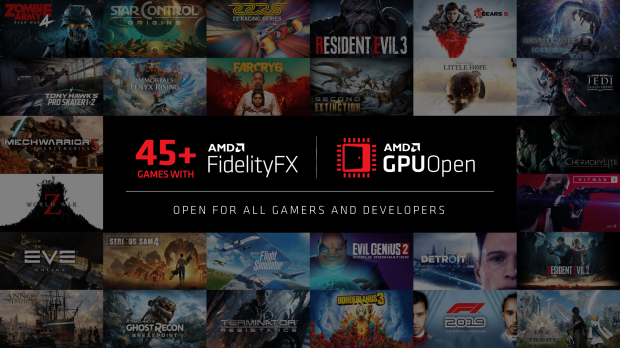 AMD is now here introducing its own DLSS-like, but not a full DLSS competitor -- with FidelityFX Super Resolution, which is known as FSR. DLSS... meet FSR... and FSR, well you know DLSS so there doesn't need to be an introduction there.
FidelityFX Super Resolution is here to provide more performance for gamers, while providing better image quality... but better yet: it's not locked to Radeon GPUs. That's right -- FSR will work with not just discrete Radeon graphics cards, but certain APUs, and their competitors' GeForce GPUs.
FSR was developed to provide more performance for gamers with graphical bells and whistles cranked to maximum, including ray tracing -- while providing more performance for high FPS gamers who want 120/144FPS in their games at higher resolutions like 1440p and 4K.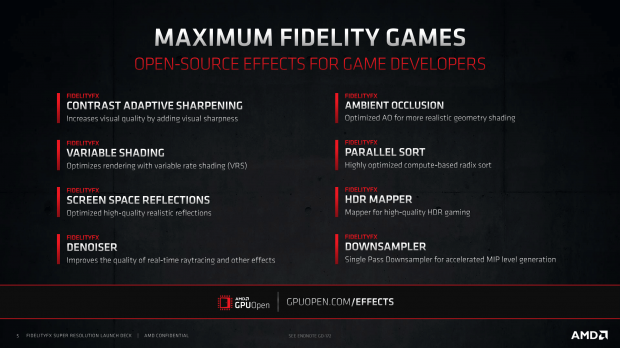 AMD says that at 4K we can expect around 2.4x the performance with FSR set to "Performance" mode, with its spatial upscaling algorithm producing "up to near-native resolution quality gaming experiences with super high-quality edges and detail".
How Does FSR Help You?
FSR isn't just going to be helping out gamers and gamers alone, but developers are only just going to be scratching the surface of what FSR is capable of -- in terms of game support, performance, and more. FSR will evolve in the same way that NVIDIA's own DLSS technology evolved.
AMD developed FidelityFX Super Resolution for both gamers and developers in mind, with FSR delivering features and benefits to gamers who seek an upscaling solution for their games -- and for developers, FSR is perfect for massive adoption across discrete GPUs, APUs, consoles, and more.
For gamers: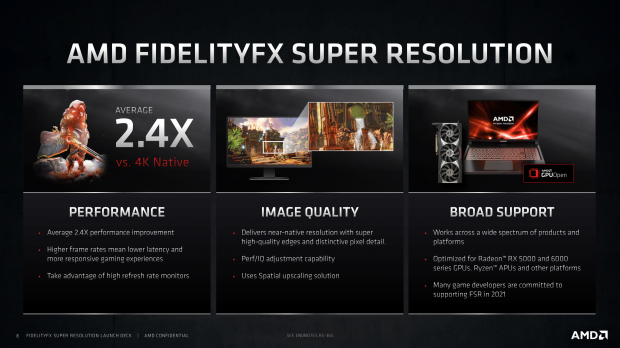 Performance: This is what most people are here for when it comes to FSR -- performance. You will have some fantastic performance improvements in the right games with FSR enabled. The list of games with FSR is limited right now, but in something like Godfall you're looking at double the performance in resolutions like 1440p and 4K. Not only that, but high refresh rate gamers (liek myself) who have 120FPS+ capable monitors and want every single frame they can squeeze out of their PC.
Image quality: If you are gaming at lower resolutions like 1080p and want the graphical bells and whistles that come with ray tracing... then FSR gives you that. You can play games with ray tracing enabled at much higher frame rates than the game would run without ray tracing enabled.
Broad support: FSR is optimized to work with AMD Radeon RX 5000 series and Radeon RX 6000 series GPUs, but it'll also work on over 100+ AMD GPUs and CPUs as well as NVIDIA GeForce GTX and GeForce RTX GPUs.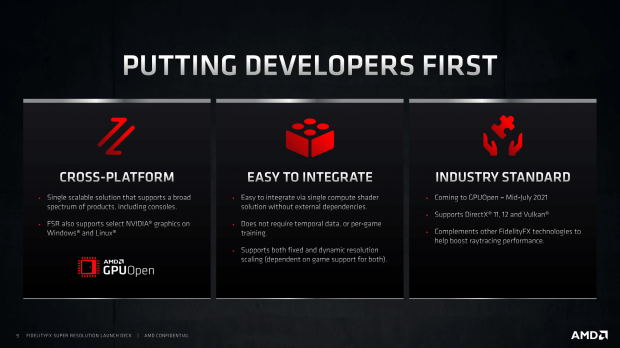 For developers:
Cross-platform: This is probably the biggest thing that FSR has over DLSS, is that AMD's new upscaling technology will not just work on their own graphics cards -- but CPUs, Radeon-powered Xbox Series X/S and PlayStation 5 consoles -- and their competitors' GeForce GTX and GeForce RTX GPUs.
Easy to integrate: AMD has made FSR easy to integrate for game developers, through a single compute shader solution -- all without the need for any external dependencies. AMD has minimal integration requirements for developers versus its competitor with DLSS, FSR does not require temporal data, or per-game training.
Industry standard: FSR will be available for game developers on GPUOpen.com in mid-July, with support for DirectX 11, DirectX 12, and Vulkan APIs.
How Does FSR Work?
AMD's new FidelityFX Super Resolution technology will first reduce the rendering resolution, so for example setting the native resolution to 4K and then FSR to "Performance" mode will knock the rendering resolution down to 1080p and then upscale the image with its advanced edge reconstruction algorithm, resulting in a source image that is very similar to the native 4K resolution.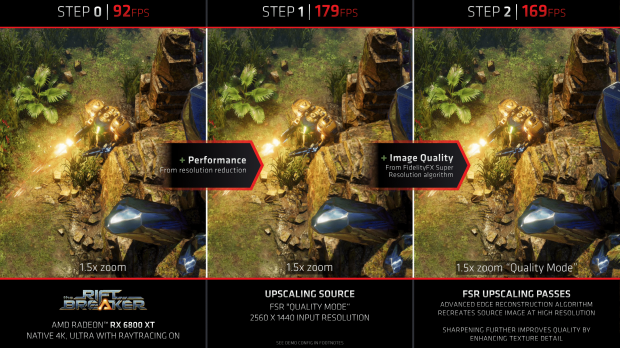 But if you were to set FSR to its "Quality" mode then the native 4K render is dropped to 1440p and you get a better looking image, and much more performance. This is a huge deal at 4K when you want to hit 60FPS on a lower-end card, or 120FPS on a higher-end card but don't want to sacrifice too much image quality.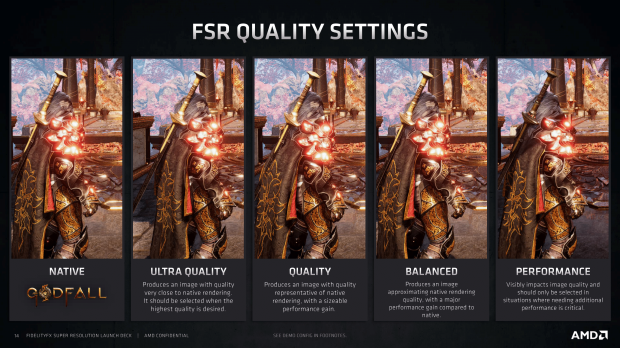 I did all of my initial FSR launch testing on Godfall, which is the latest and greatest game with ray tracing and FSR support -- where 4K performance on a Radeon RX 6000 series card is greatly improved. Even at 1440p you can be gaming away in Godfall at 120FPS+ on a Radeon RX 6700 XT.
You can choose between the Ultra Quality preset (great for 1080p) and the Quality + Balanced presets (1080p + 1440p and 4K depending on the GPU and game) while the Performance mode will drop image quality drastically... I would only run this at 4K and 8K if you truly need the performance.
FSR Quality Settings
FSR will knock down the rendering resolution depending on the native resolution of your monitor, so if you have a 4K gaming display -- you have 4 different options with FSR that will drop the rendering resolution of the game you're playing.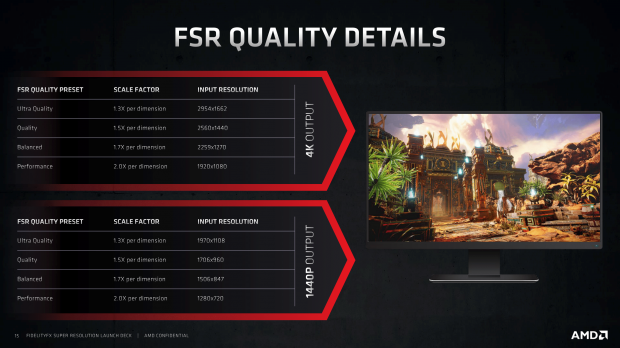 4K gamers can enjoy more performance, setting FSR to Performance mode and having the render resolution drop to 1080p and have it upscale to 4K. But if you're playing a game that's not that demanding, where you're already getting 60FPS or 120FPS and above, then you will use the Ultra Quality setting and enjoy better image quality, with even more performance.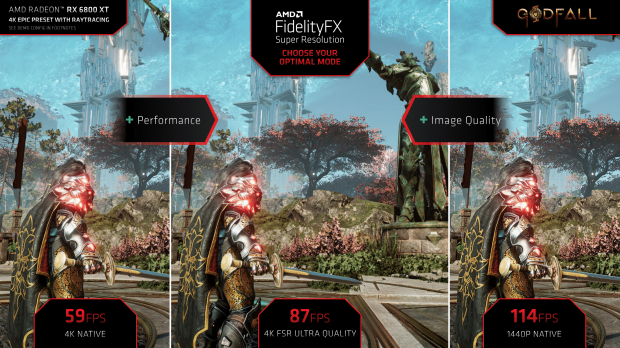 Godfall runs at 59FPS average at native 4K on the Radeon RX 6800 XT graphics card, but if you turn FSR on and use the Ultra Quality preset you will enjoy even better graphics... and a huge performance jump up to 87FPS average.
If you are rendering at native 1440p then you'll be enjoying 114FPS average or so in Godfall, and remember -- this is at 4K with the Epic graphics preset and with ray tracing enabled.
Performance Benefits (Performance + Image Quality)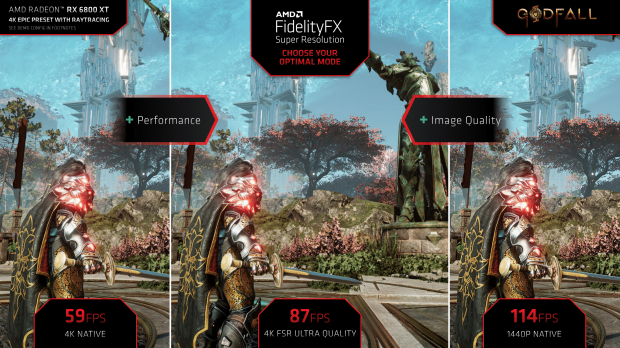 It's not just Godfall that receives some huge performance (or image quality) upgrades with FSR, but there's a big list of games with support for FidelityFX Super Resolution and that list will only continue to grow (and quick, I might add).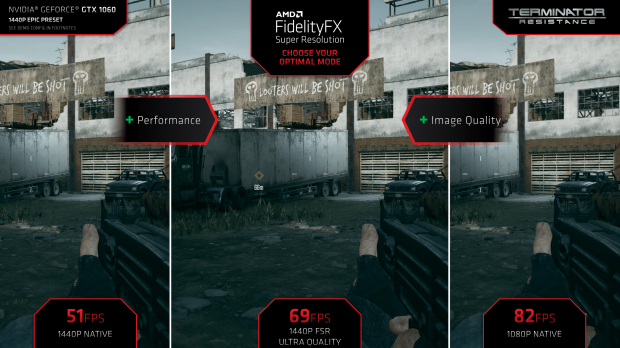 I haven't had the time to personally test FSR on all of these games just yet, but I will be trying out most of them -- Terminator Resistance (for whoever plays that) runs at 51FPS average on AMD's competitors' GeForce GTX 1060 graphics card at 1440p native.
But with FSR enabled and the Ultra Quality preset turned on -- again, improved image quality -- and a bump up to 69FPS average. That's on an older-gen GTX 1060... impressive stuff for first-gen FSR technology.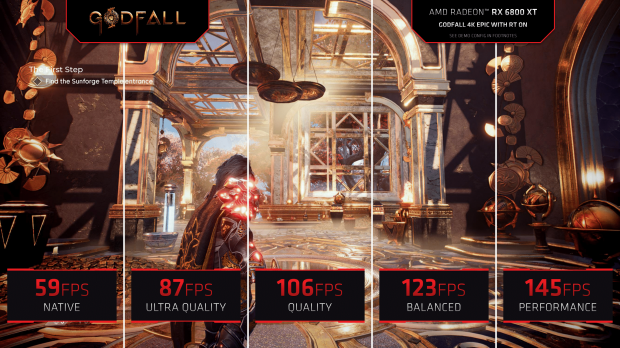 Godfall is a great showcase of FSR tech, here's some results on the Radeon RX 6800 XT at 4K on Epic graphics with RT on.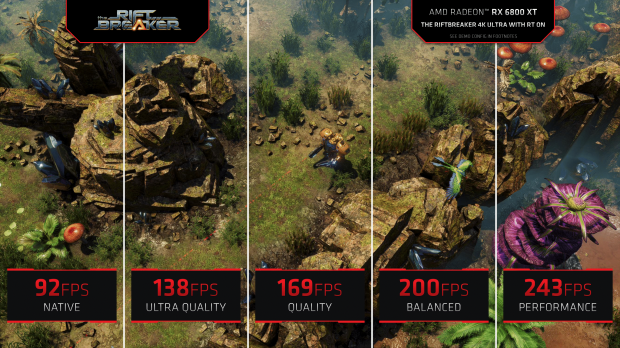 Riftbreaker is another game that benefits greatly from FSR, pumping away at 92FPS at 4K native -- and right up to a simply insane 243FPS with FSR set to Performance.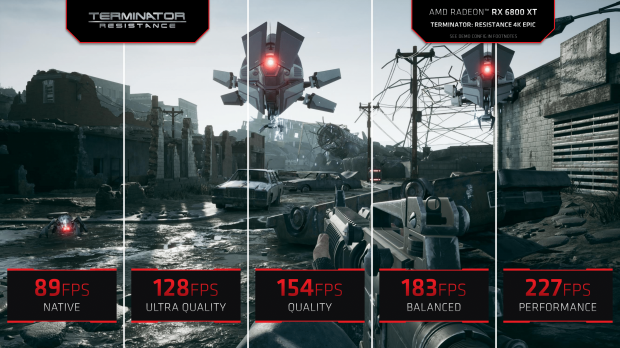 4K performance is fan-freaking-tastic in Terminator Resistance, with native 4K on the Radeon RX 6800 XT hitting 89FPS average, and up to a huge 227FPS average on the Performance preset with FSR. The Ultra Quality preset is what you want here -- 128FPS average at better-than-4K graphics.
FSR Games Supported (Right Now)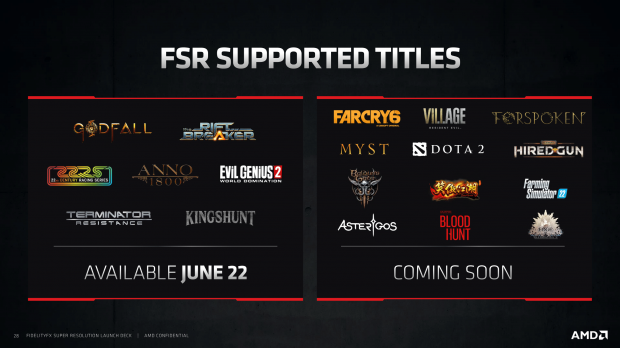 AMD has some great support from some of the biggest game developers on the planet, with FidelityFX Super Resolution support available starting today -- June 22 -- including Godfall, Riftbreaker, and more.
Anno 1800, Evil Genius 2: World Domination, Terminator Resistance, Kinghunt are all available today.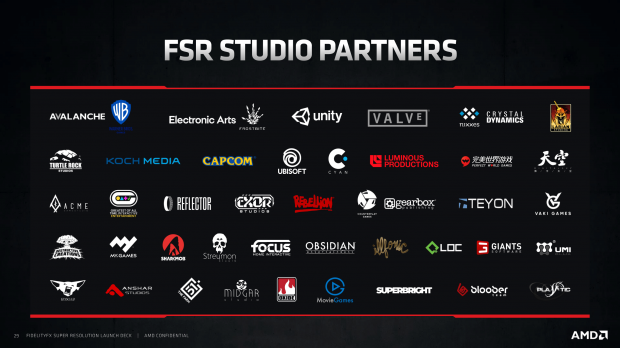 See? AMD has some serious game studio support for FSR from between EA and Frostbite (next-gen Battlefield), through to Valve, Crystal Dynamics, Gearbox, Ubisoft, and so many more.
FSR Games Supported (Coming Soon)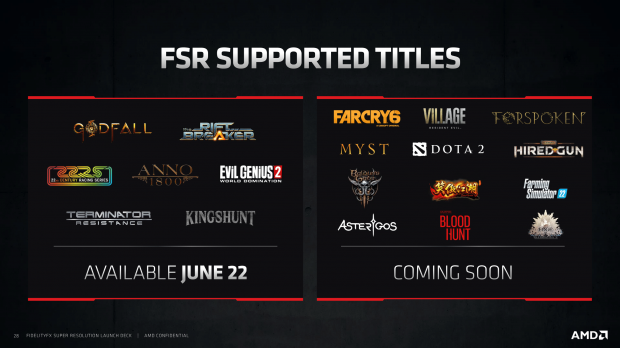 AMD will have some very exciting games coming out soon with FSR support, with the biggest being Far Cry 6 and Resident Evil Village.
Fan favorite Myst will get FSR soon, Dota 2 will benefit so much from the Ultra Quality preset of FSR -- while you'll be handling your farm with better image quality than ever before in Farming Simulator 2022 coming soon with FSR support.
FSR Enables Performance for Ultra Enthusiasts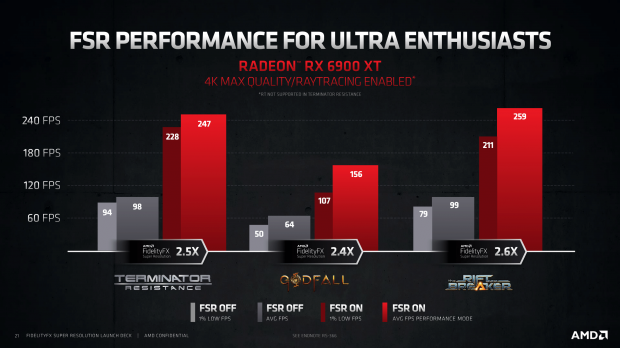 FSR truly does enable Ultra Enthusiast performance -- where if you're playing the games that use FSR, and think about how FSR will benefit future games that you play -- ultra enthusiasts are at home with FSR.
Looking at Terminator Resistance on the flagship Radeon RX 6900 XT and we have performance that goes from 98FPS average at 4K to a huge 247FPS average with FSR set to Performance mode. Godfall sees similar performance improvements, with the Radeon RX 6900 XT running Godfall at 64FPS average at native 4K but a huge 156FPS average with FSR once again set to Performance mode.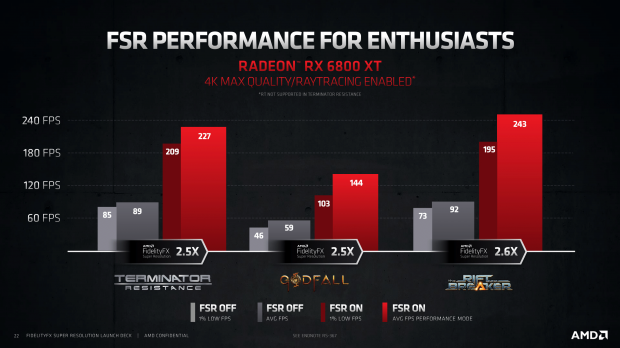 The Radeon RX 6800 XT gets on the enthusiast side of things, while the Radeon RX 6900 XT handles the ultra enthusiast side of gamers the RX 6800 XT still provides the same fantastic results with FSR enabled. 89FPS average to 227FPS in Terminator Resistance, and 59FPS to 144FPS in Godfall -- both at 4K.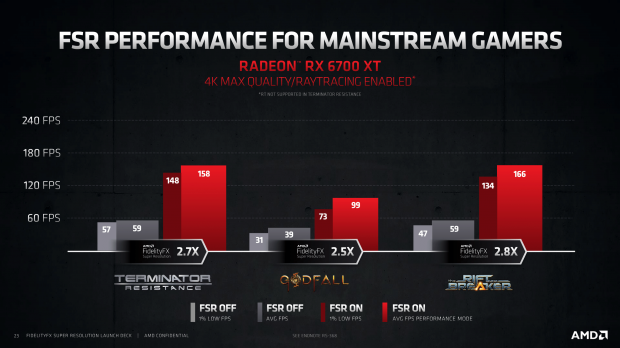 Mainstream gamers with the Radeon RX 6700 XT go from a very respectable 59FPS average at 4K in Terminator Resistance, but it jumps up to 158FPS average with FSR set to Performance. Godfall jumps up from 39FPS average on the Radeon RX 6700 XT to a huge 99FPS average with FSR set to Performance.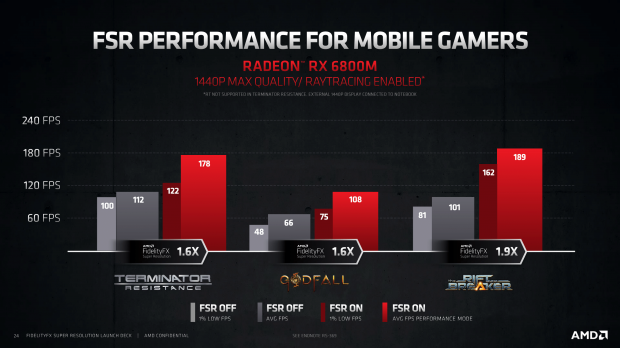 Mobile gamers are also being looked after, with the new Radeon RX 6800M running Terminator Resistance at 1440p and hitting 112FPS average -- and 178FPS average with FSR on Performance again.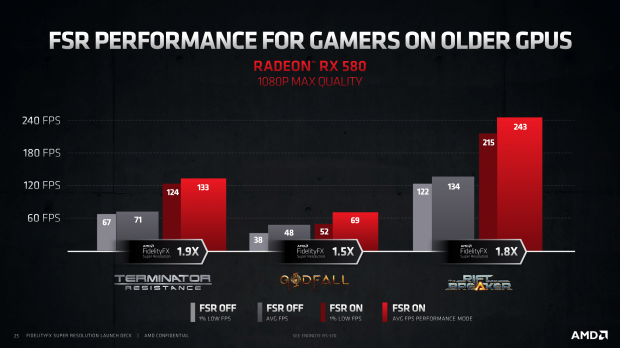 Older GPU? That's fine -- the Radeon RX 680 runs Terminator Resistance at up to 133FPS average at 1080p... and Godfall at up to 69FPS average. Not too damn bad at all.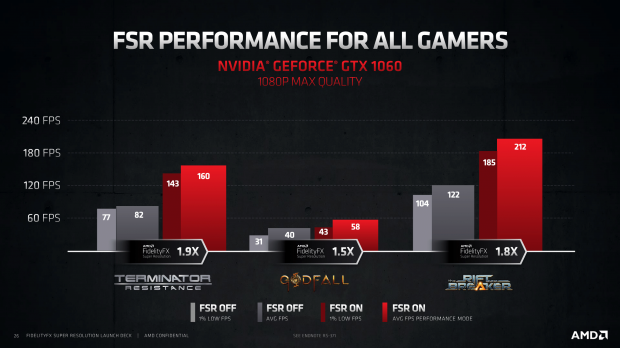 NVIDIA gets some inclusion in the AMD slides here, with the GeForce GTX 1060 showcased well at 1080p -- up to 160FPS average in Terminator Resistance with FSR set to Performance mode... up from 82FPS average with FSR disabled.
Final Thoughts
FSR is just the beginning for AMD and its big fight ahead of it with DLSS, as DLSS is far superior and has some far bigger games under its wings -- games like Call of Duty: Warzone, Death Stranding, Cyberpunk 2077, and soon -- DOOM Eternal, Red Dead Redemption 2, and others.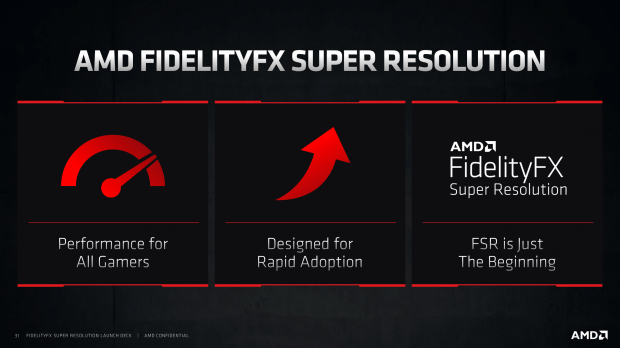 AMD will see some great improvements with FSR as it evolves over the months and years ahead, and deserves some major attention from here on out. I'm keen to see how FSR evolves with the next-gen RDNA 3 architecture, with the new Radeon RX 7000 series GPUs of 2022 and beyond with FSR 2 or whatever it will be called... is going to be incredibly exciting -- so too will DLSS 3.0 when NVIDIA unleashes that.
I've got some interesting results that I'm churning through with Godfall at 1080p, 1440p, and 4K resolutions on an ungodly amount of graphics cards that has taken me and even more ungodly amount of time to run. Not only that, but I've got some even better results -- 8K with FSR enabled, and man are they exciting.
Godfall at native 8K and with FSR enabled across Radeon and GeForce GPUs is something I'll have ready tomorrow, and that's something you'll need to have your eyes on. I'll run some other games through FSR and at 8K in the coming weeks and months, as well as the upcoming games getting DLSS -- especially DOOM Eternal.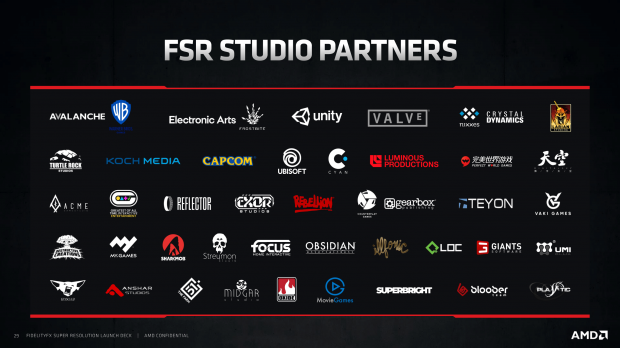 The days of upscaling technology are only just beginning... I can't wait to see where FSR is 12 months from now, 24 months from now, and beyond.
For now... FSR is a great first step, a giant leap for AMD into the upscaling tech world.